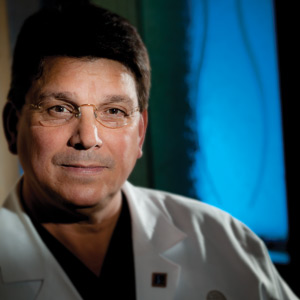 To say that San Antonio's Dr. Jaime R. Garza — respected plastic surgeon, degreed dentist, scientist, writer, teacher, former sports star and motivational speaker — is an extraordinary man is an understatement.
Born into an economically challenged and, at times, harsh environment where opportunities were more often than not scarce, this incredibly gifted individual, driven and guided by internal and external forces, has been able to achieve one remarkable success after another over his amazingly productive 57 years. By continually creating, healing, instructing, growing, and, perhaps most importantly, giving, Dr. Garza, through his many selfless acts and accomplishments, easily represents the best that is worthy of emulation for anyone seeking guidance and inspiration. And in today's ofttimes "me first" or "you do it" world, that's nothing short of extraordinary!
Humble beginnings
Garza was raised on San Antonio's West Side. His family consisted of his Mexican immigrant father, mother and five siblings, he being the oldest child. Despite La Familia Garza's modest means, he remembers having a happy and "normal" childhood. His father, then a local butcher, was known for putting in long hours at work, while Mrs. Garza stayed home with the kids. As he recalls, "I was lucky to have both of my parents. We weren't rich, but we were cared for."
Part of the caring that the senior Garzas lavished on their brood was instilling the values of hard work and getting an education. Especially, it was Mrs. Garza who not only insisted on school and study but also on the importance of proper speech and grammar — whether Spanish or English. Good communication played (and continues to play) a major part in the articulate Dr. Garza's life and career. His mother and father represent the first of many who, through their good advice and positive actions, influenced the direction his young life would ultimately follow.
Football finds a way
Jaime Garza attended San Antonio's venerable Jefferson High School. While he was always an excellent student, it was sports and, specifically, football that would eventually provide some of the earliest opportunities to benefit the future doctor. As a junior on the school team, and playing defense, he suffered a serious head injury that sidelined him for the majority of that season. Returning his senior year and wishing desperately to play again, young Garza (with a clean bill of health) appealed as an unknown to the school's new offensive coach for a spot.
It was that coach, Ron Thompson, who not only put Garza back on the varsity team but — making a large personal investment in time and effort — retrained the soon-to-be star and created a record-setting wide receiver. Throughout his final year of high school, Garza made headlines as he caught countless passes and scored more than a dozen touchdowns for his cherished Mustangs. In the end, his accomplishments on the field resulted in his selections in 1972 to the prestigious First Team All-District and All-City Football Squads. Coach Thompson was another in Dr. Garza's life whose intervention, via football, caused the young man to aspire to higher things.
Thanks to his success on the gridiron while at Jefferson, Garza was able to secure a full athletic scholarship to Tulane University in New Orleans. While starting on the varsity team for all four years and gaining additional accolades for his on-field performances — he went on to break almost all of Tulane's wide-receiving records and was inducted into the school's Athletic Hall of Fame — he also excelled academically. In 1976, he graduated with a degree in political science and, not surprisingly, because of his outstanding athletic record, offers to try his hand at professional ball with invitations to attend the NFL's Atlanta Falcons and later the New Orleans Saints training camps. With a nagging knee injury hindering his abilities, however, Garza was released from both camps and never made the pro roster. In his words, "I was always just training camp fodder."
New dreams
With the generous remuneration Garza received at both camps, the former star, optimistic rather than disappointed, was able to pursue a secondary dream — that of becoming a dentist. This was something of an odd calling because, as he recollects, "no one in my immediate family ever went to the dentist for checkups — it just wasn't in our family budget." Already established in New Orleans, he applied to the Louisiana State University Dental School.
On the same day that he got his acceptance to the school, he also received a call from one of his former (and favorite) training camp coaches. Sam Rutigliano, at the time the newly ensconced head coach for the Cleveland Browns, wanted the Tulane standout to come play for him. While flattered, a conflicted Garza relates, "I told Coach Rutig about being accepted to dental school. He immediately responded by saying that 'If it was his son, he'd tell him to go back to school.'" And fortunately, that's just what Garza did, thanks to Rutigliano's sage counsel.
Garza earned his dental degree in 1983, but before graduation experienced another change of heart. During his training, which included a brief stint at a local hospital, he observed as a surgeon operated on a child with a cleft lip. As he admits, "It was an absolute epiphany. This was the work I needed to do. I wanted to quit dental school and apply to medical school right then." Here again, he allowed himself to be guided by another when a trusted professor intervened and advised that he complete dental school before moving on. Heeding the professor, after graduation from LSU's dental school, a grateful (and eager) Garza was easily accepted into its adjoining medical school.
It was Garza's ability to successfully practice dentistry that subsequently allowed him to put himself through med school. Working full time as a dentist while also attending classes meant it would require another four years of dedication and commitment before he finally reached his goal of becoming an M.D. To no one's surprise, however, Garza graduated from LSU with honors and as president of his senior class.
Over the course of the next seven years, Garza went on to pursue the specialized training required for becoming a plastic and reconstructive surgeon. He excelled in his surgical internship and was accepted for a head and neck cancer fellowship at the prestigious M.D. Anderson Cancer Center in Houston. He completed his first residency in otolaryngology/head and neck surgery at the LSU School of Medicine in New Orleans and then was accepted to the University of Pittsburgh Medical Center, where he completed his training. Currently, he is one of a handful of triple-board-certified surgeons in the nation.
Academia calls
In 1994, a flattered Dr. Garza was honored by being asked to come to the University of Texas Health Science Center at San Antonio and start a training program in plastic and reconstructive surgery. Under his leadership the program achieved nationally recognized status and served as the hub of training for most of the nation's military plastic surgeons for over a decade. He attained the rank of full professor of surgery, professor of otolaryngology and founder and chief of the division of plastic and reconstructive surgery. He resurrected and served as the director of the university's cleft lip and craniofacial team. During his last two years he also served as associate vice president of the Health Science Center.
While still officially associated with the university as a part-time dean of the medical school and extremely involved in his flourishing five-year-old San Antonio private practice, where he divides his energies between cosmetic and reconstructive work, he is still able to devote a considerable amount of pro bono time to "teaching." Traveling repeatedly across the state of Texas and beyond each year, Dr. Garza — a natural communicator — enjoys addressing students young and old on the laudable pursuit of careers in health and medicine. Aside from his professional message, his personal story is what many come to hear. He explains, "I use my life story as a positive example of what desire and effort, with a little bit of help along the way, can accomplish — on the sports field, in the operating room, anywhere."
Dr. Garza has won many honors throughout his medical career, including the American Medical Association's Emerging Leader Award, the presidency of the International Society of Plastic Surgeons and "Outstanding Physician of the Year" by the San Antonio Business Journal. The president-elect of the Texas Society of Plastic Surgeons, he is on several editorial boards for national medical journals and has authored and/or coauthored many medical journal articles as well as book chapters. Dr. Garza was also recently named to the Board of Regents for the Texas State University System. He holds a U.S. and a Canadian patent for a facial protective mask for athletes that has been used in the NBA, the NCAA and the hockey leagues.
Still got game
And while admittedly a "sports nut," Dr. Garza maintains a professional connection through his involvement as a sports medicine physician, treating facial and jaw injuries for athletes. He is considered one of the country's pre-eminent authorities in the management of sports-related facial injuries. He is a consultant to the NBA Champion San Antonio Spurs and the NFL's New Orleans Saints and is team physician for the American Hockey League's San Antonio Rampage. He has served as a tournament physician for several NCAA Final Four and regional basketball tournaments and the U.S. Olympic Trials and USA Boxing and as the team physician for the University of Texas at San Antonio and several other universities and high schools.
With such a full professional life, one wonders if he has time for anything else. Happily, for his four children (three sons and a daughter) and lovely wife (who's also his best friend), the answer is a resounding "Yes!" In earlier years, as Dr. Garza admits, "The demands I faced didn't leave as much time for family as I would have liked. I'm really making up for it now."
Traveling, playing tennis, cooking gourmet meals for family and friends, sipping fine wines and just hanging with the "home team" in their beautiful Northwest San Antonio residence is every bit as important as his day-to-day commitments to his patients, colleagues and community. So don't be surprised if you bump into this dynamic doc on the golf course, at the music store buying strings for his electric guitar (he and his equally amped-up sons are "into" the blues) or, for that matter, vacationing in Europe. Dr. Jaime R. Garza seems to be able to do it all and then some, and that is extraordinary!
By: Ernie Altgelt
Photography: Oscar Williams