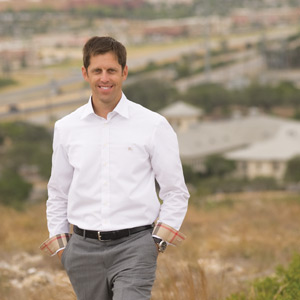 After a boyhood spent in Austin, Travis Bauer is now helping to shape the San Antonio real estate landscape.
As vice president of Drake Commercial Group, Bauer is engaged in developing and marketing some of the city's most prominent real estate tracts. Cresta Bella, a 413-acre mixed-use development offering a commercial and residential blend at Interstate 10 and Camp Bullis, is one of the marketed sites. Among the newest projects he is helping to develop and market is Stevens Ranch located off Potranco Road, a 1,400-acre master-planned community featuring 4,000 residential lots.
"A big part of our business involves master planning of communities," the 39-year-old developer says. "We've been involved in the design, development and sale of thousands of lots across the state."
Even a cursory glance at the company website, drakecommercial.com, attests to Bauer's testimony. Throughout the city, the company founded by his mother, Deborah Bauer, has left its mark.
"She's been in the business for a long time," Bauer says of his dynamo mom. "She's an amazing woman with one of the strongest work ethics I've ever seen."
Early on, Bauer was on his way to entering the family business after earning a business management degree at the University of Texas at San Antonio. He worked at his mother's firm throughout his college years, eventually joining the company full time in 1996.
Bauer credits the company's diversified portfolio, with its balance of commercial and residential projects, in helping the firm to weather the harsher effects of economic recession. As the economy slumped, many firms heavily invested in residential properties succumbed to market pressures. After that initial shock wave in the housing market, the commercial sector took a hit as the financial markets all but dried up.
Rather than panicking, the company and its clients went on something of a buying spree in a recession-fueled buyers' market. With landowners eager to unload depreciating properties during the real estate crash, Drake Commercial was able to secure some bargains to further its holdings.
"We have been blessed to have a portfolio of well-funded clients and partners from across the U.S. and Mexico who saw great opportunity in acquiring properties during the recent downturn. We used it as an opportunity to pick up some of the city's best properties at great values," he says of the company's savvy approach.
While much of the country is slowly rebounding, San Antonio remains a great spot for real estate investment. "The influx of wealthy Mexican nationals who are investing in San Antonio continues to drive our local economy," he adds, referring to a population growth from Mexico as people travel to Texas to escape violence rooted in the drug trade.
"I think we're unique because we are more of a boutique commercial real estate firm that relies on a loyal customer base and referral network" he says. District North, a 300-acre mixed-use development in the heart of the growth corridor at the Interstate 10 and Loop 1604 intersection, is another prominent project in which the company is actively marketing.
It's not all work for Bauer. On his days off, he enjoys golfing, working out and spending time with friends and family on the lake or at their place in Port Aransas. While he wouldn't reveal his handicap, he says golfing at such sites as the La Cantera or Quarry courses also offers a unique opportunity for deal making, aside from the recreational attributes.
Bauer credits his mother for having served as a mentor during his younger years, an essential role for any upstart intent on pursuing a business career. After his parents' divorce when he was 12, he was able to witness his mother's drive and ambition firsthand.
"A mentor is a big part of learning the ropes in this business, and I was lucky to have my mom," he says in attributing a great part of his success to her. "It takes hard work and dedication to succeed, but it's very rewarding to drive by and see projects that you've worked on for years come to fruition. I truly feel blessed to work in this industry."
Given the success of Drake Commercial Group, it is clear Bauer has already reaped the dividends of his innate work ethic.
By: Tony Cantú
Photography: Robin Jerstad