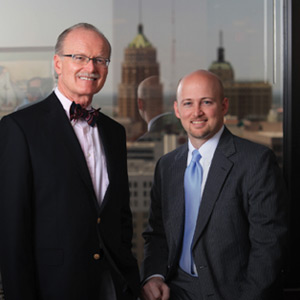 Like father, like son. As a statement, it has many connotations. Similarities in appearance, personality, mannerisms and other traits can and do contribute when comparing and likening the two that comprise this biologically and emotionally linked pair. Beyond a shared taste for T-bones and tachometers, however, many fathers and sons also share a talent for tackling (in tandem) the challenges of the business world … hence the addition on so much company signage of those telltale words "and Son."
We will introduce you to 3 different land-savvy father and son duos joined in successful business partnerships, each independent of the other twosomes, sowing and reaping within San Antonio's prolific (and, at times, fickle) real estate field.
Dale and Landon Kane
First American Commercial Property Group
You might say that Dale Kane married into the San Antonio land business while his son Landon was born into it. In 1975 the recently graduated Dale with his new bride, Debbie, relocated from Longview to the Alamo City (his wife's hometown) with the intent of joining his father-in-law's company, Guy Hughes Builder, Inc. Founded by Debbie's grandfather (Guy Hughes) in 1960, then passed to her father (Guy W. Hughes), the operation was highly respected for its work in local home construction and subdivision development.
After coming aboard the growing multi generational enterprise, an extremely focused Dale spent his first years learning about his new community and the related complexities of construction and land development within and around it. While gaining confidence, knowledge, ability and experience (as well as recognizing additional opportunities), during this time Dale began encouraging his father-in-law to broaden the business' scope and offer more services in the areas of commercial brokerage and investments. Through his efforts, these expanded capabilities eventually came on line, and a decision was ultimately made to rename (and reposition) the newly empowered firm First American Realty.
With its new moniker and new direction, Dale began focusing more on brokering and investing and less on actual home building. For clientele, he targeted larger production homebuilders because, "they bought the most land and needed the most lots developed." The business took off with this reoriented philosophy, and soon First American Realty was handling deals for some of the largest developers in the area. As the company continued to grow in size and the number of services offered (now including property management, appraisals, research and analysis), a third name change was called for, and in 2005 the 45-year-old firm was rechristened once again as First American Commercial Property Group — the name it operates under today.
In 2000, Landon Kane joined his father at First American after he graduated from college. While growing up, he remembers, "I would frequently drive onto tracts and ranches with Dad and see the passion he had for putting land deals together. I realized early on that I wanted to do the same thing." Learning the basics as a new employee under his father's watchful eye, Landon (the fourth generation to follow in his family's footsteps) soon proved he too had the business in his blood. Enjoying success in his own right, the younger man was made a senior partner in 2006. Currently, Landon wears a number of different hats within the firm but specializes in master-planned community, multi-family and hospitality development. Landon has been a participant in the Real Estate Council of San Antonio Leadership Program.
Today, First American Commercial Property Group (with Dale as president and chief operating partner) boasts a total of four (including Landon) senior partners, 15 agents and an additional office staff of four. The firm directs a listing portfolio of more than $500 million in land and income properties. Clients include such area notables as Pulte Homes, Concord Development, D.R. Horton and Great American. An example of the depth of First American Commercial's capabilities was handling the complex sale of 2,500 residential lots from Standard Pacific to Forest City Covington in 2008.
With so much personal investment in a family business, one wonders if it's all worth it. When queried, Dale and Landon were quick to agree that it is. As the senior Kane clarifies, "There's just a lot of satisfaction in putting a successful project together that not only makes the developer and homebuilder a fair profit but, of equal importance, provides an affordable, well-built home for the buying family. And we believe in family!"
Bob and Patrick Shearer
Peloton Commercial Real Estate, San Antonio
For Bob Shearer, getting into the local real estate business (and San Antonio, for that matter) was pure serendipity. The Seattle native and his wife, Maureen, originally from New York, were working in Santa Fe, N.M., when the 1970s arrived. And while both loved the laid-back lifestyle, their desire to start a family and find more lucrative employment dictated a move to a larger, more economically active environment. Based solely on the enthusiastic recommendation of a friend, the courageous pair packed up and headed to San Antonio.
Once in San Antonio, Bob found employment within the city's former financial services conglomerate Gill Companies in its real estate property management department. Although the young man had no former experience managing a portfolio that included apartments, retail space and office buildings, once on board, he quickly discovered he liked it. As he recalls, "It was helping people while learning about finance, valuation and the law — pretty heady stuff for a guy with a graduate degree in literature — and it was great."
In 1982 the now experienced Bob joined the Austin-based Oxford Group, handling its San Antonio operations. However, with the onset of the troubling statewide financial situation that was brewing by the mid-'80s, the firm decided that a separate independent entity was needed specifically for the San Antonio market. And in 1985 Bob founded Cambridge Realty Group, and, thanks to what he describes as its "singular San Antonio focus and diligence," the new company survived the savings and loan crisis with its clients and properties largely intact.
Under Bob's leadership, Cambridge Realty Group went on to become a leader across the greater South Texas commercial real estate industry. Reflecting a special affection for his adopted city's downtown, however, Bob through his company soon became a leading San Antonio proponent in the expanding field of urban redevelopment. As one example, in 1998 he orchestrated the start of a new era of revitalization on Houston Street through the assemblage and sale of nearly three full downtown city blocks to Maryland-based Federal Realty Investment Trust.
Bob's son, Patrick, although growing up in a real estate family, initially embarked on a different career path. With both of his parents in the business (his mother had her own very successful residential real estate career), he grew up hearing about real estate deals around the dinner table each night. Armed with an M.B.A. in international business and a desire to see the world, the younger Shearer signed on with a global technology firm based in Miami, traveled abroad extensively on its behalf and left the property transactions to others back home.
While in Miami, however, Patrick did become involved in a real estate investment trust that eventually awakened his interest in commercial real estate. Working in finance and looking at commercial real estate from a macroeconomic perspective prepared him for a return in 2005 to his hometown, where he joined his father at Cambridge Realty Group. Ultimately, Patrick's unique professional experiences brought an added dimension to the business that not only helps him to more creatively handle the leasing and sales of various office and retail properties, but also gives him a broader perspective of San Antonio's international standing. In 2010, Patrick, as an official San Antonio delegate, traveled to Shanghai with the intention of fostering business relationships between the two distant cities.
The focus of Cambridge has grown far beyond downtown properties, but Patrick still shares his father's interest in urban redevelopment. "I love being able to work on projects that make San Antonio a better place to live," explains Patrick, citing his involvement with the sale of the Judson Candy building (now urban loft condominiums) and his role in leasing retail and office space at the former Pearl Brewery.
In 2010, 25 years after Bob founded the firm, the portfolio of properties managed or leased by Cambridge Realty Group had grown to include over 6 million square feet of commercial real estate throughout the city. And coming off the most successful year in the company's history, earlier this year Cambridge Realty Group merged with (and took the name of) the respected Dallas-based firm Peloton Commercial Real Estate. The merger, according to Patrick, "will create an even broader business platform that will benefit both firms, and most importantly, the clients we enjoy serving."
Rick and J. Kuper
Kuper Sotheby's International Realty
Not that many years ago it seemed like anyone in San Antonio with the last name of Kuper had to be in real estate. And taking a gander at the names listed on the family tree, it might just be true, because over the past 40 years various members of the Kuper clan have been successfully brokering and marketing select properties across the city and greater South Texas, making the name synonymous with the sales of exquisite homes, boutique commercial spaces and trophy ranches.
Today, the Kuper at the helm of the well-established family business, Kuper Sotheby's International Realty, is the very capable Rick, son of company co-founder Charles Kuper Sr. and his notable wife, Kathleen. With such a pedigree, it's surprising that it took Rick so many years before professionally joining his parents and siblings. For Rick's son, J., involvement in the family real estate game came a little quicker. Both are just glad they finally got there.
Kuper Realty got its start as a commercial development and brokerage firm when Charles and his son, Charlie, Jr. teamed up in 1972. By 1976, with the addition of wife and mother Kathleen (bringing on board her considerable skills and energy), the company ventured into residential and farm and ranch sales. Shortly thereafter, in recognition of the firm's early success, Kuper Realty was selected as the exclusive affiliate for Sotheby's International Realty for San Antonio and Central Texas — an honor indeed and what has since proved to be a strong business relationship providing the firm with a desirable international connection.
After graduation from Texas Christian University (with a degree in ranch management), then spending 10 years working and heading a Houston-based wholesale distribution and manufacturing business while raising a family, Rick, at the insistence of his brother Charlie (and to the delight of his parents) returned to San Antonio, got his real estate license and joined Kuper Sotheby's. That was in 1988, and he's never looked back. As he relates, "Being asked to join the firm is something I'll always be grateful for. I soon realized I had a passion for real estate, and with an established business to come to, it was a wonderful opportunity." Was it a good move? For the last 23 years, Rick has consistently been recognized as a top Realtor in San Antonio and, since 2003, has been responsible for over $120 million in sales. He is now the sole owner of the firm.
J. Kuper (also a graduate of TCU) always harbored a deep respect for his grandparents', uncle's and dad's successes in the real estate arena but admits that while growing up, he "never really considered it as a personal career." Without any family pressure to "sign on," the young man initially worked in the Fort Worth construction business as a project manager with a focus on multi story office development and residential building. He later spent time as a business development manager for a leading provider of software and content for mobile devices.
In 2010 — like father, like son — J. was invited to join the firm and — like father, like son — he accepted. With his extensive construction and technology experience coupled with his outgoing personality, J. brings many talents and strengths to Kuper Sotheby's that come into play professionally on a daily basis. As he relates, "Working with people, solving problems and being creative is what I like, and that's what it takes to be good in real estate."
Today, Kuper Sotheby's International Realty actively serves 72 counties throughout the state. It has offices locally in Alamo Heights, at The Dominion, in Leon Springs and Boerne. The family company currently boasts 135 agents (including additional authorized agents representing, and located in, the Gulf Coast/Corpus Christi and Lake LBJ/Marble Falls areas) and a support staff of 35. Sales figures for 2010 exceeded $ 416,900,000, the second-largest sales volume in the company's history. With numbers like those, it's easy to see why Rick and J. are "bullish" about the local real estate business and look forward, as a father and son team, to a bright future.
By: Ernie Altgelt
Photography: Oscar Williams