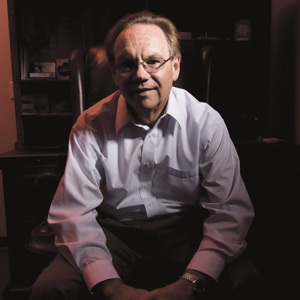 When Walter Root announced to his wife at the ripe age of 40 that he was quitting his successful six-figure job as vice president of marketing and sales development for Mission Foods to go to medical school, she thought he had taken leave of his senses. And she wondered how they were going to pay tuition and expenses for their two teenage children.
Root, however, wasn't worried at all. He had plenty in savings and just couldn't see himself jetting around the country for countless company meetings for the next three decades, as he had already been doing since the early '80s. (He has a Lifetime AAdvantage Platinum membership on American Airlines for accruing more than 2 million flight miles.)
So in 2001, at age 44, he was accepted into the University of California, San Diego School of Medicine, where, in 2005, the former marketing executive received his medical degree and added Dr. to his name after choosing to pursue psychiatry as a career.
But before Root set foot back into a university classroom after a 25-year hiatus, the Maryland native made quite a name for himself in the corporate world, beginning in 1978 as a senior financial analyst for Ford Motor Co. in Michigan. "I introduced the first customer cash rebate program for Lincoln-Mercury cars, and I even got to pick the Cougar model one year, working with the ad agency," he says, adding that back then a Lincoln-Mercury sold for $7,500 — very affordable, at least by today's standards.
Root's next major stop along the road to earning his M.D. was in 1982 as a consultant and then marketing director for Frito-Lay, where he worked on developing Chester Cheetah for Cheetos and Ranch Doritos. But his pet project was repositioning the then flailing Rold Gold Pretzels, which he and his team were able to resuscitate. They took it from $20 million to $600 million in sales.
Although Root enjoyed having a hand in leading brand development, his time at Frito-Lay was not destined to last. He and 1,800 other employees were handed their walking papers with the arrival in 1991 of Frito-Lay's new chief executive officer, Roger Enrico, best known for his lengthy tenure as CEO of Pepsi.
Next up was Mission Foods in Los Angeles, where Root was instrumental in leading corporate sales from $250 million to $800 million through innovative products such as Reduced Fat Tortillas and Two-Pound Brown Bag Tortilla Chips.
It's not too surprising, though, that Root has accomplished all that he has in his 54 years. He has been a go-getter since his youth. He left high school at 16 for early college admission and graduated magna cum laude in 1977 with a bachelor's degree in political science from the University of Pittsburgh at age 20. He received his M.B.A. at 21.
Root, who is president and treating physician of Stone Oak Mental Health Group — and recently named president-elect of the Bexar County Psychiatric Society — sat in his office with its grand southwestern-style desk and comfortable brown leather chairs and couch to talk about his middle-age days at medical school, the joys of his job and his favorite fictional psychotherapist.
Why did you decide to switch careers and go to medical school fairly late in life?
When I was at Mission Foods, it got to the point where I was just flying so much, as I already had been doing for years. The retirement age had changed, so I started thinking I had 30 more years of sitting in meetings and flying on an airplane. I began to think about what I wanted to do. I had friends who were doctors. I would read their journals, and I would pick up science magazines even though I didn't have a science background. I enjoyed working with people, so I thought maybe I should consider going to medical school.
I started doing research and looking at statistics by age for those who go to medical school. I had to do post-baccalaureate work and needed a 4.0 on science courses and 30 or higher on my MCAT to get into medical school. I joined the Student Health Association at California State University, Fullerton, where I did my post-baccalaureate program. I told the adviser I wanted to accelerate and do it in a year and a half because of my age. My adviser was skeptical of my being able to complete my coursework in 18 months with a 4.0 but agreed the pace would be similar to med school.
Why psychiatry?
When I went to medical school, I thought I wanted to do neurology. I knew I wanted to do something with the mind. When I got to neurology, I realized it wasn't for me. I enjoyed emergency medicine during my rotations, but I noticed there were no guys my age in emergency medicine so I asked why not. Someone said because their knees go and they end up working in family clinics out in the country. I already had had three knee surgeries and was about to have another one. When I got to psychiatry, I thought, "My God. This is where you can give someone's life back."
You'll have people 25 years old and on Social Security Disability because they cannot work because they are so disabled from severe depression, for example. With what we have available in medical therapies and some psychotherapies, you can take a person with a broken life and get them back on track.
What type of illnesses do you treat?
Major depression, bipolar disorders, schizophrenia and addictions to opiates and alcohol. I also treat obsessive compulsive disorder, adult attention deficit disorder, plus generalized anxiety disorder and post-traumatic stress disorder.
Is it hard not to take a patient's problems home with you at the end of the day?
God gave me a gift. When I was working in business, I could leave the office and leave work behind me. When I'm with my patients, I'm with them 110 percent, and I don't take them home with me.
What do you enjoy about being a psychiatrist?
There is no greater thrill than seeing someone who is on the ashes rise up and move forward.
What makes a good psychiatrist?
You can't just be a good listener. You also have to be able to ask the right questions and direct the conversation so you can understand what's going on with the patient. You have to pay attention to feedback and be able to read the feelings from your patients. The biggest problem with psychiatric patients is if they don't understand their disease or trust their doctor, then they're not going to take their meds. If you don't take your meds and then you have a mood event, you actually lose brain cells. Being on meds preserves brain function.
What's the difference between a psychiatrist and a psychologist?
A psychiatrist went to medical school and then did a four-year residency. A psychologist has a Ph.D., but no medical degree, and receives intensive training in therapy and psychological testing.
Anyone whom you admire?
(Laughs.) Bob Newhart from The Bob Newhart Show. He was a psychotherapist, and I loved his dry sense of humor.
By: Rudie Arispe
Photography: Robin Jerstad