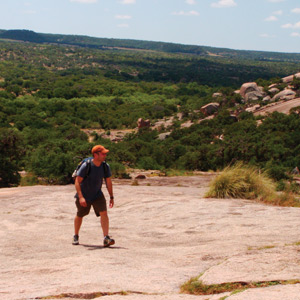 Growing up, I had a faint and distant memory of a hike. If you had asked me where I was exactly, I couldn't have told you. If you had asked me how old I was, I would have been no help. But what I did know with crystal clarity was that I had hiked up a rock with my family, the rock was BIG, and the rock was PINK. That's all I remembered. Had I dreamed it up? I wasn't sure. After all, big pink rocks aren't exactly something folks encounter in their day-to-day lives.
Years later in college, a couple of friends and I headed out on a day trip to Enchanted Rock. As soon as I laid eyes on the massive granite dome in all of its BIG PINK glory, it all came rushing back in one giant "I've-been-here-before" moment. Climbing up the rock that day made it obvious why Enchanted Rock made such an impression on me as a young child. It is unlike anything else I've ever seen, which is one of the reasons it makes for the perfect day trip.
The rock
The rock itself sits inside of the Enchanted Rock State Natural Area about 18 miles north of Fredericksburg, or a total of about 90 miles from downtown San Antonio. As you make your way up F.M. 965, make sure you are holding the wheel with both hands because when the dome appears on the horizon, you'll need all the help you can get to stay in your lane.
Enchanted Rock is officially a "batholith" (translated: a rock dome exposed by erosion). It's part of a peculiar geological region in Texas known as the Llano Uplift, formed millions of years ago when rock that should be thousands of feet below the surface pushed its way up through the Texas limestone. Enchanted Rock is by far the Uplift's most impressive work, although smaller granite formations lie all over the area. People often ask me my favorite spot in Texas, and Enchanted Rock always comes up. The only way I can describe it to folks who haven't seen it is to say it's like a Martian planet, chopped in half and plopped down in the Texas Hill Country. It's that unique and stands 425 feet above its surroundings — a 425-foot rise that I could climb again and again.
But besides its natural history, Enchanted Rock has an incredible human history reaching back an estimated 11,000 years, when humans first encountered the rock. Legend says that the Native Americans in the area first attributed "enchanting" powers to Enchanted Rock as they recorded seeing dancing lights atop the rock at night and heard unexplainable noises. Modern science has explained that the noises were most likely the different layers of rock expanding and contracting because of temperature differences between day and night in the Hill Country. As for the dancing lights … your guess is as good as mine. But I can attest firsthand as to being somewhat enchanted by the rock.
The summit
Recently I journeyed back to the park with a couple of friends and one purpose — to hike to the summit. Before we hit the park gate, I could feel the presence of the rock in the distance beckoning me like an old friend and calling me skyward. By the time we had paid the park fee, parked the car, packed our packs and filled our water bottles (yes, plural), I was downright giddy with excitement.
Our trip, like all trips to the top, started on a trail that is part of a loose network of trails and dry creek beds marked Summit Trail. Regardless of which one you travel, it will lead to a point where the dusty Texas ground stops and the giant granite slope begins. The first half of the climb is sparsely decorated with boulders and scrubby cedars growing out of the granite. As we continued the climb, the trail transitioned into one smooth pink incline that seemingly never ends and simply goes on and on as it curves into the blue Texas sky.
Reaching the top was — and always is — exhilarating. No matter how many times I climb the rock, it leaves me breathless. In truth, it's probably because I just climbed 425 feet of elevation, but it's also that the sweeping Hill Country views are incredible. As a word of advice, don't just climb the rock to climb back down again. Take a moment, and take it all in.
The cave
On this day, once we had officially summated the rock, caught our breaths and taken in the view, we kept walking, right over the top and down the backside to an adventure just as exciting as the summit but totally different — the Enchanted Rock Cave (insert legal disclaimer about folks with heart conditions, pregnant women, anyone scared of the dark and lap dogs).
On a previous trip, I made the mistake of blindly taking my wife through the cave without a flashlight. NOT A GOOD IDEA. As with most caves, it is dark inside, as in can't-see-your-hand-an-inch-from-your-face dark. So make sure you have some sort of light, any light, because the cave is no jungle gym, although it does take the same sort of body contortions and gymnastic acrobatics.
We found the opening hidden between a couple of bus-sized boulders and marked only with a single spray-painted arrow, which we blindly trusted as we squeezed through an opening in the rock. The park rangers can give you a cave map full of squiggly lines and arrows, but it makes no sense until you are fully involved and past the point of no return.
The cave ranged from moderately spacey to just wide enough for one human body to pinch through. And just when we were convinced we were lost, a faint crack of daylight appeared. The small beam of hope slowly grew until we found ourselves free from the depths of the cave. I had never been so happy to be back in the Texas sunshine. As we exited the cave, we found ourselves near the bottom of the backside, with little choice but to hike up again, and then go down the way we came up.
By the time we got back to the car, we were exhausted. We closed the car, cranked the AC and slouched deep into our seats — each of us with that undeniable smirk of accomplishment as we looked out at the rock through the windows.
The park
A hike to the summit will undoubtedly leave you drained. But if you are a super hero or have more days, there's much more to do within the park's 1643.5-acre chunk of Hill Country heaven, including hiking, overnight camping and rock climbing. I highly recommend the climbs at Turkey Peak, a smaller formation just east of the rock. If you are really interested in climbing, there are dozens of routes mapped out for climbers of all skill levels and styles.
Since my first trip as a child, I've had visions of Enchanted Rock in my head, and every time I go back, they become more vivid and more engrained in my memory. It truly is an incredible place, and if you live within a day's reach, you need to make plans to visit … like tomorrow.
Food
There is no food inside the park, so I recommend bringing a sack lunch, but after try Fredericksburg Brewing Co., a great restaurant and brewpub offering German classics and brews to celebrate a successful summit expedition of Enchanted Rock.
Tune into The Daytripper on your local PBS station, or visit www.thedaytripper.com
By: Chet Garner