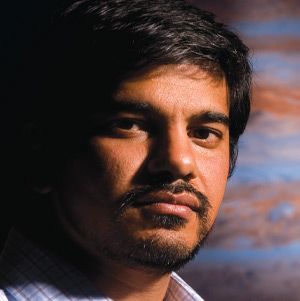 At first glance, poring over scientific data doesn't sound like a particularly exciting job description.
But on closer inspection, the work Joey Mukherjee does at Southwest Research Institute is not only thrilling but imbued with global significance. "One of our current projects is LAMP — the Lyman-Alpha Mapping Project — which is from an instrument on a satellite lunar reconnaissance orbiter," Mukherjee says with palpable enthusiasm. "That satellite recently sent an empty fuel canister into a lunar crater to see what was under there to find evidence of water on the moon. The idea is that if there is already water there, then astronauts don't need to take water to the moon to create a land base."
A product of the Alamo Heights Independent School District, the 39-year-old Mukherjee is in his 16th year working at Southwest Research Institute, one of the nation's oldest and largest independent applied research and development organizations, founded in 1947. There, he is engaged in what he describes as "visualization of space science satellite data," examining information sent through the atmosphere and translating it into accessible terms.
Closer to Earth, Mukherjee also analyzes land-bound data that is often on the pulse of current events. Before a devastating tsunami hit Japan, he was studying data related to that country's nuclear power plants — so-called nondestructive evaluation (NDE) — toward the goal of making them safer. Another current project involves analyzing data transmitted from robots used to explore particularly dangerous zones in the battlegrounds of Iraq and Afghanistan.
In a recent interview, Mukherjee betrayed his particular penchant for the otherworldly data transcriptions. "To work for NASA was one of the things on my bucket list, and this is the next best thing," he said.
The son of parents born in India, Mukherjee was surrounded by scientific intellectual pursuit growing up. His late mother earned a bachelor's degree in geology from Calcutta University and a master's degree in plant virology from the University of Montana. His father, meanwhile, earned undergraduate degrees at Bihar University in India and a doctorate from New Delhi University, all in plant virology, and did post-doctoral work at several universities, including Stanford.
Recalling his childhood, Mukherjee remembers that when he was 12 years old, his parents brought home a computer — an Intel-powered IBM PC 8088 that seems primitive by today's standards. But that rudimentary computer helped change the course of Mukherjee's life.
"When we got our first computer, I said rather than playing games, let's write programs to create our own games," he says of the interest in the machine shared by him and an older brother, Babul. "The idea of programming a computer was very appealing to me because it mixes science, math and art. I copied games like Missile Command and made my own versions but with better graphics."
By the age of 15, he was writing programs and attaching them to early Internet bulletin board systems where he secured payment from some computer users. One of those creations was for something of a precursor to the MP3, a program outlining the creation of a pre-iTunes utility on which to play music files.
He agrees the arrival of the machine sparked his earliest interest in computing. The advent of the computer age in the Mukherjee household seemed to have the same effect on Babul, who now owns the Montopolis Group, a locally based computing consulting company.
At Southwest Research Institute, Mukherjee seeks to replicate that early spark he found as a youth through his mentorship of local students through the research organization's Young Engineers and Scientists (YES) Program, with which he's been involved the past 13 years. The annual four-week summer program hosts 20 students from area schools to interact with scientists and engineers acting as mentors. The students attend lectures on their particular area of interest, receive life skills training and brush up their résume´s.
"Nobody really appreciates scientists and engineers," Mukherjee says, comparing the attitudes toward those engaged in intellectual pursuits in other countries, including his parents' birthplace. "In India, if you tell people you're a professor, you're treated like a rock star. Here, it's not that appreciated. It's unfortunate, but it's why I'm so happy to be part of this program."
One of about a dozen mentors to youthful participants, Mukherjee says he has seen notable success stories emerge from the summer program, including one high school student who secured a $100,000 scholarship to the Massachusetts Institute of Technology and another who developed a chemical compound designed to make faster surfboards that he now develops and markets in California."I like knowing that I'm helping to inspire some of these kids," Mukherjee says.
As the conversation drifted to the current dearth of women in the fields of science and engineering — an omission he hopes the mentorship will help to resolve in some small way — his thoughts drifted to his late mother, who passed away in 2007, for whom he has particular admiration. A trailblazer given her gender alone, the fact that she journeyed to America in 1965 to further her studies elevates his admiration still more.
"My mom ended up retiring from UTSA, where she worked with international students," he explains, recalling his parents' stories of how they met at a university scientific lecture. "She came over in the '60s by herself from India. That doesn't sound too odd today, but in the '60s it's not what women from India did."
Still single, Mukherjee acknowledges he often finds himself cloistered with intense focus on work, recently prompting him to join a running club for camaraderie. When he does find time to spend outside of work, he enjoys world travel and has visited every continent except Antarctica and roughly 30 countries. He recalls his trip Down Under in 1997, when he spent six weeks traveling across Australia and New Zealand and his trip last August to South America.
"I'm very goal-driven, and I'm looking for a new passion," he explains. Once he finds his new challenge, it's a safe bet Mukherjee will thrust himself into it with zeal.
By: Tony Cantú
Photography: Robin Jerstad