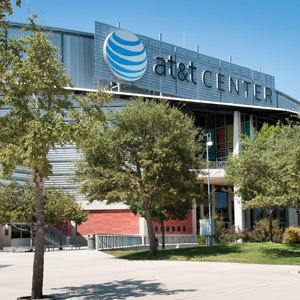 We've all been there — cheering, applauding, rocking and rolling alongside thousands of other equally emotionally charged San Antonians sharing memorable experiences in an environment conducive to comfort, conviviality and, at times, even a little controlled craziness.
Yep, it would be hard to find any in the Alamo City who, at one time or another, lured by a seemingly unceasing cavalcade of exceptional entertainments, hasn't been the delighted guest at one of the area's premier "come one, come all" destinations — namely the amazing AT&T Center.
Since 2002, this extraordinary edifice, permanent home to San Antonio's Spurs, Silver Stars, Rampage and Rodeo, not only plays the perfect host throughout each year to top-tier sporting events but somehow is also able to metamorphose itself into almost anything necessary to expertly accommodate the lavish productions that droves of devotees demand when seeking other forms of high-caliber cultural expression. Quite simply, thanks to a lot of hard work, creativity and planning by the folks who run the place, the AT&T Center is SA's "can-do" venue!
Making it a reality
It all began in 1999, when a consortium comprising Bexar County, the San Antonio Spurs, the San Antonio Stock Show & Rodeo and the Coliseum Advisory Board asked the citizenry to back a plan to build a county-owned community arena that would become the permanent, more accommodating home to our city's professional sports teams and the rodeo as well as providing a state-of-the-art site for other activities attracting substantial crowds. A referendum was held in November of that year resulting in overwhelming approval for the project.
To pay for everything, the new facility would be financed through a $28.5 million contribution from the Spurs and $146.5 million from the County, funded by an increase in the local hotel occupancy tax and short-term motor vehicle rental tax, collectively referred to as the "visitor tax." Design of the facility was overseen by the Spurs organization and the San Antonio Stock Show & Rodeo, both of which also committed to 25-year lease agreements (recently extended for five more years) with the Coliseum Advisory Board, the facility's landlord.
And with the exception of the 22-day run in February when the rodeo sets up shop, operation of the Center, including scheduling, bookings, marketing, manning and the million other things required for success (measured in profitability and public approval), would be handled exclusively by Spurs Sports & Entertainment, the owner and operator of the Spurs (NBA), Rampage (AHL), Silver Stars (WNBA) and Austin Toros (NBA D-League). SS&E comprises 250 fulltime professionals dedicated to, in the words of its president of business operations Rick Pych, "Making it all work, all the time."
It's SHOW TIME
After three years of construction, the newly christened 165,000-square-foot, 18,500-seating capacity SBC Center (as it was then called) opened its doors on schedule in October of 2002 to a clamoring public eager to experience what would quickly become one of the city's most popular and well-utilized venues. As Pych remembers, "Those early weeks (not forgetting all of the months of pre-preparation that preceded them) would prove to be a testing ground — not only for the structure but for our Spurs Sports & Entertainment team as well."
And the testing and learning came quickly as those first days included only six "shake-down" Spurs games (the first was on Nov. 1 against the Toronto Raptors, and the Spurs won) and a George Strait concert to experiment with new procedures and measure the building's design strengths and possible weaknesses. A bigger test was looming, however, with the onset of the weekend beginning Nov. 22. During that time period, the AT&T Center and SS&E would be tasked with hosting — and that included the marketing, ticket sales, infrastructure preparation, parking arrangements, concession requirements and a slew of other normal pre-planning considerations — three back-to-back major productions featuring not only Spurs action but world-class rock 'n' roll as well.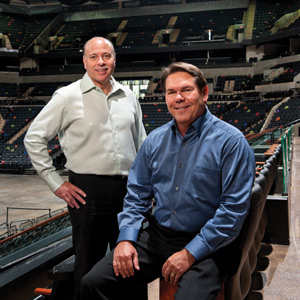 The fun started on Friday when the Alamo City's beloved Spurs took to the still brand-new hardwood floor and ultimately delighted 16,636 serious supporters who spent that evening cheering on their "good guys" as they tackled and beat the tenacious Memphis Grizzlies. Thanks again to SS&E's exceptional prep work and attention to detail, the only concerns registered with the appreciative audience were that the Spurs didn't make enough free throws and were on the wrong end of a few bad calls. But the crowd loved the facility.
The state-of-the-art technologies and amenities that SS&E and the Rodeo folks had designed into the complex, coupled with unparalleled logistical and personnel support, made for an enhanced experience that became obvious by the crowd's tremendously positive reaction throughout the heated competition. But when time expired on the game clock that evening, there was more work for team SS&E to do. A complete reconfiguration was required because San Antonio and the AT&T Center would soon be subjected to a British invasion of monumental proportions.
With electricity crackling in the air, on Saturday, Nov. 23, at 9 p.m. the legendary Rolling Stones stepped onto a newly installed performance stage (where the basketball court previously lay) and preceded to ignite a second audience of 15,000-plus feverish nonsporting fans wowed not only by the veteran band's raucous rhythms but equally by the sumptuous surroundings. The excellent acoustics, unobstructed lines-of-sight, mammoth video screens coupled with the comfortable seating and concourse areas and the convenience and availability of the concessions and restrooms all contributed to the unquestionable success of that emotionally stirring, and very memorable, evening.
But the weekend wasn't over yet. On Sunday, Nov. 24, the SS&E found itself quickly and expertly shifting gears for a third time. The stage was rapidly disassembled and stored, the basketball court magically reappeared, and the entire structure was once again transformed back into an ideal venue for hosting the high-caliber professional basketball the local citizenry had grown accustomed to. Later that day, in front of a joyous packed house of another 16,211 fans completely unaware of all of the intense pre-game activity, the San Antonio Spurs went head to head with the pesky Seattle Supersonics, playing hard but ultimately finishing in second. Over the course of that long weekend, almost 50,000 folks had made the AT&T Center their destination.
"All in all," Pych recalls, "it was a 'heady' time where lots of things could go wrong — but didn't. That was our first big weekend, and it went pretty well. But even after all of the good things, we became even more committed to the continuous improvement of our AT&T Center-based entertainment products." Since those initial events in 2002, SS&E and the AT&T Center have gone on to host more than 1,000 successful events and welcomed in excess of 1 million extremely satisfied guests. Well done!
Nonstop action
Today, with Spurs Sports & Entertainment still at the helm and nine years of experience under its belt, the Center (with the merger of AT&T and Southwestern Bell in 2005, the building acquired its current name — the AT&T Center) seems even more amenable when it comes to booking, promoting, coordinating within and without and ultimately staging the biggest and best in sports and other exciting diversions. SS&E's core leadership remains with president Pych and his three worthy and experienced lieutenants — executive vice president of corporate partnerships and broadcasting Lawrence Payne, senior vice president of sales and marketing Frank Miceli and senior vice president of finance and corporate administration Lori Warren. Behind those four is a skilled cadre seemingly capable of anything and everything, during actual events sometimes numbering up to 1,000 full- and part-time staffers.
On average, SS&E and the AT&T Center can expect major entertainment events to fall on more than 160 days. And this doesn't take into account the three weeks the rodeo has exclusive use of the facility or the other, smaller happenings that regularly come on line.
During any given 12-month period, an anticipated breakout would be as follows:
45 Spurs home games (not counting play-off games)
40 Rampage games (not counting play-off games)
17 Silver Stars games (not counting play-off games)
50 major national touring concerts (This year's bookings included Lady Gaga, Bon Jovi, Katy Perry, Santana and Motley Crue, among others.)
Beyond the big productions, other bookings can include corporate (AT&T, Toyota, e.g.) gatherings, sales meetings, smaller concerts, special boutique performances, even closed-circuit (open to the public and often free) viewings of other in-demand sporting and other entertainment offerings. For this year's World Cup Soccer finals, 6,000 fans flocked to the venue's roomy, outdoor Bud Light Courtyard to view the game on a big-screen TV.
So, what many don't realize, when San Antonians need a safe, comfortable and spacious area to congregate, the very flexible AT&T Center can often provide the perfect solution. And, according to Spurs Sports & Entertainment, that's part of the game plan. As marketing expert Frank Miceli relates, "We always want to maximize the use of the Center. Therefore, if we can be of service to a group beyond our 'normal' customer base, we will."
A winning formula
As demonstrated so admirably during the AT&T Center's hectic "salad" days, with the SS&E's know-how, almost any competition, concert or other form of entertainment can be accommodated and, more importantly, made to succeed. So while the playing surface and other interior areas will generally need reconfiguration (no small job there), many other considerations must be dealt with that pertain to such ephemeral areas as crowd control, comfort and security and the technical aspects as well. Each unique assignment has its own physical and logistical challenges. To ensure a positive outcome, SS&E has developed a process that kicks in long before the gates open to the public.
Initially, each event is assigned a team. The leader of that team (the point person) has complete control and is responsible for all aspects pertaining to the event. With so much continuous activity, SS&E has nine "points" on staff. Once a team and point person are identified, a production meeting is held and a detailed plan is developed. Additional fine-tuning meetings are scheduled up to the actual event date, allowing for plan modifications.
Every effort is made throughout the process to anticipate as much as possible. Pych, Miceli, Payne and Warren all agree when, in unison they say, "We don't like surprises." To avoid those and enhance communication and understanding across team lines and with the entire SS&E, a large diagram is created in grid form enumerating all aspects pertaining to each event — date, expected attendance, work assignments, marketing efforts, infrastructure requirements (seating, parking, lighting, stage configuration, etc.), even what will be broadcast on the AT&T Center's huge Lighthouse score board. Basically, this helpful grid acts as a comprehensive visual tool providing a complete overview of everything associated with each assignment.
During each event, an on-site coordinator takes charge implementing and managing everything planned for in the earlier meetings. This individual, because of his or her proximity, is able to quickly respond as situations arise. And, as Miceli concedes, "With 15,000 paying customers in attendance supported by up to 1,000 SS&E staffers, stuff happens."
With the conclusion of each event, including the cleanup, a post-mortem is scheduled and a complete analysis is conducted, noting the positives and any negatives that were detected.
All in all, from start to finish, it's a demanding job. Payne accurately likens the entire process to "coordinating a beautiful ballet." And although it can get complicated, when everything works as it's supposed to (and usually does), Payne further offers, "Our (SS&E) expertise packaged with the AT&T Center's incredible capabilities and flexibility really do make for a 'can-do' combination. But, of equal importance, we simply like challenges, and to us, that's entertainment."
When it's time to "boot up"
Come each February, the Spurs Sports & Entertainment group briefly hands the operational reins over to the Center's co-tenant, the San Antonio Stock Show & Rodeo. For three weeks the structure, including the surrounding grounds, transforms itself into all things cowboy as the entire city and beyond goes Western.
Just like the SS&E, the Rodeo organization takes charge of the monumental task of staging an annual extravaganza that includes transforming the Center's interior into a competitive and almost cozy arena where four-footed visitors seem as much at home as the two-footed variety. It's a remarkable process made to look easy by a dedicated group of long-term volunteers who, literally, move mountains to make it all happen.
The competent man in charge of the physical transformation is Richard Martinez, chairman of the operations committee for the Stock Show & Rodeo. As he admits, "We hit the ground running after we're sure the basketball floor is in storage and the hockey rink has been de-iced." Once the center is cleared, his team begins the massive undertaking of hauling in more than 2,100 tons of genuine Texas dirt. Originally "mined" from property near Lytle, Texas, in 1988, the same soil (stored on site) has been helping with the floor show ever since. Remarkably, it takes the crew only seven labor-intensive hours (and 70 truckloads) to get it in place, filling to a depth of 14 inches. Next come the pens and chutes, also stored on the grounds. Proper installation for these requires another 12 hours. With the existing high-tech entertainment stage already on site and on wheels and waiting in the wings, the Center can be made rodeo ready in less than two days.
And as the last song is winding down at that final performance? A proud Martinez admits, "My guys (and gals) immediately begin the process of pen disassembly and soil removal, quickly leaving the Center ready for more action — but of a cleaner sort!" Laughingly, he adds, "It's a 'dirty job,' but someone's got to do it."
By: Ernie Altgelt
Photography: Bibb Gault