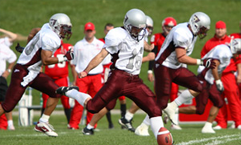 Those Friday night lights spotlighting high school players basking in pre-game pep rallies before banging heads, tossing and snatching passes and grinding out touchdown runs can lead to collegiate Saturday afternoons, sunny or stormy NFL Sundays and the glitz of Monday nights.
Capping all that fun and glory has included team championship medals and trips to the podiums to accept coveted individual honors. There are now more than 70 former San Antonio high schoolers playing at the college level throughout the country. Hundreds have preceded them, and hundreds will follow.
Thus far, many have left permanent imprints on scrolls of honor. Players have etched their names in the San Antonio Sports Hall of Fame: Holmes' Johnny Walker, Judson's Jerod Douglas, Marshall's Priest Holmes, Churchill's brothers Glenn and Lyle Blackwood and Cody Carlson, Southwest's Ty Detmer, Highlands' Darryl Grant, Wheatley's Willie Mitchell, Jay's Thomas Lott, Lee's Linus Baer and Tommy Kramer, Brackenridge's Warren McVea and Weldon Campbell, Jefferson's Pat Knight, Gabe Rivera, Kyle Rote and Tommy Nobis, Harlandale's Tobin Rote and Madison's Gary Green.
Detmer quarterbacked at BYU and topped his pre-NFL career with the Heisman Trophy in 1990. Such honors are cherished. But high school coaches also face the reality that only a tiny percentage of high school athletes play on into college and a tinier percentage still reach the professional level.
"We stress the importance of time commitment, whether it be to practice, meetings, games or education," says Holmes athletic coordinator Hector Rodriguez. "The kids come from middle school, and at times it's tough to make the transfer. We look for student athletes and try to ingrain discipline. If they get college offers, then, of course, we encourage any progress they can make.
"We want the kids to do their best as student-athletes — to keep their grades up. We know they go home tired and sore, but they still have to do their other chores, take care of their class work," adds Rodriguez, who was an assistant coach at Marshall when Priest Holmes played there.
Four San Antonio area high schoolers have made USA Today's Annual Top High Schoolers from across the nation: Madison's Aaron Green, MacArthur's Jace Amaro, Holmes' Johnny Walker and Cibolo's Malcolm Brown.
Green and Brown made early splashes for their new teams — Green scored a pair of touchdowns during Nebraska's victory against Washington, and Brown, the 2011 No. 1 high school running back recruit, rushed for 110 yards and bulled his way in for a touchdown during Texas' win against UCLA.
Eleven San Antonio high school stars have been inducted into the Texas State Hall of Fame: Carlson, Detmer, Douglas, Humble, Kramer, Lott, McVea, Nobis, Osborne, Rivera and Kyle Rote.
But again, the attempt to climb to the varying degrees of fame is accompanied by the overall thrust of disciplined effort. "It's teaching them how to persevere, how to just work harder when things get tough," says Edison coach Albert Torres of his charges. "We've had kids come back a few years after they leave, kids who quit and say they wish coach had gotten on them even tougher. Unfortunately, we can only say we tried."
The University of Texas at San Antonio has already graduated to a higher football class, and the eyes of its scouts remain hot on the Alamo City football scene. "Our chances of seeing our kids climb the football ladder, from Division 3 all the way up, have increased with the added presence of collegiate teams at UTSA and Incarnate Word," notes Madison head coach Jim Streety.
UTSA coach Larry Coker acknowledges fruitful neighboring ground. "We wanted a San Antonio presence and to recruit San Antonio kids, but we also wanted kids that we could win with," said Coker on the first UTSA signing day last year. "The more I've been around, the more I see that this town has a lot of talented athletes.
"We signed 13 players from the area, and we're very proud about that. There are seven all-state players, and the reception from the high school coaches has given opportunities for Texas players to remain in the state to play college football. That's been very special."
Coach Streety noted that "out of thousands who come through high school football programs, few can actually make that step up. So, obviously, life lessons are stressed. We try to motivate them to get a college education. High school football is just one way to get there."
The glory of high school ball — the wins, the game-changing catches, throws or tackles — will remain just a memory for the majority of the kids and their friends and family. The advance to the college level is for the few, and the advance to the pros is for fewer still.
Nonetheless, San Antonio has also made an indelible mark on the pros. Some 50 Alamo City players have been summoned to roam the professional fields, and one, Tommy Nobis, again is being promoted for induction into the Hall of Fame in Canton, Ohio.
By: Glenn Rogers