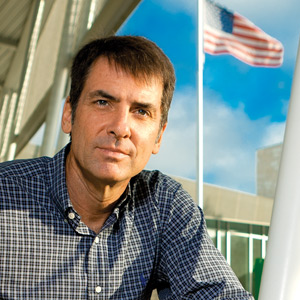 If there was ever anyone who deserved more than 24 hours in each day, it would have to be San Antonio's incredibly active and productive Mike Molak. A peek at this determined dynamo's daily schedule, and one would have to wonder, "How does he get it all done?"
While any answer would be complex, common sense dictates that this successful banker, loving family man and involved community leader's secret must include an enviable mix of boundless energy, intense focus, ambition and a keen intellect, all given worthwhile direction by a desire to achieve, create and contribute — at work, at home and, perhaps most importantly to many, in supporting and serving numerous organizations and charities.
Frankly, it can be exhausting just to contemplate such a seemingly nonstop existence, but thankfully for those who benefit from his diverse attentions, Mike makes it look easy.
A Good Boy
Born, then spending the first 24 months of his new life in Austin while his parents attended the University of Texas, Mike with Mom and Dad ultimately relocated back to San Antonio, which the extended Molak clan, boasting deep, multi-generational roots, always considered home. His father, Mike, Sr., a talented engineer, and his mother, a respected teacher, quickly established a nurturing and stable Northside household where Mike and his siblings were given the opportunities, encouragement and guidance essential not only to well-being and growth but achievement as well.
Today Mike readily concedes that his parents, as inspiring role models and trusted advisors, deserve much of the credit for the direction his life has taken. As he relates, "They made growing up fun. They were both hard workers (inside and outside of our home) but always had time for us."
As a naturally active youngster in the 1970s, with the senior Molaks providing nonstop encouragement, Mike generally excelled — no surprise there — as a student, athlete and all-around "good kid" who wasn't afraid of a little or even a lot of work. Elementary and junior high school days can be measured in a series of excellent school report cards and sports awards reflecting Mike's academic, physical and social growth. While attending high school and maintaining a 4.0 average, the spirited Alamo Heights "Mule" not only played first-team varsity basketball but also found the time to compete in cerebrally challenging intramural math contests while pursuing other outside interests. Mike and his parents were equally proud of his inclusion on the sports team and his membership in the school's prestigious Mu Alpha Theta math club.
The final leg of his formal education found young Mike back at the state capital, enrolled at UT Austin (like father, like son), where the ever-achieving "tea-sipper" consistently made the Dean's list semester after semester while handling numerous other commitments. A BBA in finance from the business school (followed by additional graduate-level work in taxation and accounting from UT San Antonio) and the promise of a bright future were the justifiable rewards earned by his determination and hard work.
Early Efforts
During his formative years, glimpses of the labor-loving, time-managing man Mike would eventually become began to be noticeable. Always employed at a series of part-time jobs, usually while a full-time student, Mike began demonstrating an exceptional parentally-instilled work ethic. At the age of 14, he got his first real job when he signed on for a summer at a full-service gas station. Eager to learn, Mike quickly grasped the particulars of maintaining an automobile along with the overriding importance of superior customer service. Of the time, Mike admits that "it was a great experience for a kid and really helped me understand what work was — but more importantly, I liked the money."
From those modest first paychecks at the station, the ever-restless Mike went on to washing dishes (and envying the waitstaff) at a popular eatery, running a forklift at an Alamo City parts yard, even traveling to Saudi Arabia, where he sampled Persian Gulf heat along with the international shipping business while employed as a dockhand and warehouseman — all while in his teens. During college, and while managing a full class load, the budding entrepreneur even established and operated a profitable barbecue concession at his uncle's recently acquired dance hall in Gruene, Texas.
Since childhood Mike has had an interest in the rich culture and history of Mexico. This odyssey began in the 1970s when he and his family spent a summer in the mountains of San Miguel exploring nearby communities where the Mexican War of Independence was initiated with the Grito de Dolores. On the journey home, he and others were injured in a train wreck in the desert outside of San Luis Potosí. In the years since, Mike has visited the pyramids of Tenochtitlan in the central valley of Mexico, driven the length of the Baja Peninsula fishing the Sea of Cortez and traveled over the Yucatan climbing the Mayan temple sites at Uxmal, Chichen Itza and Coba.
Wherever Mike worked and whatever he did, however, he was consistently recognized by fellow laborers, supervisors and customers as "someone who, without complaint, wouldn't rest until he got the job done" — a complimentary observation Mike appreciated then and still strives daily to fulfill.
Banking on the future
While initially counseled by his parents to go into dentistry like his paternal grandfather or pursue engineering, Mike more and more found himself attracted to the financial and banking industries. With his varied youthful work history, where he acquired a firsthand understanding of the commercial side of things coupled with his enjoyment of the business curriculum at the University, Mike became convinced the money side of the fast-paced corporate world was where he belonged. Seeking confirmation, after graduation he accepted an entry-level position with the then-Texas Commerce Bank in Austin as a commercial teller. Although it wasn't glamorous work, it reaffirmed that this was the field Mike Molak believed he was destined for. Shortly thereafter, and completely convinced he'd made the right career choice, Mike came home to San Antonio and joined the National Bank of Commerce, where he was enrolled in its 18-month-long commercial lending training program — an exciting opportunity for one so eager to learn.
Later, the capable and diligent new employee transferred to a position within NBC's real estate department, where he continued to grow in knowledge and ability while impressing his superiors. From NBC, Mike's career path continued its ascendancy with stops at the San Antonio branches of Bank One and, for a number of enjoyable, productive and challenging years, Wells Fargo. It was while at Wells Fargo that the senior vice president Molak was approached to assume the authoritative position he retains today.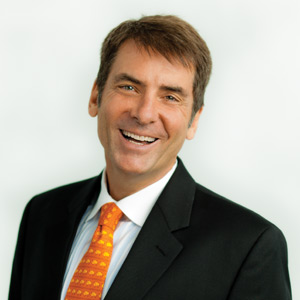 Enter PlainsCapital Bank
In 2004, North Texas-based PlainsCapital Bank, the largest privately held bank in the state with assets of more than $5 billion, was looking for a talented, high-energy, bold individual to open and captain a San Antonio outlet. While several prospects were initially identified, when the bank's management learned about the up-and-coming, extremely capable Wells Fargo VP, they knew the man they wanted. After contact, Mike admitted to being flattered but also revealed a certain hesitancy arising from his loyalty to and level of satisfaction with Wells Fargo. With unflagging persistence, however, PlainsCapital pursued him, eventually winning over not just Mike but his entire family (perhaps, most importantly, his wife) as well. A deal was soon done.
PlainsCapital Bank's appeal was its philosophy. After years at a large national bank with its layers of bureaucracy and confining rules and regulations, Mike found it refreshing — even liberating — to be associated with a targeted firm that, in his words, "wasn't trying to be everything to everybody." And he would be at the helm of a new bank that he would also be responsible for creating. To a guy like Mike Molak it represented a once-in-a-lifetime opportunity that he just couldn't resist. The bank's delighted board of directors is glad he didn't.
In the seven years since, Bank president Molak has had no regrets. His PlainsCapital Bank – San Antonio continues to grow and prosper. A third San Antonio branch just opened, and local monetary assets continue to increase at a steady rate. Clients appreciatively respond to the warmth, competency, personal attention and "whatever-it- takes" attitude received when doing business with PlainsCapital. As Mike admits, "It's been a win-win for the PlainsCapital group, for the local business community and for me."
Beyond Banking – A commitment to the greater community
Running a successful bank can certainly be one of the most exacting occupations an individual can experience, with demands on results, on profitability and on time. For most charged with such a momentous task, that would be it — no room for anything else. But not so for the indefatigable Mike Molak. He somehow finds additional hours in his day to shed his well-worn banker's hat and slip into a number of other totally selfless roles that, in retrospect, might make one ask, "Why does he do it?" The answer is obvious — he cares.
The list of his community and charitable involvements is impressive, the depth of commitment to these same involvements even more so. For the majority of Mike's professional life, he has willingly devoted enormous amounts of time, energy and intellect to a diverse assortment of undertakings that, while providing a degree of personal satisfaction, primarily benefit others. Currently, he is the chairman of the San Antonio Public Library Foundation and the past chair of the Greater San Antonio Chamber of Commerce Workforce Committee. He also sits (or has sat) on the boards of multiple organizations including the Methodist Hospital Foundation Roundtable, the Downtown YMCA, City Year San Antonio, the San Antonio Zoological Society, the Council of Real Estate Women and the Jewish Family Service of San Antonio Association. Aside from these official board affiliations, Mike regularly supports many other organizations personally and financially throughout the year. Wow!
Home Life
Outside of his professional and charitable duties, Mike is fortunately blessed with a supporting wife, two adored children and a private life where there's somehow still a little time left over to drive the kids' carpool, take an occasional vacation, go hunting from time to time and simply kick back.
Would he change anything about the life he's created for himself? In response, the modest Mike Molak simply states, "Doing makes me happy." Maybe that's why he's able to make it all look so easy!
By: Ernie Altgelt
Photography: Oscar Williams