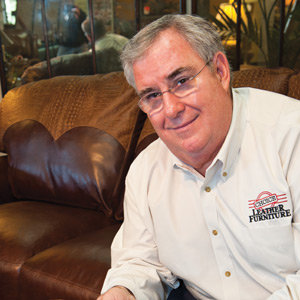 If a cozy recliner or plush chair with ottoman is a man's throne, so to speak, then Pat Sullivan can have his pick of the inventory where he can sit down and kick his feet up any day of the week — and Choice Leather Furniture is his domain. Still, Sullivan would much prefer that you come in and test one of his custom-made leather chairs, recliners, sofas and sectionals for yourself. You might just find one — or two — that will fit snug as a rug in your living room, den or any other area of your home that you see fit.
"If you go to a furniture store looking for leather, make sure it's leather," he warns. "There's bonded leather, blended leather and bicast leather. If you're sitting on one of those, it's vinyl. Real leather comes from an animal."
Sullivan, 60, who founded Choice Leather Furniture in 2004, has spent over three decades in the furniture business, so rest assured he knows furniture. In fact, his articles and manuals about buying furniture, the quality of leather and what to know before buying leather furniture have been published in several leading industry periodicals, including Furniture Today, the industry's premier publication.
However, the Fort Worth native never intended to go into the business in the first place, after graduating from the University of Texas at Austin in 1972 with a degree in physical education. His love of sports since childhood led him to want to pursue his lifelong dream — that of a major league baseball player. When that didn't pan out, he settled on becoming a professional umpire.
So off he went to the Al Somers Umpire School (now named Harry Wendelstedt Umpire School) in Daytona, Florida. "About 200 people showed up," Sullivan recalled, "but in the first weekend, 60 went home. They found out they weren't there just to have fun. They took us out and ran us for three days straight, and there were long lines at the airport."
Sullivan was in it for the long haul, and after two months of umpire school, he was sent to be an umpire in the Florida state league, considered the bottom rung of minor league baseball, where he would use his skills of calling balls and strikes — while equipped with a face mask and chest protector — as fast balls and curve balls flew straight toward him.
But after one season, the disillusioned Sullivan began to have his doubts. "I realized being yelled at was not for me," he says. Sullivan returned to UT Austin to get a degree in journalism, which he did in 1974, with a concentration in public relations.
Instead of a job with a PR firm, he began selling business forms for a Chicago-based company in Houston. After growing tired of the corporate world, he approached his father-in-law, who owned a small furniture store, and asked if he was hiring.
Eventually, Sullivan went into business for himself and opened Stafford Furniture Mart in 1979. Later, he partnered with an associate, and the two became owners of a chain of six stores called The Furniture Idea. In '89, he founded the Institute for Professional Achievement Training, where he wrote and recorded training seminars.
Then in the early '90s, Kim Kennedy of Dianne Flack Furniture approached him and convinced Sullivan to relocate to San Antonio, where Flack Interiors was experiencing a growth surge in the Alamo City.
For 10 years, Sullivan was chief operating officer for Dianne Flack Furniture, and when Flack Interiors decided not to renew the lease on their leather store, Sullivan advised them it would be a mistake, and with the blessing of the company he left and opened Choice Leather Furniture in that location, 1027 NE Loop 410. Today, it employs six loyal individuals who Sullivan says helped him get to where he is today.
SAN ANTONIO MAN spoke to Sullivan about what to keep in mind before buying leather furniture and the what was best part of his job.
Why do so many people prefer leather?
"It's the fastest-growing segment of the American furniture industry. It's such a value. Nothing outlasts leather. There's a certain prestige that leather brings. Many manufacturers are offering hybrids of leather that essentially are fake leather. It doesn't last as long or sit as well. Nothing is a better covering for value than leather that comes from a cow. Besides, nothing smells better than leather."
Tell me about Choice Leather Furniture.
"Eighty percent of our sales are custom orders. You come in and tell us what leather you want, what color you want the leather to be and the quality of the leather. We carry close to a dozen manufacturers. We carry a better quality of furniture than most stores. I've never had any desire to battle it out it with any of the big national stores. I prefer to cater to a higher-end customer. That's not to say we don't have excellent values in here once you consider what you're actually buying and what you're paying for it."
What should everyone know about buying leather furniture?
"That every price has two reasons for why it's priced that way — what you see that's on the furniture and what you don't see. What you see on the furniture is the cover. There's a tremendous variation in the price of the leather and a tremendous variation in the price of the fabric. But more important is what you don't see, or how it's built underneath. Today, a majority of furniture is built with a webbing system that's nylon bands interwoven like the seat of a lawn chair. That's your support system.
"Ninety-nine percent of the furniture in this store is built with tempered steel springs. It's the old-fashioned way of doing it. The springs look like an hourglass about 12 inches big, and the unit looks like a snow cone. Both are vastly superior to the webbing system."
Who chooses all the furniture for the store?
"My wife, Candy, selects the furniture and does the display in the store. I think anyone would agree this is one of the most beautiful furniture stores in the state, thanks to Candy."
I understand you were quite the high school athlete.
"I was inducted into the Fort Worth Brewer High Athletic Hall of Fame in September for football. At age 16, I won the Fort Worth Regional Golden Glove Championship. I've always been a sports addict. At UT Austin, I was one of the drum wranglers for the Longhorn band's 'Big Bertha,' the world's largest drum, and performed at Super Bowl VIII.
"To knock somebody out in front of 10,000 fans at Will Rogers Coliseum is quite a thrill. But to run out of the shoot at the north end of Memorial Stadium in Austin in front of 80,000 screaming Longhorn fans is quite a thrill, too."
So what's the best part of owning your business?
"It's not terribly stressful. We spend our time around things most people would love to have in their home, and there's plenty of comfortable sofas and chairs to sit down on when you want to. After all, we do have to test every new chair that comes in."
By: Rudie Arispe
Photography: Bibb Gault