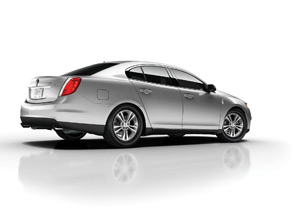 If you're a fan of the Lincoln Town Car, you'll be disappointed to know the 2011 model was the last of the breed. Taking its place is the MKS, a large luxury car with great exterior styling, a low base price and a long list of standard features. It's one of the most comfortable sedans on the market, with loads of leg and head room in all seating positions. With its front-wheel drive it will feel a little sportier than the Town Car, and with the EcoBoost option you'll get sportier performance. The split wing grille, use of chrome and fluid lines will remind you it's a Lincoln.
Lincoln has been around since 1917, when it was founded by Henry Leland. The first car was the L series, introduced in 1920. At the urging of Edsel Ford, the Ford Motor Company acquired Lincoln in 1922. The Town Car was introduced in 1981 and has been the mainstay of the Lincoln line until now. It's a favorite of the car services in large cities like New York and is quite often stretched to amazing lengths as limos. It will be interesting to see what the services adapt to using.
The 2012 MKS comes in two trim levels and EcoBoost, which is what I had the pleasure of testing. Front-wheel drive is standard, but the EcoBoost automatically includes all-wheel drive. The EcoBoost engine is one of the best innovations from Ford in recent memory. It is a V6 that is smaller than the standard V6 — 3.5-liter compared to 3.7-liter — but produces 355 horsepower and 350 foot pounds of torque compared to 274 horsepower and 270 foot pounds of torque. All three are connected to a smooth six-speed automatic transmission.
The EcoBoost also has its own appearance package that is both stylish and functional. The exterior has front lip spoiler, unique grille, side rockers and door cladding, chrome insert on a decklid lip spoiler, lower rear fascia, a darkened headlamp design and a red S on a decklid badge. Interior upgrades are just as nice, with premium perforated leather in two-tone combinations and special stitching, upgraded floor mats with the Lincoln Star on the mats and the head restraints, a leather-wrapped steering wheel, illuminated sill plates and a metallic MKS badge on the instrument panel.
A unique feature on the new MKS is called MyKey, which is an innovative system that can help young drivers drive more responsibly and safely. It can be set to place limits on speed (to 80 mph) and audio volume (to 45 percent of maximum). The low-fuel-light comes on sooner (75 miles to empty instead of 50). Additionally, radio volume drops to 50 percent when safety belt alert is active. Programming takes a few short moments and brings hours of additional peace of mind.
Another great feature is SYNC, which is an easy-to-use in-car connectivity system that allows you to stay connected to your world if that is something you want to do. This system makes hands-free calls, controls your music, gets traffic information and can connect you directly to 911 when an airbag has been deployed. The available navigation system will give you turn-by-turn directions, traffic alerts, weather and a myriad of other information. This definitely requires reading the owner's manual, something most people cringe at the thought of doing. The Sirius XM Satellite Radio has 130 channels, and the navigation system has a 10GB hard drive that will store 2,400 songs.
A luxury car requires leather upholstery, and the MKS has excelled with The Bridge of Weir leather-trimmed seats that are 100-percent unembossed, highlighting the leather's natural beauty. This makes each seating surface unique. The chromium-free, organic tanning method produces environmentally sustainable byproducts and creates a fine leather that's recyclable at the end of its life. To shed light on this sumptuous interior there's a dual panel moon roof. It has a forward panel that opens for ventilation and a fixed rear panel. There's also a power rear sunshade that keeps the interior comfortable.
Active Park Assist is a feature that really gets your WOW factor. You pull up to a parallel parking spot, and it will measure the space for you, then automatically, hands-off, steer you into the spot — no guessing required. A really strange feeling the first time you try it. The MKS also has available adaptive cruise control with collision warning. Unlike traditional systems, adaptive cruise can sense traffic flow and react accordingly. When traffic slows, your vehicle adjusts its speed to maintain your preferred preset distance to the vehicle in front of you. There are also adaptive HID headlights that turn with the steering wheel angle and vehicle speed to allow a greater field of vision around the darkest curves.
All of you Town Car fans, try it, you'll like it!
By: Terry Negley