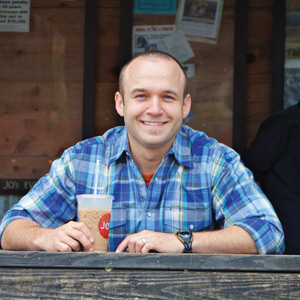 As recently as the late '90s, South Congress was not the kind of place you wanted to take your kids, especially after dark. That is, unless you were trying some homemade variation of Scared Straight!
With a few exceptions, South Congress was just a collection of abandoned storefronts, vagabonds and seedy activities. However, a handful of optimistic entrepreneurs saw hope in the historic storefronts, and South Congress is now one of Austin's most vibrant shopping and entertainment districts — well worth a day trip.
The History
Stretching from the Congress Avenue Bridge over Lady Bird Lake all the way to roughly Oltorf Street, this area boomed in the 1930s to 1950s as roads were paved and businesses spread south of downtown along Congress Avenue, which was the major north-south thoroughfare in Austin at that time. The constant movement of people brought businesses, shopping centers, hotels and tremendous success.
However, the construction of Interstate 35 moved all that traffic east, and the area slowly fell into its own micro-depression. It became a haven for artists and musicians, but also a favorite for drug dealers and drifters. Businesses closed their doors, and hotels started charging by the hour (if you know what I mean). There are legends of scandalous state legislators caught visiting these wayward businesses, and even tales of a phone line that ran directly from the Senate to the front desk of the Hotel San José just in case they needed to recruit more bodies for a quorum on the Senate floor. Needless to say, these were not the best years for South Congress.
However, in the mid-'90s the tide slowly began to turn as cheap rent drew funky entrepreneurs into the area. Each business generated more business, and the area has now gone through a complete renaissance, yet it still retains some of its gritty vibe from back in the day.
The Shopping
As with any energetic district, one of the main attractions on South Congress is shopping. But don't expect any big chain retailers or any stores that you've ever heard of. South Congress is a hodgepodge of high-end boutiques, hipster vintage clothing stores, art galleries and just plain wacky shops selling everything from antiques to chocolate-covered bacon.
To view one of the strangest collections of stuff you've ever seen, step into Uncommon Objects to browse its cluttered aisles of antiques collected from all over the country. It's the kind of place you could walk through a hundred times and still not see everything.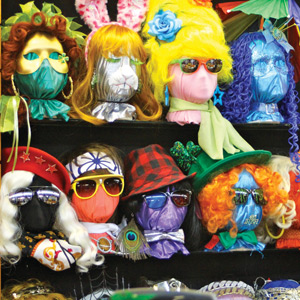 For clothing, head to Stag, the manly alternative to the lady's fashion boutique, selling "Provisions for Men" like shirts, sunglasses and books about Muhammad Ali. Or stop by New Bohemia because every daytripper needs a pair of vintage cowboy boots and a leather jacket that smells like a 1975 Camaro. Of course, there are plenty of stores for your lady friend to visit, but enough about her — this is SAN ANTONIO MAN!
I also recommend popping in to Lucy in Disguise with Diamonds and Electric Ladyland, if not just to visit the store with the longest name in Austin. This local costume shop can help you dress like anything from Chewbacca to Dorothy from The Wizard of Oz. It's definitely worth a look, even if you aren't in the market for a secret identity.
The Food
Of course, all the shopping and walking around will work up your appetite, but fear not. You will never starve on South Congress. This avenue is a melting pot of mobile feasts (aka food trailers) and B&M restaurants (aka brick and mortar). Eat at one type or eat at both because you'll definitely want to sample everything.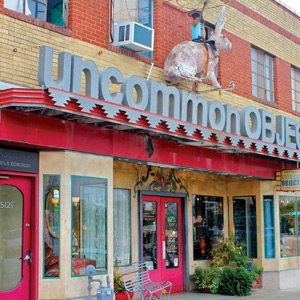 If your day is just getting started, grab a coffee and breakfast taco at Jo's Coffee. But if you're already in full swing, Homeslice Pizza makes one incredible New York-style pie, my favorite being the No. 6 with sausage, ricotta cheese and roasted red peppers. For burgers, you can go classic at Fran's Hamburgers or updated and trendy with a "Magic Shroom" burger at Hopdoddy Burger Bar. Neither will disappoint.
When it comes to the mobile food truck scene on South Congress, the options are diverse and ever-changing, everything from Moroccan at The Flying Carpet to hot dogs and sausage at Wurst Tex. For something different I highly recommend a Hot and Crunchy Chicken-Avocado Cone from The Mighty Cone, owned by one of the fanciest restaurants in Austin, which decided to get into the trailer business. This particular cone is a tortilla filled with fried chicken, avocado, slaw and a delicious spicy cream sauce and stuffed into one flimsy paper sno-cone shell. It's so good you might accidentally eat the paper as you devour it.
After filling your stomach with some of the best food in Austin, the next issue is, of course … dessert. The shiny Airstream staple Hey Cupcake! is an Austin favorite and will undoubtedly have a line of folks eager to get their hands on one of its delectable cupcakes. But if you have a sweet tooth that just can't wait, I recommend stopping by the Big Top Candy Shop, selling all the vintage candies you remember from your childhood alongside some with a modern twist. How about chocolate-covered bacon? Or perhaps a wasabi milkshake? Surprisingly, the bacon is very tasty, but I've always been too chicken to try the milkshake. Let me know how it goes for you.
After Dark
When the sun goes down on South Congress, that's when things really get interesting, starting with the dispersing of America's largest urban bat colony living underneath the Congress Avenue Bridge. As the sun goes down, this group of Mexican free tail bats takes to the sky in one giant black cloud stretching all the way past the horizon. It is an incredible sight to see.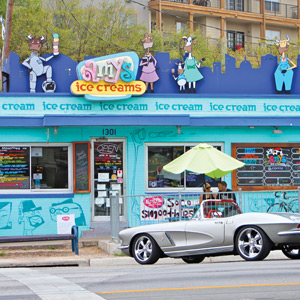 And as you may know, Austin is the "Live Music Capital of the World." Music venues lie all over town, and South Congress is no exception. For some gritty blues and rockabilly, look no further than The Continental Club, which has been cranking the volume on South Congress since 1957. Or on the perfect Texas night, grab a margarita and sit underneath the giant oaks of Guero's Taco Bar and listen to the mellow tunes of a local guitar man.
Get Going
The beauty of South Congress is that there really is something for everyone. And whether you're a crazy shopper with credit card in hand, or an avid foodie looking to indulge your taste buds, South Congress is Austin's go-to place. Just bring a full bank account and an empty stomach.
Tune into The Daytripper on your local PBS station, or visit www.thedaytripper.com
By: Chet Garner