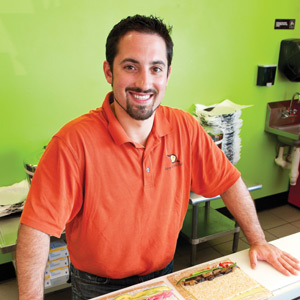 While still in high school, David Sebastian Perez displayed a raw talent for business, launching a successful landscaping enterprise catering to his neighborhood. Now a full-fledged businessman at 28, he's traded raw talent for raw fish — launching the bustling How Do You Roll sushi restaurant in Stone Oak with plans for future expansion.
"I never got a spring break or summer vacation, but it really paid off," Perez, a Clark High School graduate, said in recalling his salad days as a landscaper. "I started off trimming trees, cutting grass and mending fences around the Tanglewood and DeZavala Oaks areas, but by my senior year I hired some of the football players from school, and I began directing rather than doing the actual work."
One of his clients, an executive at locally based financial services firm SWBC, noted the young man's work ethic and set up an interview for him. Perez ended up with a job as a business analyst at the company, where he spent five years.
The experience was invaluable, helping him develop the financial acumen that now informs his business plan. Based on the success of his 1,800-square-foot Stone Oak restaurant, plans call for a second location to be opened by February at Loop 1604 and Babcock. Future expansion plans anticipate launching one new restaurant each year. How Do You Roll is not your typical sushi place. As the name implies, the restaurant offers customers the experience of creating their own unique sushi rolls, picking from among a variety of ingredients that include grilled chicken, avocado, teriyaki, mango and cucumber. A spicy, three-alarm sushi roll is not for the faint of heart, but for the less adventurous there are traditional prepared rolls as well.
"We've been compared to Chipotle or Subway because of our assembly and choicing," Perez says about the build-your-own concept. "Customers get to create their own rolls priced from $3.95 to $9, and we provide meals with 10 rolls, where most places offer six to eight."
Having crunched the numbers, he says the restaurant is able to keep prices low given the level of business without having to compromise the quality of its ingredients. Further attention to customer service comes in the form of nutritional data related to each ingredient so diners are aware of their calorie intake. Employees sample each ingredient as it arrives in order to be able to advise clients on optimal ingredient combinations, he adds.
"Our tuna is super-premium, and our salmon is triple-A Scottish salmon," Perez says proudly. "We use high-quality products, and because of the number of people coming in, we are able to offer good pricing."
Given the sushi craze and renewed focus on healthful eating, Perez is not necessarily surprised by his success. But one thing that did raise his eyebrows was the abundance of children enjoying offerings not necessarily for the squeamish diner.
"One of my regular customers is a 7-year-old who comes in with his mom and always orders the escolar — a snake mackerel, white fish sushi roll. I'd say 60 percent of my customers are women and up to 15 percent are children. I'm very impressed and surprised because I didn't expect to have such a high percentage of children ordering meals," he says.
That juvenile client segment prompted Perez to offer kids' meals combining five sushi pieces with side dish options of a fruit cup, edamame or miso soup. Perez points to his father as a role model. Emigrating from Monterrey, Mexico, in 1982, Andres Perez runs a successful computer consulting business, advising corporate clients on data warehouse and architecture. His father-in-law happens to own several restaurant franchises of his own, providing Perez with valuable industry insight. But Perez reserves special praise for his wife, Avery Riley Perez, whom he views as an equal partner in the enterprise.
"Avery is fantastic. I focus mostly on operations, marketing and sales, but she designed the store and bought all the equipment while focusing on project management and construction coordinating," he says.
The childhood sweethearts attended the University of Texas at San Antonio together — he focused on business studies while she received a liberal arts education. All told, they've known each other 15 years, dated for seven and have now been married three years. "We were actually best friends in high school," he notes.
The best evidence of Perez's success can be evidenced by the brisk business seen at his unique restaurant at 20079 Stone Oak Parkway at any given lunchtime. Clearly, this success story is no tall fish tale.
By: Tony Cantú
Photography: Bibb Gault