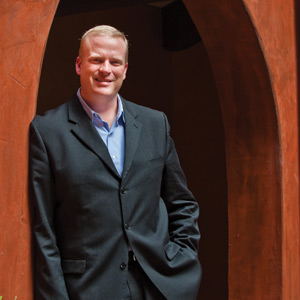 Chad Taylor was sitting in a bar in South Korea contemplating his future toward the end of his five-year stint in the Air Force as an agent for the Office of Special Investigations (OSI). He was pondering some big brother advice that his sibling, a professor at a Norwegian university, had recently offered: Find something you really want to do and that you're good at.
"So I started thinking, 'Well, I really enjoy dinner and drinks with friends, and I like staying in nice hotels,'" says Taylor, the 36-year-old general manager of Hotel Valencia Riverwalk. "And I came up with a complete career change plan. I went from the FBI, Secret Service and CIA path to 'I'm going to go make $7 per hour as a desk clerk.'"
And that he did. So after separating from the military in 1998, Taylor returned to his native Houston and landed a job at the Marriott Hotel — all for about three hours. "While I was on my lunch break, the Omni called me," he says. "They were offering me 25 cents more than what I was making at the Marriott, so I went to the Omni and spent three years there. That's where I met all the people who transformed my life today, such as my boss, Roy Kretschmer. He took me on a fast track and promoted me up in a short amount of time."
When Kretschmer left the Omni for the Valencia Group in 2002, he recognized talent when he saw it and asked Taylor to put in his notice and come along to where opportunity awaited. He was hired as director of operations until 2007, when he left for Carlsbad, Calif., to be the general manager of a small beach resort. In October 2008, however, Kretschmer came calling again with a lucrative offer — to be the general manager of the Hotel Valencia. "He needed a GM who could hit the ground running," Taylor recalls. "I packed all my clothes in my car, put my flat-screen TV on top of my clothes, along with my espresso coffeemaker and a wine glass in the glove compartment, and made the 22-hour drive to San Antonio." Taylor has been in the Alamo City ever since and is enjoying his role as GM for the 213-room Hotel Valencia, which is consistently named one of the top 100 hotels in the country and top 500 hotels in the world by Travel & Leisure and Condé Nast Traveler, no doubt in part because of its acclaimed Citrus Restaurant and ultra-cool V Bar lounge and bar.
As the "face" of Hotel Valencia, Taylor can be seen greeting guests and giving high-fives to the staff as he walks the floors of the luxurious hotel ensuring that everything is in tiptop order. Away from work, the general manager is actively involved with the community, where he serves on the boards of the San Antonio Library Foundation, Boys & Girls Clubs of San Antonio and the San Antonio Hispanic Chamber of Commerce.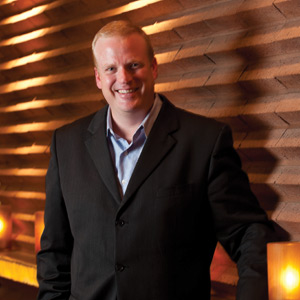 Although Taylor's rise to the top might appear to have happened almost overnight, he assures it did not come without years of rolling up his sleeves and getting his hands dirty. "I've been a desk agent, concierge, cleaned rooms, scrubbed toilets and been through floods that took out the entire bottom floor of a hotel," he says, which is exactly why he is perfectly suited for the job. He can handle a crisis with the tenacity and attention to detail acquired from his service in the military just as easily as he can suggest a wine for dinner guests in Citrus.
Why did you join the military and what did you do?
"I was a terrible student. After graduating from high school, I went to Sam Houston State University and got kicked out because of bad grades. I decided I was either going to join the military or flip burgers. I joined the Air Force in 1992 and got into Security Police. As an OSI agent, I investigated black marketing."
What are some of the challenges of being GM?
"It's easy to give it your all and get to the highest point and say, 'Whew. Thank God we made it.' Now it's maintaining it. That's the challenge. We constantly remain at a 92-percent guest satisfaction rate. On top of that, I think our company is based off the triangle: associates, guests and ownership. A lot of people say you have to take care of your guests first. I believe you have to take care of your staff first because if you take care of your staff and they are happy, then they make the guests happy, and then the owners are happy. By taking care of staff, that means I can look at the schedule and be sure the housekeepers and bellmen have 40 or more hours a week to make the money they need to make."
I understand you've always wanted to be a general manager of a hotel. Why?
"When I was in the military, I heard that word 'general manager' all the time. When I got into the hospitality industry, I didn't realize how much work it takes to become GM. There's a misconception from a lot of people coming out of school. You don't become general manager just because you've graduated from school. I wanted to get back to what I did in the military, and that's running a world-class team."
So what do you look for when you stay at a hotel?
"That's easy. I look for things that I didn't think of for my hotel. I'm looking at how their operation runs from the doorman to the front desk. I look at what kind of technology they have, the TVs, who's their service provider and how their bell carts look. I love doing it."
You provided security detail once for Air Force One when President Clinton was in office. Tell me about that.
"I came into work one day, and my supervisor told me what weapon to get. We ended up on the flight deck, and we see this big blue bird coming in. I knew right away what was going on. I had to go stand by the ladder where everyone comes down. Right then you have to know your movements. Then I did security for the rest of the night for the plane. I still have some memorabilia, including a box of M&Ms that I've never opened and a deck of cards signed by President Clinton as a token of appreciation."
Although you went to college, you didn't graduate. That obviously hasn't hindered your career.
"It was embarrassing the first few years of my professional career that I flunked college. But now I realize I'm not the only person out there who didn't graduate from college. You still can succeed in life."
By: Rudy Arispe
Photography: Bibb Gault