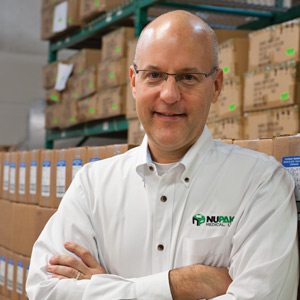 In launching a small business, finding a profitable niche is the first challenge for any startup. In overcoming that initial obstacle, the success of NuPak Medical Ltd.— and, by extension its founder, David Cocke — yields a case study in effective entrepreneurship.
Started in May 1997, the company manufactures, assembles and packages medical devices for a number of clients nationwide. The company's main work centers on providing sterile disposable device assembly and packaging, thermoplastic injection molding and rapid prototyping while adhering to the highest national and international quality standards.
The business model's niche lies in its manufacturing focus, offered at a lower cost to clients than manufacturing their devices in-house. The current recession-fueled landscape that makes financing of such operations internally even more complicated for companies has further benefited NuPak Medical's bottom line.
"The trends are toward outsourcing," Cocke says succinctly in explaining his company's steady growth. "The world we live in since 2008 is one in which the capital has become very, very difficult to raise. It's incumbent on customers of NuPak to use their capital efficiently, so the need to outsource will increase."
To that end, the locally based company works with startup companies and entrepreneurs looking to introduce their medical devices to the marketplace. One such customer is a Florida physician who has devised a safer, cleaner breathing tube for patients that all but eliminates repeatedly invasive replacement through the use of balloon catheter technology augmented with suction. Still in the development phases, the device is already being pre-ordered, Cocke says.
"He came up with the idea with the proverbial sketch on the back of a napkin," he says of his client. "When you have a breathing tube running off a ventilator, it gets clogged up with phlegm and other secretions, and flesh sometimes grows around it before it is replaced, which results in scarring. With this device, the balloon expands inside the breathing tube and operates like roto-rooting. To be able to help a brilliant clinician take an idea and make it into a medical device in our factory to help save lives … it's pretty cool."
Another NuPak-built medical device made to its Dallas-based inventor's specifications is intended for Type I diabetes patients. Instead of having to give themselves up to seven shots a day, diabetes patients utilizing the product would give themselves a continuous low dose of insulin daily.
"It provides good outcomes for patients instead of their having to experience peaks and valleys," Cocke says in describing the device, which is about the size of a cellular telephone. "This particular client, Fifty50 Medical, we've worked with over the last 10 years. The meaning behind the name is they give away 50 percent of their profits for diabetic research."
Cocke's palpable enthusiasm in describing his clients' inventions reflects his own trajectory toward personal and business fulfillment. While still in school studying business, he entered the heady world of Wall Street. At Salomon Brothers Inc. in Dallas, he helped develop and process $800 million of capital market transactions involving the full array of securities — investment-grade debt, auction-rate preferred stock, common stock, medium-term notes, commercial paper and private placements.
Armed with a Bachelor of Business Administration degree after graduating magna cum laude from the University of Texas at Austin in 1986, he went to work as an associate for GE Capital Corporate Finance Group in Dallas and later in New York, where he played a major role in a pair of funded transactions totaling $80 million and facilitated leveraged buyout transactions and takeovers by venture capitalists.
During that time, Cocke earned a Master of Business Administration degree from the Darden Graduate School of Business Administration at the University of Virginia. While acknowledging the exciting nature of the world of high finance, he didn't really see himself as a master of the universe: "I just felt like I was pushing mounds of paper from one direction to the other. By 1991, during the first Bush administration, came the recession, and the lending business became moribund. Not many leveraged buyouts were happening because of the recession."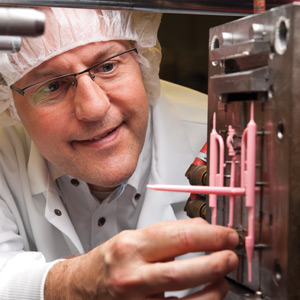 That's when a friend told him about the exciting strides being made by San Antonio-based KCI, a hugely successful medical devices maker that was itself recently taken over by a European counterpart. From 1991 to 1993, Cocke worked as corporate development director at Kinetic Concepts Inc. before three years serving as senior director, finance and operations, at KCI New Technologies Inc.
Career-wise, the KCI experience was transformative: "I was moved into the role of CFO for one of their divisions they no longer have, and that got me into the manufacturing segment hands-on."
Following a short CFO stint at medical device maker Talon Medical, Ltd., Cocke launched NuPak. Located at 11849 Starcrest, east of the Blossom Athletic Center, the company quietly churns out its products from an 8,000-square-foot factory. Since it works for OEMs (original equipment manufacturers), the public at large doesn't see developed products emblazoned with the NuPak name but rather with the names of the device makers. But the firm's work ethic has created positive word-of-mouth, contributing to continual growth each year since company inception.
"We're not a huge company — about 20 employees, in the low seven figures," he says modestly. "Exciting new things for us are driven by exciting new things for our customers." In his successful second act in the corporate world, Cocke is attuned to global market forces that have eroded America's once-bustling manufacturing base. Given such challenges, he says he likes to think NuPak is doing its bit to extend the vaunted "Made in America" mantra. He points to countries like Mexico and China — main threats to manufacturing firms like his — that exploit their abundance of cheap labor to the detriment of U.S. manufacturers.
"We've seen a lot of outsourcing to Mexico and China," he says. "One could buy an injection mold in China for $10,000 — a lot of injection molding is done in China — that would cost $80,000 in the United States, so it's a no-brainer for some people. But what they don't tell you is that it could take two years to make an injection mold with so many moving parts in China, where the industry is nascent. In that two-year period, you could lose a two-year revenue cycle and see the market for a product disappear. We can't compete on wages, but we can compete and win in terms of attention, turnaround time and lead time."
The father of three boys ranging in age from 15 to 20, the 46-year-old businessman married for a second time six years ago. As global as his corporate focus might be, his center is decidedly Texan — roots that were acknowledged when he met his wife, Tanya.
"We actually met on a Southwest Airlines flight," he recalls. "We were both going to Michigan — she visiting her sister and me to see my kids — and we started talking and one thing led to another. After we got married, Southwest Airlines gave us a big bowl with 400 peanuts."
Happily ensconced at his Northside home, Cocke says he looks forward to going to his job every day: "When you see orders go out, you realize you're creating jobs for people. It's always thrilling to get up to go to work. It's important to our economy to manufacture, but it's not as rewarding physically or emotionally as manufacturing a device that affects people's lives."
By: Tony Cantú
Photography: Bibb Gault