For decades, San Antonio has seemed like a city on the verge of a nuclear breakthrough — a cultural Big Bang that would send us spiraling out into an unsuspecting universe wondering where we had been all this time.
There have been sun-spot-scale flare-ups in the form of art, even food, but critical mass seemed to have eluded us. It might be cheeky to suggest that spirits are now stoking that reaction, but the recent completion of the first-annual San Antonio Cocktail Conference in January suggests that we have more than come of age, that the bang may be more than a theory.
"There are now enough reputable bartenders in the city introducing new things to people and awakening cravings they didn't know they had [to put us in the front ranks of the cocktail world]," says Olaf Harmel of Mon Ami, an intimate Alamo Heights bar dedicated to finely crafted drinks. "We're relying on bartenders to point the direction; it's not just automatic vodka and soda anymore," he says. "We're also in a foodie culture, and there's now a seasonal aspect to drinks as well."
Harmel tends to prefer spices such as cinnamon in winter, along with what he calls "heavy" spirits components such as Carpano Antica vermouth, but for summer, "there are also more and better herbs available," he says — adding that it doesn't hurt to be next door to Central Market.
There's still room for improvement on both sides of the bar, Harmel is also quick to mention. Customers may not yet totally appreciate that it takes time to make a really good drink, he thinks, but the bartender also needs to be able to read the client, to make sure each drink is built for the moment. "It's why I'll always work in a small bar," he says. "I like to pair drinks with people."
Harmel and Mon Ami's owner, Gerry Shirley, would seem like an equally good pair in that case. "There are ways to maximize revenue that we just don't do," he says, "though there's clearly a difference between [how much time you can spend with customers] Tuesday at 8 and Friday night at 11." Something is working in any case. Having just moved across a passageway from a spot behind Mon Thai (also owned by Shirley and his wife), the expanded space has allowed the hiring of another bartender and has generated "maybe 20 percent more business — some of which is probably part of an upward trend over the last few years."  But, as might have been anticipated, the move hasn't been the occasion of more expensive drinks. "We have a level that kind of defines us," says Shirley. "And $14 cocktails might lose us a few customers. Now we pay the bills and have a healthy mix of people we like to drink with."
But if drinks costing in the teens are a sign of having made it in the cocktail world, San Antonio is already there. Part of this has to do with poshness of place, of course, and in that category, Bohanan's Bar is certainly among the standouts: etched glass, gleaming bar, clubby seating and all. Bohanan's has another good reason for its premium-priced cocktails — for more than a year now, consulting by New York bar legend Sasha Petraske has been firing up the staff, and recently Maddy Gee, an alumnus of Petraske's Milk and Honey Bar on the Lower East Side, has joined the crew. "We believe in the power of education," says general manager Scott Becker. "Of course, we want customers to be able to order what they prefer, but we also like to show off, and we foresee a more educated and demanding public in the next two years." As the prime mover behind the San Antonio Cocktail Conference, Bohanan's is putting its money where its vermouth is.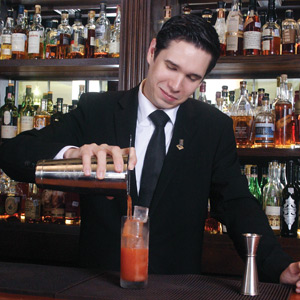 Bohanan's bartender Jake Corney is watching local progress, too. "People are slowly starting to go into cocktails that have base spirits they aren't familiar with," he says. "The best example is gin — 'It's what my grandmother drank, and I'll never try it' used to be the response — and the easiest to convert are vodka drinkers. They, and others, are slowly but surely coming around to new recipes." Corney also mentions education behind the bar: "Bartending's a service, so getting the fundamentals down — being able to execute the same drink over and over again without flaw — is primary. Just adding ingredients, foams, [doesn't cut it]."
Another barman (most of these guys don't use the trendy term "mixologist," by the way) with a reputation for consistency is Rob Millican at Drew's American Grill. His disciplined approach to both staff training and drink mixing will surely help in converting the Stone Oak audience to craft-style drinking. He explains, "The Loop is different in that 'cocktail' here is still a whisper, whereas downtown it's more vocalized. But although people are still used to the norm [vodka, again], they are now beginning to respond to the idea of a real cocktail; they've just got to get their heads around what that reality is, the time a drink takes to make, the art of mixing…"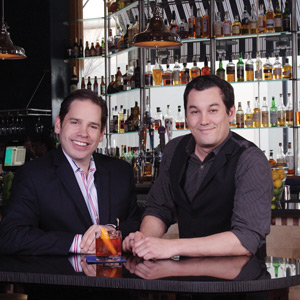 In general, Millican also thinks that people are beginning to develop personal relationships with bartenders, allowing themselves to be coaxed out of their comfort levels. This sometimes means new drinks, sometimes revisiting classics. "People out here are responding to the Old Fashioned; they remember it somehow," he says. "The Moscow Mule is also seen as approachable, and even a well-made mojito [can be a revelation]."  Another point: "People don't yet realize that there are a number of places in San Antonio that they can go to that are a cut above the [pre-cocktail revolution] bar." As for Drew's, "we're slowly building a reputation for quality cocktails and a high level of service." As for those other places, "spread the word" would be his response; these guys are all in it together.
The downtown crowd might not be shouting "cocktail" at Soho, but the wine and martini bar owned by Lutfy Flores-Vico and Ron Herrera is the sort of place you'd feel free doing it. Calling itself "Downtown San Antonio's Original Craft Cocktail Bar," atmospheric Soho, created around the original safe of the historic San Antonio Bank & Trust, will celebrate five years of doing something right in April. "We were fortunate to develop a regular clientele quickly, but that [crowd] has also turned out to be a lot of people who work downtown during the day — or later at night, counting bartenders from other bars that stop by after a shift," he says. Not your typical River Walk traffic, in other words — to the extent that "we even get older, professional folks from the northside coming downtown for a get-to-know-your-city vacation."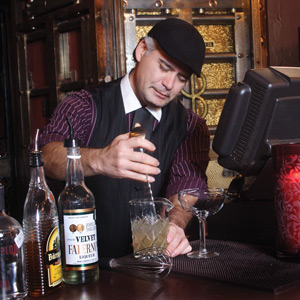 Regardless of origin — or level of sophistication, for that matter — "we're sometimes kinda like Best Buy with people looking to see what's new. Lately there's been a lot of interest in bourbon and Manhattans, rye's got it going on in drinks like the Sazerac … but San Antonio has a sweet tooth, and I suspect sweet cocktails will always be popular," says Flores, whose house-made candy cane and tequila infusion sits at the bar with another made with Maker's Mark and brisket. (Both of these are way better than you might now be thinking, but are really made for mixing, not sipping.)
An early — and still very vocal— ambassador of new/old-wave cocktail culture is Jeret Peña, currently head bartender at the longest wooden bar in Texas, The Esquire Tavern. Once a dubious dive, the Esquire is the brainchild of local businessman Chris Hill, who rescued and restored the historic space on West Commerce, leaving just enough residue of its checkered past to assure an edgy vibe. "The atmosphere suggests taking a risk; Chris is a true visionary in this regard," says Peña, who was recruited to develop a unique list of "swanky" cocktails and assemble the staff necessary to execute it. "Two years ago cocktails were hardly an afterthought [in the minds of diners and drinkers]," says Peña, "but today I can walk along the bar and the booths and see all kinds of drink formats; it's a measure of the success of the movement as a whole [in San Antonio]".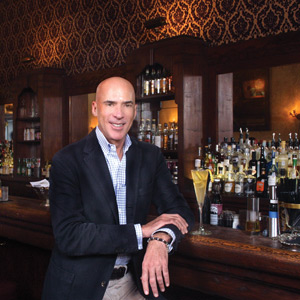 Among the most popular drinks is, again, the Moscow Mule, a concoction made from vodka, lime juice (always freshly squeezed, a mantra of the movement) and, in Esquire's case, a house-made ginger beer. "It's a good stepping stone to other stuff," says Peña, whose "other stuff" often includes base liquors such as single-village mezcal and Velvet Falernum, and whose kit of accent ingredients includes bitters made from ingredients as prosaic as peach and as exotic as chocolate.
Another mantra of the modern cocktail movement seems to be clever and punning drinks titles; it's part of the creative process. And in this regard, Esquire is again in the forefront with names such as Mas Chingoni, Piloto Borracho and Only the Besh, a drink created in honor of the New Orleans chef, John Besh, who happens to own Lüke up the river. Creating on the spot has also become a kind of local parlor game among cocktail groupies: Pick a base spirit, a fruit, even a mood, and ask any of the guys discussed so far to create a drink for you. It gets their juices flowing and makes the notion of becoming a regular seem all the more attractive.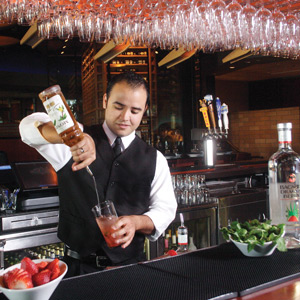 But what of bars seemingly more tied to a corporate culture? "We do have drinks recipes that have evolved over the years," says Larry Plaisance, managing partner of the local WildFish Seafood Grille, a part of the Eddie V's restaurant group. "We want to make sure any drink is part of the identity of the group — not too off-the-wall — so we don't allow bartenders to pour freely [on the spot]." But they can point a customer to a drink from their established menu that suits his or her preferences — and, for that matter, matches with menu items such as the spicy calamari. The Eddie V's group also holds frequent bartender competitions for new drinks as a way of tapping into the 'tenders' inherent creativity. "The winners tend to make it onto the list," says Plaisance, so there's evolution even within the constraints of a corporate environment.
One advantage of a corporate restaurant/ bar such as WildFish is this: They can do a killer happy hour. Whereas most of the bars mentioned above don't make a big deal of it (though Drew's does do a good late-night one on Mondays), the daily happy hour at WildFish (get there before 5 if possible) offers very well-made, if straightforward, drinks and exceptional appetizers. Nothing wrong with an impeccably made martini — as long as it's gin, of course.
By: Ron Bechtol
Photography: Janet Rogers