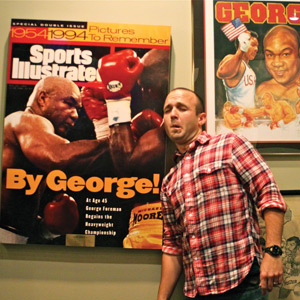 What's with all the recent buzz about Waco?  The town grabs a little bronze trophy named Heisman, has a 10-win football team, two dominating basketball clubs, and suddenly folks all across Texas can't get enough of this Central Texas city or its resident Baylor University.  Even two of my high school cousins are suddenly considering Baylor as a top choice.
So, is it all just bandwagon hype, or did Texans finally discover that Waco is the forgotten gem of Interstate 35?  Now you've probably been to Waco a thousand times on your way to Dallas. You filled up the car, grabbed a slushee and hit the highway.  However, if all you've seen of Waco is I-35, then you've missed it completely and owe it to yourself to head back up for the day … if not more.
I was a local
Full disclosure: I am a Baylor Bear (…and a Texas Longhorn).  After undergrad at UT Austin, I traveled up the road to Baylor Law School. However, unlike most graduate students, I didn't spend my time harkening back to the glory days of undergrad. Instead, I bought in. I decided that if I was going to be in Waco for three years, I'd better make the most of it.
Something deep inside me needed a home team to cheer for, and if that was Baylor, then I was going to be a Baylor Bear. I bought a Baylor hat, slapped on a green and gold T-shirt and hit the stands. What followed was an up-and-down sports ride and a growing love affair with the city of Waco. I spent the better part of three years exploring Waco, and found much more than the gas stations along the frontage road.
A town and its university
Home to approximately 200,000 folks (including surrounding communities), Waco isn't a sleepy small town. While it doesn't have as much metropolitan cachet as its I-35 neighbors of San Antonio, Austin and Dallas, you can find more to do in Waco than you ever expected.
And while we are on topic, let's talk about Baylor University, which is one place you'll want to check out on your day trip. Home to around 15,000 students, Baylor boasts being the oldest university in Texas (sorry, Southwestern, but I think Baylor has the better claim here). For outsiders looking in, the high points you'll want to visit are the golden-domed Pat Neff Hall and the renovated Baylor Bear Habitat, where Baylor's furry mascots "Joy" and "Lady" spend their days lounging beside a waterfall, playing with a bouncy ball and just doing bear-ish type stuff, which no longer includes drinking Dr Pepper, as scientists have discovered bears are terrible at brushing their teeth.
The museums
Speaking of Dr Pepper, if you, like most Texans, love this tasty beverage, then Waco is holy ground. Invented by a pharmacist in 1885 at Waco's Corner Drug Store, Dr Pepper is the oldest major soft drink on the market, and the Dr Pepper Museum is a must-stop destination. The museum houses a collection of artifacts from the drink's 100-plus-year history, including old bottling equipment, marketing campaigns and soda machines. But my favorite part is the old-fashioned soda fountain at the end where museum "soda jerks" can mix you up a classic Dr Pepper float using syrup, carbonated water and Blue Bell.
If museums are really your thing, then Waco is your town. The Texas Sports Hall of Fame is great for lovers of all sports.  Seriously –- all sports.  The museum honors the big names in Texas athletics such as George Foreman and Emmitt Smith, but it also pays homage to lesser-known sportsmen and women such as Ad Toepperwein, who over the course of 10 days in the 1900s shot 72,500 small wooden blocks out of midair with a .22 rifle and missed only 10 times!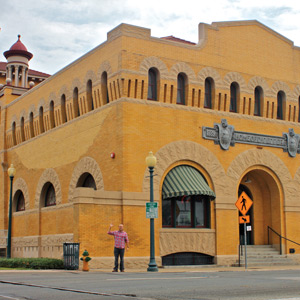 Other great museums in Waco include the Texas Ranger Museum with all the guns, buckles and badges you could ever want, as well as the Mayborn Science Museum with lots of hands-on science activities for the kids. And finally, there's the newly upgraded Waco Mammoth Site, which has the unearthed bones of at least 19 mammoths, whose death remains a Texas mystery.
The outdoors
Most don't think of Waco as an adventurous town, but it is. Besides the large Lake Waco with all the traditional water activities at your fingertips, Waco is the home of the beautiful Cameron Park that follows the winding turns of the Brazos and Bosque Rivers.
The park is a mix of calm, peaceful nature and high-adrenaline adventure.  The serenity seekers can hike miles of trails and enjoy the views from the cliffs of Lover's Leap, while thrill seekers should bring their mountain bikes to enjoy the park's 25 miles of trails that are undoubtedly among the best in Texas. And somewhere in the middle is a trip to the top of Jacob's Ladder, with its 80-something oddly shaped steps. It's hard to keep count with steps so goofy.
Last but not least is the Cameron Park Zoo, one of the best-kept secrets of Central Texas with everything from orangutans to lions to tigers to bears (oh my!)  This is Baylor country after all, so having bears is a must. There are also Komodo dragons, elephants, rhinos and just about everything else.
The food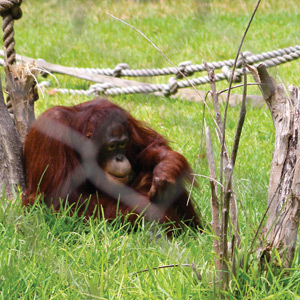 Finally, if you are going to come to Waco for the day, then you better bring an empty stomach. While Waco has the entire spectrum of chains, it also boasts plenty of off-the-beaten-path dining for your curious taste buds.
One of my favorite spots is Poppa Rollo's Pizza, a local pizza joint started by a Baylor student in the 1960s. Besides some of the best pizza in Texas, the restaurant also has a number of secret passageways revealing hidden bars and rooms. Other delicious options in town include Health Camp, an ironically named greasy burger joint that has been around since the 1940s, and Tony DeMaria's Bar-B-Que, where the meat comes with sauce and "gravy," which is a bowl full of the drippings scooped from the bottom of the pit. Just throw a piece or two of white bread in it and get busy. Hey, as long as you include some mountain biking between your meals, you can eat whatever you want.
After the day is done and the sun is setting over the Brazos River, relish in your incredible day by topping it off with a scoop or two of Katie's Frozen Custard, a Waco favorite and the best darn custard north of the Rio Grande.
As you can see, Waco has tons of stuff to do just waiting for an adventurous Daytripper to take advantage of. So, what are you waiting for? I'll see you on the road.  Vaya con Dios, amigos.
Tune into The Daytripper on your local PBS station, or visit www.thedaytripper.com
By: Chet Garner