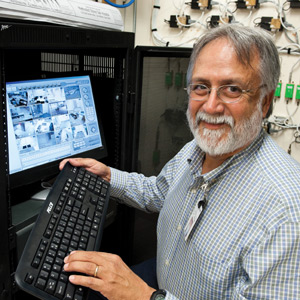 Joe Montagna is an entrepreneurial case study on not sounding the panic alarm at the first sign of economic downturn. And yet, from a literal standpoint, his entire business model is predicated on its availability of all manner of alarms, bells and whistles.
Montagna is founder and owner of Systematic Communications Co. (SYSCOM), a systems integrator specializing in the installation of telecommunications, security and audio/video systems in homes and businesses. Since the company's launch in 1984 — after Montagna finished his studies at Trinity University — the business has grown to a nine-employee enterprise accounting for annual sales of up to $1 million.
"I was meant to be a biologist," Montagna said during a recent conversation on how he went about launching his business. The Corpus Christi native was on his way to a career centered around the laboratory, securing a bachelor's degree in science in 1980 and then a master's in biology two years later, both at Trinity University. But the cloistered life of a scientist — again, that lab thing — didn't appeal to Montagna. Nor did it help that his professor would bring along his small, active child to the lab every day rather than putting the kid in the care of a babysitter or relative.
Today, Montagna relies on alarm systems for his livelihood. But the daily contact with the alarmingly piercing shrills of a bored small child unconsciously turned him off to a career spent in the lab. The experience highlighted the realities of working in cramped quarters without seeing the light of day for stretches at a time. "That poor kid would stay in the lab seven to 10 days straight," he recalls, agreeing with an interviewer's fervent wish to someday perhaps see the child blossom into the next Stephen Hawking or Albert Einstein as a result of such forced lab exposure.
In Montagna's case, it was he who turned, unprompted, to his own father for direction. Fascinated by his dad's work as an electrical contractor, Montagna picked up some of his father's skills while still a teenager. Later informed by those youthful experiences working alongside dad, Montagna was able to envision his own career path and launched SYSCOM at the age of 26 with a $20,000 bank loan.
"It was a traditional bank loan, and $8,000 of it went toward the purchase of a truck," Montagna says, recalling the early days of the company. The experience of working through a vendor from 1986 to '88 enabled him not only to perfect the finer aspects of his trade but to secure a license as a security dealer. SYSCOM now counts between 1,500 to 3,500 customers a year on its client roster, encompassing a service area covering the cities of San Antonio, Austin, Lakeway, Tilden, Pleasanton and southern regions of the South Texas Valley region. The company employs nine people and pulls in between $500,000 to $1 million in annual sales.
Some of the firm's notable clients include the Methodist Hospital System, for which SYSCOM provides card access and digital security camera systems among other services, and PCI Educational Publishing.
The business could easily be expanded in a post-9/11 world of heightened security. But managed growth is by design, enabling SYSCOM to place a premium on customer service with its streamlined ability to tailor its products to clients' needs.
"I can customize a solution to serve their needs as opposed to fitting their needs around a pre-designed program that the company might be featuring this month," he says, referencing the sales-led tactics of competitors. "Our services provide our clients with solutions, and we are able to flush out what needs to be done." By employing the tactics of moderation, Montagna illustrates the old-school business virtues of slow, steady growth in a corporate landscape that today is imbued with the concept of instant gratification and where cashing in on a quick windfall seems the order of the day. The modest approach has paid off as an effective word-of-mouth marketing tool, as illustrated by a growing client base and new avenues of business that recently have emerged.
One new revenue stream has arrived by virtue of discovery of the Eagle Ford shale formation, a vast area in the underbelly of San Antonio's southernmost outskirts, from which copious amounts of natural gas are being coaxed. The mineral find — and subsequent economic development and employment it's spawned — has had a transformative effect on the region.
The Eagle Ford shale formation's also having something of a transformative effect on SYSCOM's bottom line. Increased activity and traffic resulting from the gas find recently prompted the McMullen County sheriff to hire SYSCOM to install 45 digital surveillance cameras to monitor the streets of Tilden, the county seat that was a quiet little town of some 700 residents before an explosive population growth fueled by the Eagle Ford shale discovery.
"The city seems to have more revenue and is able to do more things," Montagna says of Tilden. "The McMullen County sheriff has only five deputies covering 11,000 square miles. Now, he needs only one person watching the streets from a single room all year long."
Notwithstanding SYSCOM's current fortunes, the road to corporate success has not been without obstacles. Just a few years after company launch in 1988-89, the oil-based real estate market crashed, taking with it roughly half of SYSCOM's clientele in the multifamily residential sector. Rather than succumbing to panic, Montagna explored other growth avenues: For better or for worse, development of prison systems had supplanted residential real estate construction. SYSCOM was thus able to find a new niche by supplying security systems to that industry, ensuring the company's survival during an oil bust that left record-breaking corporate bankruptcy levels in its wake.
Montagna's key to success in the corporate world also is contingent on life balance. He married his college sweetheart — Susan Montagna, now the executive director of the Inspire Fine Art Center — and the couple quickly formed a family and now have three children ranging in age from 18 to 24. Montagna also is a longtime Rotarian and an elder in the Presbyterian Church— activities he finds not only personally fulfilling but which provide a needed perspective on the importance of achieving a healthy balance in life.
Now 54, Montagna has truly shown his mettle, given an ability to survive not only in the midst of downward market shifts but in a sector particularly vulnerable to the cyclical nature of the economy. Having weathered such economic storms, he happily advises those wanting to launch their own corporate success: "To succeed, you have to be able to do every part — every part — of the business yourself. And spending a few years working for someone else is the best research you can do."
Reminiscent of the mid-1980s, today's economy has yielded its own set of challenges — tightened bank credit among the most prominent characteristic — stemming from the 2008 residential mortgage meltdown. But even amidst such a rocky landscape, would-be entrepreneurs should scale the corporate mountain inspired by Montagna's informal mantra: There is no need to panic.
By: Tony Cantú
Photography: Bibb Gault