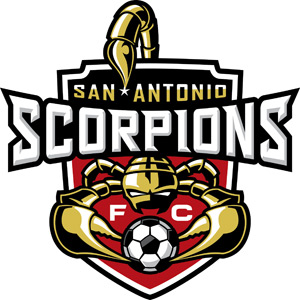 Scorpions by nature are incredibly tough. Their shell protects them and the field that they tread on. They're quick and precise. And when disturbed, scorpions can sting with a venomous poison. They come in, guard, and defend. There is no denying that they will do the same for San Antonio.
The San Antonio Scorpions FC is a vision that has been circling San Antonio for years. With such a growing interest in soccer in the United States, it was time for San Antonio to become the next hot spot for the sport. The city already hosts a top-of-the-line soccer complex on the northeast side of town, but it was through a thorough thought process and great leadership that final plans were put into play.
It all started with a dream by a determined father. Gordon Hartman, San Antonio philanthropist, opened Morgan's Wonderland in Spring 2010 in an effort to entertain people of all ages with or without disabilities. His park was created with more than 25 rides, playscapes and attractions totally wheelchair accessible and focused on high sensory activities for those with disabilities. He was persistent about allowing anyone with a physical or cognitive special need into Morgan's Wonderland for free.
"Morgan's Wonderland continues to exceed expectations, profoundly touching the lives of special-needs children and adults, their families and friends," Hartman says. "This level of activity requires substantial financial support in order to attract more guests and provide more services and programs to the special-needs community at no charge." In order to meet the park's financial requirements, Hartman searched for sponsorship, and he found it right next door at STAR (South Texas Area Regional) Soccer Complex. When the two banded together, Morgan's Wonderland was receiving the profits from the operation of the 13 first-class playing fields.
To further the soccer operation, Hartman was granted an NASL franchise in the fall of 2010 and launched Soccer for a Cause. The franchise was the start of something greater than he had ever thought. He would be bringing some top athletes in the soccer world to join a city already abundant in athletic talent. But this time it was a new team, and he was determined to get the city involved. The organization began a name-the-team contest, a logo design competition, and a way for fans to choose the team jersey. Around the same time, Nike jumped on the Scorpion bandwagon as its first team sponsor. All of the net profits from Scorpions would go directly to ease the financial burden of free admittance at Morgan's Wonderland.
"We're truly appreciative and thrilled with the entire community's intensifying interest. As far as we know, this marks the first time in pro sports history that a team has been organized solely for the benefit of a nonprofit cause. The Scorpions will not only compete for a community that's eager to see soccer played at a high level but also for a very worthy cause," says San Antonio Scorpions FC president Michael Hitchcock.
As of now, the team, which is composed of international and native soccer sensations, will be set to start its inaugural year hosting games at Northeast ISD's Heroes Stadium across Thousand Oaks Drive from STAR Soccer Complex and Morgan's Wonderland. The men have been busy at work practicing for the first game on April 7 in Atlanta against the Atlanta Silverbacks. They return to San Antonio for their first home game on April 15.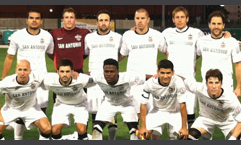 "We're making excellent progress in preparation for our first game against the Atlanta Silverbacks on Saturday, April 7, and our home opener against the Puerto Rico Islanders on Sunday, April 15," says head coach Tim Hankinson. "The science books tell us that a group of scorpions is known as a 'cyclone.' So we're working hard to come together as a tough, determined team that will blow away the competition."
With a roster limited to 30 players, there was a tough process to narrow it down from 600 choices hailing from 11 different countries. The roster includes two hometown sensations, Craig Hill and Matt Gold. Hill was a four-year letterman at Reagan High School, and after a successful college career at S.M.U. and a short stint with FC Dallas, he returns to his hometown as a goalkeeper. Gold claims San Antonio as home, but attended high school in Austin at St. Stephen's Episcopal. His career led him to Ohio State, but he is back as one of the Scorpions midfielders.
"Key goals for the Scorpions include heightening interest in soccer, promoting physical fitness and boosting tourism, in addition to the primary goal of generating profits for Morgan's Wonderland," says Hartman.
By the 2013 season, the Scorpions FC will have its own place to call home in a 6,100-seat playing facility near STAR Soccer. The groundbreaking on Scorpions Stadium took place on Feb. 29 with founder Gordon Hartman, president Michael Hitchcock, head coach Tim Hankinson, San Antonio Mayor Julián Castro, Bexar County Judge Nelson Wolff and North American Soccer League commissioner David Downs all in attendance. Beyond being the home to professional soccer games, the stadium will host high school, NCAA and Big 12 soccer competition, plus concerts and other special events, and can be expanded to seat 18,000.
"Scorpions Community Stadium will be San Antonio's premier outdoor sports and special events venue when it opens for the 2013 North American Soccer League (NASL) season," says Hartman.
In the meantime, be sure to head out to STAR Soccer Complex to see this team take on the Puerto Rico Islanders on April 15. You can find all the details on their website at sanantonioscorpions.com.
By: Megan L. Minus