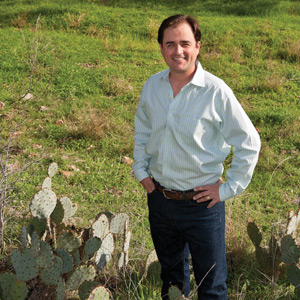 In an age of commerce, high-stakes deals and big-city skylines, the concept of wide-open spaces — even in a state like Texas that is identified for its pioneering spirit — seems like a bygone relic of the past, a romanticized ideal of what once was.
Except that it's not. Cody Michael Stewart, owner/broker at Stewart Ranches, does a brisk business in structuring sales transactions of rural ranch property. In so doing, he not only keeps alive the state's ranching past but also continues a family legacy.
"We're from Victoria, and I started learning how to use an ax when I was 3 years old," he says with palpable pride. His last year in high school was spent around the bucolic surroundings of Lake McQueeney in New Braunfels, where the family had a home, and further deepened his love of nature. "I've always had a connection with the land, either hunting or camping," he says.
He points to his father as an example, both personal and professional: "My father, Michael Stewart, has been developing ranch land since 1971, and I've been in real estate since I was licensed in 2003."
But it almost wasn't to be. As he was in the midst of studying for a management information systems career at Baylor University, the lure of the land that was fostered in childhood began to pull at him once more. A talk with dad ultimately solidified his career choice. "I had a conversation with my father, looking at my life 15 years down the road," he recalls. "He said, 'You're going to fight traffic for an hour and a half to get to work in San Antonio, and then you'll spend all day in a cubicle and fight the same traffic going back home.'"
He acknowledges partial motivation in wanting to launch a career distinct from his father's was rooted in a small measure of youthful rebellion: "It was a consideration, but not the determining factor," he concedes. But ultimately it was the ability to pair a personal love of nature with a desire to make a good living that cemented his decision. "One morning at 3:30, my eyes popped open, and it hit me," he says of his career choice. After his nocturnal epiphany, he traded the confines of a cubicle for the expansive acreage of farmland as his "office" environment and never looked back.
While large swaths of largely undeveloped land still occupy the Texas landscape, the nature of work on those patches of earth has shifted. More often than not, Stewart's job finds him brokering deals for developers wanting to build residential subdivisions or modern-day wildcatters wanting to extract minerals from deep below the surface. "There are people out there who are making money cattle ranching," Stewart says. "But you reach a point where the price of land outweighs the price of cattle, when land increases in value at a much greater rate than the commodity of cattle."
That stubborn arithmetic has arrived, prompting many land buyers to exploit acreage for minerals lurking beneath. The greatest catalyst for this new strategy — one that has transformed the landscape —is the Eagle Ford shale.
The recent discovery of vast natural gas reserves south of Bexar County has had a transformative effect on how real estate speculators now view their holdings. Whereas once cattle or oil reigned, it is now natural gas — coaxed from great depths under the surface through hydraulic fracturing, or "fracking"— that is fueling most land transactions. Stewart comments, "I don't think we'll ever see people work the land like they did in the last century, but the Eagle Ford shale is going to last for at least a decade. There's going to be a lot of revenue that it brings to the city. It is re-inventing the area."
Stewart's assessment is neither hyperbolic nor the makings of a sales pitch. A 2011 University of Texas at San Antonio study buttressed his analysis, pointing to myriad economic benefits related to gas drilling impacting the local economy: creation of roughly $1.3 billion of gross state product, support for 12,600 full-time jobs, $2.5 billion in revenue and creation of up to 68,000 jobs by 2020.
The 31-year-old broker still engages in more traditional deals — he's helping to put together the sale of 231 acres of land in Nixon and expects to close a deal for 400 acres of Comal County land to be developed into a master-planned residential community, as examples. But it's the recent discovery of vast natural gas reserves that has all but transformed his industry.
As with any nascent cottage industry rooted in the energy sector, drilling activity on the outskirts of Bexar County is subject to the mercurial value of natural commodities. Because of this, Stewart acknowledges a somewhat slower pace than at the height of land speculation, when the shale formation was found. "It's all cyclical," he says. "Some activity has been delayed somewhat, and the volume of sales has slowed down."
But almost as a compensation for those market forces, Stewart says most clients are now paying up front for their real estate holdings, so certain are they of their investments' eventual profitability: "It has kind of stalled, but what we're seeing now are a lot of cash transactions," he says.
Despite market interruptions, he says he has no regrets at changing his course of study at Baylor. Participating in tennis and debate during college helped prepare him for a career — both endeavors developing quick reflexes, both physical and mental. And it was at Baylor that he met a fellow student named Tyree. "We started going out 11-and-a-half years ago and have been married for five-and-a-half years," he says of his wife.
In a commission-based business, any activity interruption is cause for some measure of anxiety. But Stewart is in it for the long haul, envisioning great things on the horizon. Not once does he regret his decision to trade the office for the great outdoors, he notes.
"I know it's a cliché to say that you have to love what you do, but I really do love my job," he says. "The money will come, and in the meantime I get to spend my days showing property in the prettiest parts of Texas, where in some cases the environment hasn't been changed in thousands of years."
By: Tony Cantú
Photography: Bibb Gault