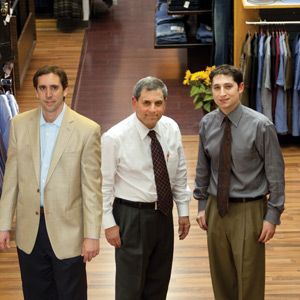 When it comes to building a wardrobe, the gentlemen of San Antonio prefer keeping it in the family … or rather, three families, to be exact. Despite the numerous shopping options from which men have to choose, there is just something special about these small, independently owned men's clothing stores that keeps their customers coming back, time and again, generation after generation.
It is more than simply the high-quality clothes that line the shelves; it is the personal attention, the impeccable service and the friendly atmosphere these stores provide that make shopping anywhere else simply unthinkable. Family-owned and run, these second- and third-generation retailers take pride in continuing their family tradition and look forward to dressing the gentlemen of San Antonio for generations to come.
Penner's
In 2007, an article was written in the San Antonio Express-News titled "You haven't been to San Antonio until…" The article chronicled the top 14 must-do activities when visiting San Antonio. Along with having your picture taken in front of the Alamo and eating enchiladas at Mi Tierra's, Number 13 read: "Do some shopping at Penner's, where you can buy a guayabera along with tangerine Stacy Penner shoes and a hat to match!"
An institution among men's clothing stores in San Antonio, Penner's has been dressing the men of San Antonio for almost a century. "My grandfather, Morris, came to the United States from Poland in 1916 and opened a secondhand clothing store," says Mark Penner, a third-generation owner of Penner's. "My father, Sam, quit school in the third grade to go and work for him, along with his brother, Max. It was a secondhand men's clothing store until 1934, when they made it into the new clothing store it is today."
According to Mark, he began working in the family business "before he was bar mitzvahed." He and his twin brother, Mickey, attended the University of Texas, and when they graduated in 1969, moved back to San Antonio to take their rightful place in the family business full time. "I always wanted to work in the business," Mark says. "My brother and I were very close to my father, and we wanted to be with him. We fell in love with the business at a very early age."
Located on Commerce Street in downtown San Antonio, Penner's has been in the same location since 1927. "We rented this building from the same man for over 50 years. Finally, in 1966, he sold it to us," explains Mark. Over the years, the store endured numerous expansions and even weathered a fire in 1978. Its loyal customers kept coming back, and business flourished. "We have a very loyal clientele from all over San Antonio and South Texas. The downtown hotels bring in business, as well," he says.
You may wonder why, with so many shopping options from which to choose, people living in Alamo Heights or as far away as The Dominion would make the trip downtown to do their shopping. According to Mark, that's easy: "Our strongest advantage is we constantly have a big inventory. When people come to Penner's, they see more than they will see anywhere else. We carry clothes in boys' toddler size up to a man's 8X." And their private parking lot directly behind the store makes the trip simple and pleasant.
According to Mark, Penner's has achieved its level of success by catering to its niche markets: "We have a good boys' clothing business. We sell many, many bar mitzvah suits to young men in San Antonio, Austin and all over South Texas. Our shoe business is second to none. We have a custom shoe line, Stacy Penner shoes, that is our trademark. You can't find them anywhere else. But we also carry Johnston Murphy, Florsheim and Hush Puppies. We have the best price on Red Wing boots in town. It's not where we make our money, but we bring customers in through our advertising, and once they see all that we have, they come back."
Penner's has also made a name for itself in the Big and Tall industry, as well as carrying a huge selection of custom-made Pisano hats. "We carry a lot of styles that other stores just don't have. When you custom make, you have to make a lot. We feel secure in making a lot because we know that it's a good seller, and I'd rather put my money in my inventory," explains Mark.
Another niche market that has rocketed Penner's into national recognition is its selection of custom-made guayaberas. "Years ago, my father and I carried China-made guayaberas, and we did very well," says Mark. "We decided, if we are going to be known for something, we really should go down to Merida, Yucatan, where guayaberas were made originally, and find someone to make them for us. We wanted to be authentic. We now have a relationship with three families in Merida who make guayaberas exclusively for us. They customize each shirt using our top-quality fabrics and buttons, and each is made to our dimensions." The popularity of Penner's custom-made guayaberas is evidenced by their huge online demand. "We sell upwards of six dozen guayaberas a day," he states with pride.
According to Mark, customer service and personal attention are mandatory for success in such a competitive market: "We have seven full-time tailors on staff, waiting on pins and needles to give free, expert alterations." (Yes, you read that correctly: free!) "We will taper the arms, shorten the sleeves, hem, let out, whatever you need, and there is absolutely no charge. When we give a customer personal attention, pamper him, provide free alterations, then we have a customer for life. Why would he want to go anywhere else?"
Luckily for San Antonio, the Penner family tradition will almost certainly continue for generations to come. Mark's son, Matt, has worked in the business for 14 years, and his nephew, Mitchell, joined the ranks in 2009. "We get here every morning before 7, and we're lucky if we close at 6. We don't leave all day long. We love the store," says Mark.
Mitchell Penner, the youngest of the Penner men, is as passionate about the business as his uncle: "There isn't a better feeling in the world than getting here early, working with your family, keeping the tradition alive and seeing the passion in the store and in the community. I have a customer who shopped with my grandfather, his brother, my uncle, and now myself. He started coming here in 1937. It's a great feeling to see the history and the tradition continue while adapting to new styles and technology."
According to Mitchell, achieving success in this competitive market is simple: "You have to eat, drink, and sweat the business to make it work." And make it work they do.
The Penner's employees obviously agree, as most have been with the store for many years. "We have a profit-sharing program for our employees," Mark says proudly. "They don't put a penny into it. At the end of the year, if we have made a profit, we share it with our employees. There you have it." Mark's passion for his business has made the Penner's name synonymous with quality menswear. His philosophy is simple: "Have passion for your business. Every day is a party, and you hope your guests will come. I'm always prepared for my guests."
Satel's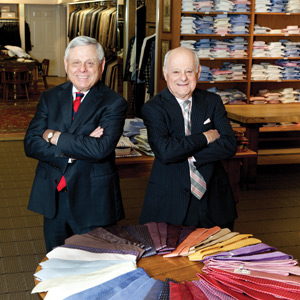 A peek in the closet of most gentlemen in San Antonio will most assuredly find something — be it a suit, tie, khaki slacks or sports coat — with the Satel's logo attached. The Satel's name has long been associated with quality men's clothing in our fair city. Run by brothers Jimmy and Toffe Satel, this classic men's clothing store carries the traditionally popular suit lines Canali, Hickey Freeman and Jack Victor, as well as sportswear from Vineyard Vines, Southern Tide, Peter Millar, Scott Barber and Robert Talbot.
The brothers are the second generation of Satels who have dressed San Antonio men. According to Toffe, his mother and father, Selma and Toffe Sr., opened the first Satel's back in 1949. "Daddy retired out of the cleaning and tailoring concessions at Fort Sam Houston after World War II. When they decided they wanted to get back into business, they bought the E.L. Luke clothing store and turned it into a young men's and men's clothing store," he says.
The brothers began working at the store from a very young age. They didn't get paid but did receive an allowance as well as valuable experience. "Jimmy and I both worked after school every day to learn the business," Toffe recalls. "We started going to markets during high school. Then we took turns attending college in Austin. When one of us was in school, the other was here, working at the store and vice versa." Their oldest brother, Joe, was also in the business for many years before retiring 12 years ago.
The original store, located in the 5000 block of Broadway, was just down the street from Satel's current location. At one point, the three brothers had expanded to three Satel's locations across San Antonio. Now, after consolidating to one primary location, the brothers work side by side, along with Toffe's daughter, Tracie, who recently moved back from California to join the family business.
I never thought I would come back to Texas," Tracie admits. "This store is the only thing that brought me back. It's a family tradition, and I don't want to see it end." Along with her youth and fresh blood, Tracie is working hard to increase business by bringing a younger look and style to Satel's. "I'm bringing them up to date to the Facebook generation with younger, fresher looks and updated lines," she says.
"Our primary customers are men in their 30s and up," Jimmy says, "successful San Antonio men and not necessarily from '09. We have a lot of customers from The Dominion and 281 area, as well. We are the only real updated, traditional store in town, and men come from all over the city because they want to buy our look. But we have added a lot of younger lines to bring in that high school-to-30-year-old customer, and we are doing very well with those."
But fabulous lines do not a business make.
Toffe and Jimmy agree it is their quality sales staff that sets them apart from other stores in town. "All of our salespeople have been here for 25 years, plus," Toffe states. "Service brings people into the store. We make you feel at home. Our personnel know their clients and what looks good. We know how to fit an individual. We reach out to our customers when something new arrives. We have good market knowledge. Our customers know when they come in, they will be treated like family, and they're not going to be pressured into buying something."
If you haven't shopped in a while, one thing you will notice these days at Satel's is an expanded inventory of sportswear and fewer suits. "There aren't a lot of people wearing suits anymore," Jimmy says. "Our customers have really been trending toward more casual, outdoorsy clothes. So we have added an outdoor department for the first time. Our customers love it, and we are expanding it further for next fall. Some of our best lines today are Northface, Columbia, Marmot and Oluki. The Southern Tide line is probably the hottest line out there for young men, and we are the only store in town carrying it."
Staying competitive in a sluggish economy hasn't been easy, but following the trends of their market and changing with the times have kept Satel's in business and are bringing them into 2012 with a bang. "We are seeing good growth, thank goodness," Toffe says. "We're updating our store and bringing in the next generation of family and customers to Satel's. We are really excited about the direction we are taking." Along with their usual market trips to New York, Las Vegas and Dallas, they have added a trip to Salt Lake City, the largest outdoor market in the United States. "We are putting a whole lot more effort into our outdoor market right now, and it's doing very well," he says.
Satel's family business continues to flourish, with Grandma Satel, age 98, still making daily trips to the store. "I'm 74 and still love coming to work," Toffe states proudly. "I'll probably never retire. It's more fun than ever before, now that I've brought my daughter into the business. It's a real family tradition." Tracie agrees: "We really have something for everyone, clothing to outdoor wear. We can now cater to all age groups from high school on up. We are bringing the competitive edge back to the business. I am honored to be carrying on the family tradition of Satel's. It has been passed down through generations, and as the new generation, I hope to carry it on as well as my dad, uncle and grandmother have."
Joseph's
Like their father before them, Steve and Robert Rubin understand what's important to their clients. "It's not about the transaction, it's about the relationship," Steve says, when asked about Joseph's philosophy. His father obviously understood this as well. After WWII, in 1948, Joseph Rubin, age 23, pooled his life savings of $3,000 with his parents' life savings to open a men's clothing store in downtown San Antonio.
Steve explains, "It was only 700 square feet, and the only thing our dad could get was zoot suits, a popular, youthful suit for young men. He couldn't get any established brands. Basically, he and my grandmother gave 'eyeball credit' to young men, giving them clothes on credit with a promise to pay later. Most of them did. We now have third-generation customers who are so appreciative and loyal to our store because my parents gave them a chance that they have shopped with us for over 50 years."
Eventually, as the business grew and expanded, Joseph's three sons joined the enterprise. But in 1983, tragedy struck the family, when Joseph died at the young age of 58. "My brothers and I were under the age of 30," Steve recalls. "We only had a few years to work with my dad. But we got some help, established a board of directors and had some mentors who helped us gain credibility in the market."
Following in their father's footsteps, the Rubin brothers set out to grow the business, using their father's signature style. "When my father was able to get past zoot suits, he went for California fashion-forward styles: bright colors, southern-type, California clothing. We continued with his style and did very well. We expanded the business in the '80s and '90s and ended up with four mall locations as well as our original downtown location," says Steve. The business flourished, and Joseph's became known as a small specialty chain store specializing in high-end men's apparel.
In 2000, their strategy changed again. "We decided we really couldn't put a sufficient amount of inventory and people in five stores, so we started consolidation. Instead of being a small specialty chain with five locations, we went back to our roots and became a true independent specialty store again. The only difference is instead of being downtown, we now have a free-standing store where people can park at our front door," says Steve.
According to Robert, a Joseph's core client is a more mature, affluent man in the 30-to-60-year age range. "But we really have a myriad of customers. We also have a boys' department and sell to a lot of young guys for bar mitzvahs, First Communions and guys going off to college." "We know our customers by name," Steve adds. "When they come in, we know their families, their likes, tastes and budget. It's a very personal business. Our customers like our personalized environment. We hear what they have to say, and we deliver through our products."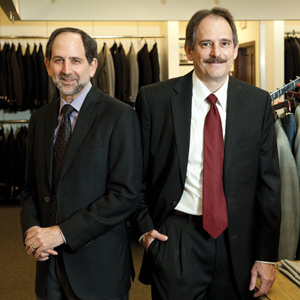 Steve attributes their continued success in this competitive market to their ability to adjust to changing demands: "Over the years, we have evolved. We adjusted from California fashions in our early days to designer brands in the '80s and '90s. Now we are dealing with what the customer wants today, which are quality, service, reliability and recognition of product. We carry the most recognized brand names, including Tommy Bahama, Polo, Robert Graham and Allen Edmond, to name a few. We change these brands from time to time as the market changes."
Another Joseph's exclusive is its ability to take care of any customer need on the spot. "We are open seven days a week, and we always have a tailor on duty," Steve explains. "Someone can walk in directly from the airport, need to buy a shirt and slacks, get the sleeves shortened, the pants hemmed and pressed, shoes shined and be out the door in 20 minutes. We can do that."
The Joseph's family extends beyond the brothers to include their staff and customers, as well. "Most of our employees have been here forever. Angel's Shoe Shine is another big draw, and he has been with us for years. He has a huge following and brings in his own customers," Steve explains.
According to Fletcher Mixon, who started working at Joseph's when he was 16 years old and is now the assistant buyer, "The atmosphere at Joseph's is very welcoming. It's more like a family than a job." Steve agrees. "It's a family business in the truest sense of the word. Our staff, our customers — we are all part of the Joseph's family tradition."
By: Courtney Burkholder
Photography: Liz Garza Williams