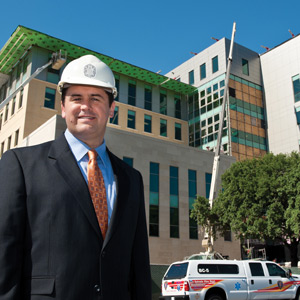 The casual observer might view the job of a deputy city manager for the City of San Antonio — the post Erik Walsh has held since this past October after serving five years as an assistant city manager — as something of an abstraction. After all, it's the city manager who has the limelight during council meetings, not her deputies.
But after meeting at Walsh's City Hall office for a chat, one thing becomes abundantly clear: His job is no mere abstraction. Not by a long shot. As deputy city manager, Walsh has a number of key city departments under his purview: police and fire, emergency management, animal care and the health department. A second deputy and three assistant city managers round out the department headed by City Manager Sheryl Sculley.
Walsh sees the distribution of responsibilities as akin to a corporation. "The city has 11,000 employees and is a $2 billion corporation," he says, noting the size of the municipal budget in extending the corporate analogy further. "We have over 40 lines of business, from collecting garbage to running an airport."
One noteworthy accomplishment under Walsh's watch is a positive trend in achieving a so-called "no kill" goal at Animal Care Services. In February, ACS set a new high for its overall live release rate of nearly 70 percent, he notes proudly. The new record is attributable to stepped-up efforts toward increased placement of animals in caring homes and through partnerships with the city's Pets Alive program and the San Antonio Humane Society.
"One of the things I always tell people is that 80 percent of running a city is common sense," Walsh says while sitting in his office — his calm demeanor belying the pressures of his job. Another bit of that good old-fashioned commonsense approach is the way he's compiling citywide statistics on stray animals. He points to a large map on his wall that is color-coded to reflect the density of complaint calls made via the city's 311 help line from specific geographical zones in the city. Based on that, he is able to grasp the level of resources needed to combat the scourge of stray animals, some of them vicious dogs, that run loose on city streets.
"Our responsibility in local government is doing what's right," he says. "There are two goals involved. One is assisting people who are calling for help with something, and the second is to improve the quality of life." But that dual goal of making residents happy also is challenging to achieve: "People will say 'I want a park in my neighborhood' or 'I want library hours expanded.' There are limited resources, so we ask ourselves 'Are there new ways to provide these services?' Times change, and it is incumbent on us to challenge our departments and find better ways of delivering services."
On animal control and live release, the once-elusive goal is coming to fruition, Walsh says: "We looked again at our strategic plan and established goals and policies to achieve our live release goal. There will be other intensive efforts over the summer, but we've made more progress over the last seven months than we have in the past five years."
Another commonsense move helmed by Walsh is one that also capitalizes on economies of scale: the merging of emergency services into a single location. Come this fall, the San Antonio Police Department and San Antonio Fire Department will be housed in a single, state-of-the-art facility across from the current police hub on West Nueva Street. Construction on the new building began in early 2011 at a cost of $10 million. Walsh views the merged emergency services departments as something of a metaphor for his work.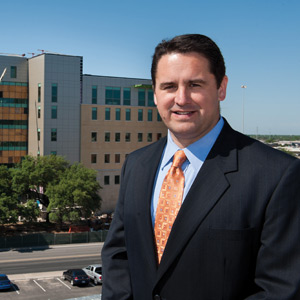 "Local government touches everyone — whether you need to be touched or not," he says. "What's fulfilling to me is making sure the services people need or expect are delivered in an efficient manner. To achieve this, there's a sense of community that's necessary." Given his upbringing in San Antonio, that civic sense is innate for the youthful 43-year-old. Growing up in San Antonio also gives him an institutional memory of past issues and challenges confronting the city that still resonate to this day. In a wide-ranging conversation in his office — with a quintessentially San Antonio view of the Spanish Governor's Palace from his corner window — Walsh displayed an encyclopedic knowledge of local lore and history, speaking knowledgeably of events that took place before his time.
Culturally, he embodies the diversity of the city he serves — growing up with a Mexican-American mom and Irish dad — that may further inform his decision making albeit in a more unconscious manner. It's easy to see why Sculley, herself a transplant from Phoenix, values the insight and expertise Walsh has to offer the city. "I started here 10 days after grad school," Walsh notes with palpable pride when discussing his nearly two-decade tenure at the city. As an undergraduate at Trinity University, Walsh studied political science with a minor in history. Armed with a graduate degree in urban administration, he started working for the city soon after his studies ended, and by February 2006 was named an assistant city manager.
Along the way, he had the fortune of meeting his wife, Sandra — a fellow municipal worker in the parks department — who is now a stay-at-home mom caring for their 7- and 4-year-old children. In June Walsh will commemorate his 18th year of service to the city.
He credits his father, a former insurance salesman, for his work ethic —"he was the best father my brothers and I could have asked for"—but also his time at Central Catholic High School and at Trinity. At the former, he says he met people from all walks of life, including other future city leaders, while at the latter his stint as an offensive guard on the football team taught him the value of teamwork. His old helmet rests on the shelf in his office, the sole reminder of his gridiron days in school.
"I'm not one of those ex-jocks that spend all day talking about sports," he says with a chuckle. "But I like to say it provided me with a foundation." Today, he's not even that big a sports maven and rarely watches games on TV— a peripheral interest in athletic competitions he agreed his wife appreciates, given the 60 hours a week he typically spends at the office.
Walsh speaks highly of his boss, noting how she likes to give her assistants and deputies a breadth of responsibilities to develop them into well-rounded city administrators who themselves might someday secure that top managerial position — here or elsewhere. Walsh was candid in revealing he, too, would someday want to be a city manager.
But for now, he says he finds his work personally and professionally fulfilling in helping to improve the quality of life for the full range of San Antonio residents. "This is not a small town of 5,000 people," he asserts. "This is the seventh-largest city in the country, and we have an obligation as administrators to strike a fair balance."
In the midst of achieving that ever-present goal, Walsh — despite the ambition inherent in a well-prepared young man — has no plans of going anywhere anytime soon.
By: Tony Cantú
Photography: Bibb Gault