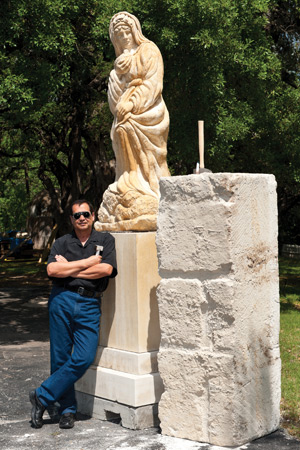 For all practical purposes — with 16 members of his family entering the legal profession — Gilbert E. Barrera should have been an attorney. But the stirrings of the soul that impel some to take an artistic path are hardly ever a practical consideration.
"With my brothers and my dad, there has been a Barrera practicing law for the past 90 years," he says. "But every good family needs a black sheep," he quickly adds with a chuckle.
Born in 1927, family patriarch Roy Barrera began the tradition when he became a lawyer at the urging of his mother. Albeit at a slower pace, the elder Barrera still works as an attorney. At his peak, he was one of the state's best-known lawyers and only the second Mexican-American ever to be named Texas Secretary of State, by former Gov. John Connally.
"You have to go back to Juan Seguin to find another Mexican-American in that post," the younger Barrera says, palpably proud of his father's accomplishments. Since then, other siblings and nieces and nephews followed suit. With the pull of family tradition, Barrera also went to law school — entering St. Mary's University and attending courses at Texas Wesleyan School of Law in Fort Worth — before ultimately realizing his heart wasn't in it. "I took criminal law, but I never really practiced," he says. But while the field of law may have lost out on an accomplished attorney, the city has gained a gifted artist.
Barrera is arguably best known for having created the Lady Justice situated atop the restored Bexar County Courthouse fountain, an aquatic feature dating to the late 19th century. The old fountain was originally purchased from the J.L. Mott Co. of New York in 1896 and then installed in the east courtyard of the courthouse before being destroyed by vandals. Former Hidalgo Foundation president Tracy Wolff led an effort to have remnants and artifacts related to the fountain taken out of storage and restored.
But an exclamation point was required to showcase the newly resplendent fountain. So in 2008, Barrera was commissioned to create the bronze Lady Justice sculpture that now rests atop the fountain. The sculpted figure is inspired in equal measures by Themis, the Titan goddess of divine law and order, and Justitia, the Roman goddess of justice. Barrera's distinctive take is a Greco-Roman version of the Knidos Aphrodite, one of the earliest manifestations of the goddess. The sculpture was unveiled to great fanfare in 2008. A crowd of some 500 people gathered at the unveiling, including Texas Supreme Court Justice Wallace Jefferson and Bexar County Judge Nelson Wolff.
Barrera could've rested on his laurels after that considerable accomplishment. Instead, he has opened up his homestead to art patrons, with the front yard of his 6-acre residential compound dotted with 100 different sculptures.
Off Vance Jackson between Wurzbach and Huebner, there is an artistic oasis. All along the stretch are commercial enterprises — mostly apartments and a handful of convenience stores. But it is midway that one finds the Barrera complex, dubbed Villa del Carmen in honor of his mother, where the sculptures reside. It's an impressive array of large-scale sculptures: Texas artists such as Russ Thayer, Danville Chadbourne, David Elizondo, Tom Bishop, Michelle O'Michael and Freddy Flores are represented on the grounds. International sculptors also are showcased: Berna Kaya Okan of Turkey, Marusia Nita of Romania, Dieter Erhard of Germany, Siri Dehipitiya of Sri Lanka and Mar Duquesnoy of France, just to name a few.
SAN ANTONIO MAN magazine made a trek to the compound during the annual Sculpture Invitational — a tradition for Barrera when he opens the wrought-iron gates fronting his home and invites the public to enjoy the works up close. The 55-year-old bachelor was the consummate host at a recent invitational: "These sculptures have become my children," he said.
But the work is not easy. Although fit at 55, Barrera estimates he has another 20 good years of active sculpting from the limestone and marble that have become his favorite mediums. It's easy to imagine the work being difficult: One of his sculptures, a memorial for fallen lawmen representing a bereaved widow, was fashioned from a 3-ton piece of rock. The meticulous work is further challenging in that Barrera refuses to take shortcuts — no power tools for him — and does it all painstakingly by hand.
Once inside his home, he illustrates the reason for this work ethic. On the mantel, he points to busts representing male and female Greek figures, massive in their own right at 75 to 100 pounds each, and calls attention to the hair braids and other details etched into the stone.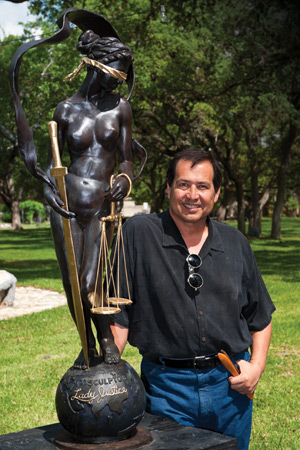 "That's the Apollo on the west pediment of the Parthenon sculpted by Phidias in 460 B.C., and the woman is Aphrodite as sculpted by Praxiteles in 350 B.C.," he says with the encyclopedic knowledge of a seasoned museum curator. "In stone you can't mess up. A lot of sculptors do assemblage work and use pneumatics or air tools. But I use hand tools only. In my mind, that's the highest calling in your field. You cannot get this kind of detail with pneumatics. This is the way Michelangelo did it." Barrera speaks of the ancient artists that influenced him as if they were old friends. Whereas early African art was rigid in its style with the attendant perfect symmetry of each pose, later Greek artists and those of the Italian Renaissance experimented on conveying motion despite the limitations of stone: "These guys broke the mold. It's a more natural art that truly came from their mind and imagination and showcased their hand skills. When I see how they did the hair or facial features, texture and contrast, these guys are actually teaching me about sculpture from 2,000 years ago."
He marvels at how the ancients must've installed their colossal works — the enigmatic Easter Island statues as an example — without the benefit of machinery. "I have a contractor's tractor that I use. But how did they move the David that must weigh 20 tons during the Renaissance? How did they not only move it across the ground, but how did they pick it up off the mountain, down to the shore, put it on a boat and bring it 500 miles inland?" he wonders.
Maintaining a childlike wonder about art no doubt fuels Barrera's enthusiasm. The fact that's he's largely self-taught adds to this suspicion, as he is for the first time in earnest embarking on formal art classes, having been selected for the sculpture program at the prestigious Florence Academy of Art in Italy, which for the past year has him scurrying to and fro during breaks in what is essentially a transcontinental commute.
Back home, he enjoys the placid setting of Villa del Carmen and can sometimes be seen from street level hard at work on a piece of stone, a tent shielding him from the rays of a hot Texas sun. He enjoys living near loved ones on the family compound, allowing him to check in on his elderly parents just next door. Students from area schools — including Hausman Elementary directly across the street — descend en masse year-round to the site and are given the opportunity to be inspired by the art found there. In turn, Barrera is inspired by them.
"About 6,000 kids have visited so far, and I personally guide 20 to 30 groups at a time," he says. "I detect the wonder of their amazement in their short, exclamatory words like 'wow,' 'neat' or 'cool.' Their insights freshen my perspective." He notes how art inspired him in his own youth, beginning at Mount Sacred Heart, where he made the school banners for holidays, and later at Antonian, where he drew the breakthrough paintings — those large paper pieces enjoyed briefly by spectators before the team breaks through them upon their introduction to the football field. Later, at St. Mary's University, where he took his tentative steps into law, he took but a single course in art history.
Siblings being what they are, he sometimes still gets ribbed for being the odd man out — the artist in a family of attorneys. "I tell them that of all of us, I'm the only one with a plaque bearing my name in front of the courthouse," he jokes. In dispensing this rough justice against siblings, it's appropriate that the name plaque is attached to Lady Justice herself.
By: Tony Cantú
Photography: Bibb Gault