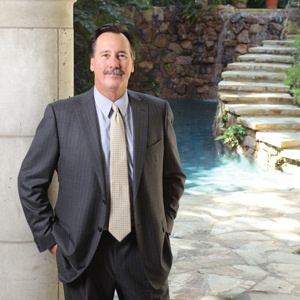 Upon reading Bart Koontz's impressive résumé, one defining characteristic quickly comes to the fore – that of accomplishment. Whether it's tied to his many professional successes in major real estate development, the establishment of a remarkable philanthropic medical screening program, exploits in the wilds as a staunch hunter, naturalist and outdoorsman or myriad other aspects indicating extraordinary personal achievement, this self-made individual truly exemplifies what a "can-do" spirit can realize — to the benefit of himself, his family and his community. As a result of his seemingly tireless efforts, Bart Koontz, imbued with admirable amounts of vision, energy and commitment, has matured into a constructive force across the Texas (and national) landscape — building and bettering, and, perhaps most remarkably, always accomplishing!
Rural roots
Born in 1956 in Victoria, and, for the most part, raised on his stepfather's prosperous cattle ranch near the small town of Placedo, a young Bart not only developed a lasting work ethic and strong belief in the honor of a man's word but also a deep love and appreciation for the land and its beneficence. When he was 5, Bart's mother and biological father (Dan B. Conoly Jr.) were divorced. Several years later his mother remarried a local Brahman-breeding legend named Henry Clay Koontz, and the pair relocated to the renowned HK Ranch, an historic property that had been in the Koontz family for generations. While Bart has always maintained a significant relationship with his true father, it was Henry Koontz who would also play a role instilling in the receptive youngster many of the basic principles essential for success in and beyond the corporate world.
Growing up on the HK, Bart not only assisted with the regimented and demanding chores of breeding, raising and maintaining world-class livestock but was also exposed to the more broadly related intricacies of business, including financing, marketing, salesmanship and even "deal-closing," that cross all industry lines. As he remembers about his life on the ranch, "Henry Clay Koontz was a remarkable businessman catering to a clientele from across the globe. He knew the art of honest deal making and earned great respect and reward from his insistence on always playing fair. His ability to see the big picture and make things happen was incredible." Bart's subsequent record of achievement pays eloquent testimony to the beneficial influences he found and responded to while growing up in a rural Texas environment.
The call of the land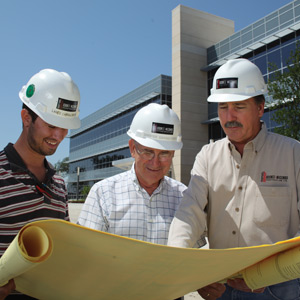 After graduation from Victoria High School, Bart enrolled in and subsequently graduated, in 1978, from Southwestern University in Georgetown with a degree in history and a lot of uncertainty as to what he "wanted to do with his life." As he harkened back to his days on the ranch and his love of the land, a career in real estate held an attraction. Securing a brokerage job in 1979 in Dallas with the international real estate services firm Cushman & Wakefield, he began his education into the basics of real estate while acting as a leasing agent focusing on office and industrial properties. In spite of doing fairly well, Bart felt unchallenged and definitely wanted more involvement in the entire process of real estate development.
Motivated by that desire, in 1983, after initially relocating to San Antonio,­ where he believed more opportunity awaited in the booming Alamo City, Bart accepted a new position with the respected Concord Corporation. Even though it resulted in a pay decrease, it offered the driven 25-year-old a chance to become involved with and learn all facets of the development business. As he recalls of his decision, "Rather than simply showing space to people, I wanted to know how to build the buildings and finance them because you can't get to the top if you don't know how to work from the bottom." In retrospect, it was a very good move. From 1983 to 1993, Bart continued his professional growth, eventually earning the title of senior vice president for the Concord Corporation. During his tenure, he was responsible for the conception, development and leasing of the 460,000-square-foot Las Tiendas Plaza shopping center (his first independent project) in McAllen, and the 253,000-square-foot Concord Plaza office development in San Antonio. He also was heavily involved in the day-to-day operations regarding the asset management of Concord's $200 million real estate portfolio that stretched over five southern states.
By 1993, and wanting more independence, Bart became a founding stockholder and president of HK Partners, a commercial real estate development firm specializing in large retail properties. Under his leadership, HK (the name referred to him and his partner, not his stepfather's HK Ranch) developed projects for many national retail chains, including Target, Circuit City, Office Max, Office Depot, PetSmart, Toys R Us and Kmart. Through 1997, HK Partners developed in excess of 1,000,000 square feet of commercial space across Texas.
Reaching the top
Today, Bart Koontz is the co-founder, president and chief executive officer of Koontz McCombs, LLC, with responsibilities for the company's strategic direction and long-term planning as well as development and implementation of its overall investment strategy. San Antonio's celebrated Red McCombs partnered with Bart to form Koontz McCombs in 1997 to pursue the development of income-producing properties throughout the state of Texas. Regarding his decision to team with McCombs, Bart says, "When I first approached Red, I was sure I had all the right stuff, but I felt I needed his mentorship and leadership. Thankfully, it's been a wonderful and productive partnership, and I continue to daily appreciate his guidance and wisdom." Over the ensuing years, Koontz McCombs has successfully developed over 7 million square feet of commercial properties across virtually all property types, including office, industrial and retail.
As further proof of Bart's desire to be involved in all aspects of development, in 2000 Koontz McCombs, LLC established Koontz McCombs Construction, Ltd. That, as Bart proudly volunteers, allows "us to not only build our own projects, but work for others too, and that's pretty unique in this business." Since inception, the construction company has grown rapidly with annual revenues now in excess of $100 million and has been active in the residential segment, developing over 3,200 multifamily rental units in San Antonio, Houston and Austin. Its portfolio also includes numerous school and institutional projects, as well as office, medical office, automotive, retail, multifamily and industrial projects. In 2011, Koontz McCombs Construction was ranked as the fourth-largest commercial contractor in San Antonio. That ranking may change with the recent acquisition of San Antonio's venerable Browning Construction Company.
While not stalking business, stalking game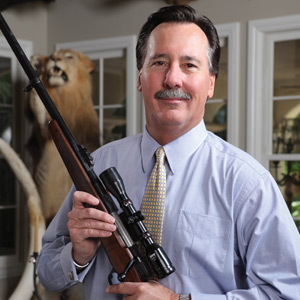 Bart Koontz certainly enjoys an active professional life, but it's not "all work and no play." A visit to his functional yet comfortable office at Koontz McCombs headquarters on the northern edge of downtown gives ample indication of Bart's other loves: There are certainly his lovely wife and children (a son and a daughter), represented by numerous photographs. Perhaps more surprising to those who don't know him are the myriad souvenirs and trophies from his other huge passion — big game hunting — which sprawl across the well-used space.
Most notable is a full-body mounting of an adult mountain nyala (this is a big animal), taken in Ethiopia, that towers over Bart's desk. Other examples include elephant and rhino feet, antlers, horns, heads, native hunting equipment and dozens of "on location" photographs of his many and varied kills — some officially recognized as records in hunting books. Further mounts of seemingly endless species are on display throughout his home as well (A smiling Bart concedes, "I admit I have a wonderful and very understanding wife.") It all leaves quite an impression.
Bart's love of travel and hunting stems partially from his childhood days on the HK Ranch, where he enjoyed tracking and harvesting whitetail deer, dove and quail. His father, Dan Conoly, was also a big influence on Bart in that he too has had a lifelong passion for all aspects of the sport. Interestingly enough, however, it wasn't until the high-energy entrepreneur hit 40 that he became enamored of the grander safari experience and went on his first trip to Africa. Since then, as he freely admits, "I've been hooked." He's been back several times.
In 2000, he and Conoly went on an extended African sojourn that both enjoyed immensely. Fortunately, for such a busy and driven individual, Bart somehow finds (or makes) ample time to pursue his hobby and has been successful in taking multiple sought-after and challenging species across North, South and Central America as well as in Africa. These include the big five of dangerous (African) game — the lion, leopard, rhino, elephant and buffalo. Other exotics taken include the sitatunga, Lord Derby eland, southern and western roan and kafue lechwe.
Someday he hopes to visit Asia. His next excursion is slated for later this year, when he heads back to Africa for a "bongo" hunt led by native pygmies. And when he's not armed with a high-caliber rifle, the marksman has also become a pretty good shot with a digital camera, targeting the wild fauna encountered on these foreign excursions. His work is on display throughout the Koontz McCombs office complex and further reinforces the head man's passion for the untamed in nature. Like many hunters, Bart has a deep respect, appreciation and love for all things wild. Species preservation and conservation are paramount. As evidence, he is an involved life member in Safari Club International and the Shikar-Safari Club International Texas Wildlife Association as well as the Coastal Conservation Association.
Finding time for others
With so much on his plate — business, hunting, family — is there time for further commitments? Fortunately for his community, the answer is yes. Bart is active within the Greater San Antonio Chamber of Commerce, the Real Estate Council of San Antonio, the University of Texas, School of Real Estate Finance Advisory Council, Christ Episcopal Church, United Way of San Antonio, the San Antonio Economic Development Foundation and the University of Texas Health Science Center. He is a member of the President's Council, the Texas Biomedical Research Institute, the American Heart Association and the Championship Hearts Foundation and is the founder and fulltime supporter of AugustHeart.
Truly a giving person in all respects, Bart continues to work tirelessly, both personally and professionally, for the betterment of his city, state and nation, never letting adversity of any kind slow the constructive force he's justifiably become — a force determined to simply accomplish. Well done, Mr. Koontz!
AugustHeart: A legacy to a lost son with intent on saving others
In October 2008, Bart and his family were to face one of the most difficult periods in their lives. One morning, their 18-year-old son, August, a gifted and athletic high school senior, was discovered dead in his bedroom – a victim of hypertrophic cardiomyopathy. This inherited disorder causes a thickening of the heart muscle, which can lead to sudden, unexpected cardiac death. Unfortunately, there may not be any early indicators of the illness's presence. Young athletes are often (though not exclusively) the victims.
For the Koontz family, the shock and sadness were devastating. As Bart relates, "No one wants to be in this club. The losing-a-kid-club is the worst. The loss never goes away."
While both parents found partial relief through the raising of their two other healthy children, Bart needed an additional outlet to assuage his grief. When he realized that while he couldn't undo what had happened within his family, "maybe I could spare others the same terrible experience." To that end, in 2010 Bart and his wife, Doré, founded and funded AugustHeart, a non-profit, charitable program providing sophisticated free heart screenings for athletes aged 14 to 18.
Since its inception, AugustHeart (with support from the Baptist Health System, Methodist Heart Services, the University Health System and UT Medicine, the physician practice group of the University of Texas Health Science Center and CHRISTUS Santa Rosa Health System) has screened more than 733 teenagers, finding anomalies in 23. Regarding this undertaking, a committed Bart states, "Through AugustHeart, we're shooting for the moon. Can we test every kid in Bexar County, every freshman who comes in every year – regardless of the gender or sport played? With continued support, I believe the answer is yes." As the program continues to establish itself locally, Bart is starting to receive inquiries from other communities seeking help in founding their own programs. To this Bart says, "The horror of HCM is not limited to San Antonio. Anything I can do to facilitate the efforts of those in other localities, I will. It's that important."
Within the San Antonio area, screenings are regularly scheduled at multiple cross-town locations. To find out how to participate, visit the organization's website at augustheart.org, call (210) 841.9207, or contact AugustHeart via e-mail at info@augustheart.org.
By: Ernie Altgelt
Photography: Mark Langford