Where water may not readily mix with oil, Texans seemingly can — and do. From the first major discoveries in Texas in the early 1900s to today's technology-fueled resurgence, exploration for and the harvest of petroleum and its companion, natural gas, continue to be inextricably linked — economically, emotionally, even romantically — to the Lone Star State and, more importantly, to generations of its spirited native sons and daughters who derive their livelihoods from the extraction of this often elusive precious resource.
And because of its geographical proximity, over time fostering a deep, historical involvement, San Antonio as a city is no exception. Even before the Eagle Ford Shale boom exploded on its southern doorstep, many pioneering individuals and their like-minded kin who call the Alamo City home have enjoyed hard-earned success working "oil."
In the following paragraphs, SAN ANTONIO MAN offers profiles of two courageous, committed and imaginative area families representing decades of dedication to, and leadership within, the frequently volatile, maddeningly uncertain but never dull energy business — it must be in their blood.
The Hughes Family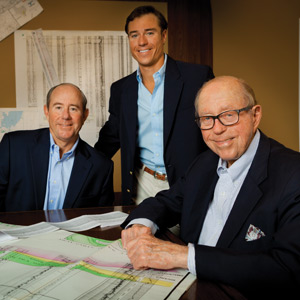 For more than eight decades, members of the respected Hughes family have worked within, and benefited from, the oil and gas industry, establishing a legacy that continues to this day. Its humble beginnings can be traced back to Dallas, where, in the 1920s, a hard-scrabbling Dan G. Hughes and his twin brother first found employment within the industry-pioneering Magnolia Petroleum Company. By 1926, Dan G., now employed by the United Gas Pipeline Company, was tasked with laying natural gas pipelines in and around Monroe, La. As he eventually earned promotion to superintendent — his added responsibilities required moving his growing family several times — it was his children's early exposure to his life's occupation that would in due course provide the pathway allowing his progeny the opportunities to exploit all aspects of the hydrocarbon business.
By the mid-1940s, and with the family now living in Palestine, Texas, one of Dan G. Hughes' twin sons, Dan A. Hughes, bent on earning some extra money, and with his father's help and encouragement, spent his high school summers working for United. Because of manpower shortages created by World War II, the energetic teen found himself laboring as an adult roustabout assigned to a maintenance crew charged with the upkeep of hundreds of miles of East Texas natural gas pipeline. The experience not only proved his ability to handle demanding work but also acted as a further introduction to the industry his father had embraced — an industry that would ultimately provide him, and those after, with lifetimes of work.
During his college years came additional opportunities to learn the business. Between semesters at Texas A&M, Dan A., always eager to earn money, went to work within the booming Oklahoma oil fields — an education in itself. After graduation from A&M in 1951 with a degree in geology, he served a stint in the United States Army. As an officer, Dan A. distinguished himself on the battlefields of Korea and was awarded a Bronze Star. While fulfilling his military commitment, however, the eager and entrepreneurial young geologist, who was stationed temporarily at Fort Bliss in El Paso, somehow found the time to scout southeastern New Mexico and then independently purchase a federal lease for a whopping 50 cents an acre. After the acquisition, as the young trader remembers, "I swapped the prospect to a local operator for an overriding royalty, and I'm still receiving income from that deal I made almost 60 years ago."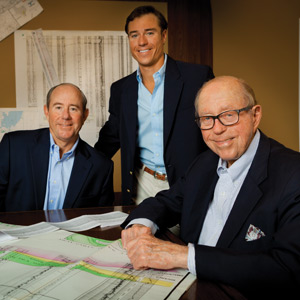 Dan A. continued moving, growing, learning and prospering while working for others, primarily as a scouting, then senior, geologist based out of Beeville. And while generally participating in the plays he was involved in, in 1965 he and his brother, Dudley (an active oilman himself), decided it was time to go into business on their own, forming a partnership dubbed Hughes & Hughes. Dan A. handled South Texas, while his brother worked Mississippi and Alabama. After 15 years of finding, financing, then drilling their own wells, the successful partnership was terminated, and a new Dan A. Hughes Company, headquartered in Beeville, was born. Today that company is thriving, with action across the globe.
Beyond South Texas — the old partnership's first big strike was in Webb County, north of Laredo, and resulted in 22 heavily producing gas wells — the Dan A. Hughes Company has had operations in Canada, Australia and in several countries in South America.
In 1980, Dan's son, Dan Allen Hughes Jr., officially joined the family firm. Having grown up within the business, a youthful Dan Allen was able to "hit the ground running." As he recalls, "I was always fascinated by the business. I especially remember traveling with Dad down to the Laredo fields to log wells. He'd work and I'd watch (and fish and hunt arrowheads too). I'd also open and close a lot of gates along the way. That was probably my primary contribution, but it was always fun and interesting and left me no doubt what I'd be doing as an adult."
After graduating from Texas A&M with a degree in business, then completing the curriculum for geology at Texas A&I, Dan Allen had his first assignment for the Hughes Company. It took him all the way to Australia, where he successfully executed the development of a large gas field. No simple task, but one made easier by the fact that he had Dan A. Hughes Sr. as a role model. After returning, the high-energy Dan Allen quickly fell into the often raucous regimen demanded for success and profitability in exploring for and extracting oil and gas, both near and far. As a result of continued growth, the main offices (and Dan Sr.) are still located in Beeville, but in 1990, Dan Allen, now president of the company, established an adjunct office in San Antonio. He moved here with his family in 1984.
While the current Eagle Ford Shale activity plays a part in the Hughes Company's overall mix — Dan Allen started leasing heavily in 2008 after hearing about the success in LaSalle County, and the company has done very well — other examples of the Hughes' enduring vision, flexibility, drive and ability to surmount hurdles are evidenced by their ongoing South and Central American projects. Operating as Hupecol (Hughes Petroleum Colombia), the company continues its long-term exploration and extraction projects within Colombia while also seeking new southern opportunities. A major expansion into Belize is currently under way. Couple these global efforts with equally far-ranging activities across the United States and beyond, and the name Hughes truly does continue to embody the wildcat spirit of the Texas oilman.
So what's in the future? Fortunately for the Dan A. Hughes Company, another generation. Working somewhat independently for now is 26-year-old Dan Allen Hughes III. After beginning his higher education at Texas A&M studying geology, D.A. (as he is known) transferred to the University of Arizona, earning a degree in business management. Like his father, with so much early exposure, and after considering other paths, D.A. III soon realized the oil and gas industry was where he also needed to be. For now, he is employed by the Linear Energy Management Company, helping develop their oil marketing business.
And regarding the family business? As he relates, "Actually, I kind of do work for the Dan A. Hughes Company because I'm responsible (as a contactor) for marketing all of their crude oil, along with several other small independent oil and gas producers in South Texas. Someday I plan on working alongside my dad. Now, however, is my time for learning the business and not just being Dan Allen Hughes Jr.'s son or Dan A. Hughes' grandson. Like those two, I want to create a name for myself." With such a distinguished pedigree, no one can doubt that he will.
The Ames Family
George Ames, one of the thousands of eager young rough-and-tumble homesteaders who poured into Western Oklahoma in the late 1890s, would, in due course, seek his livelihood not on the soil (as did most of his contemporaries), but rather in pursuit of what lay below. It was a focus his descendants would embrace and maintain unabated for the next 100 years, inexorably linking the surname Ames with achievement, success, recognition and respect within the volatile but always exciting business of oil and gas exploitation.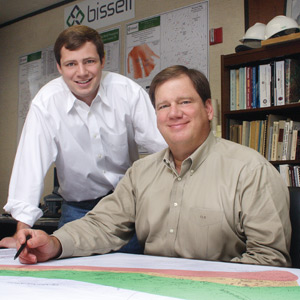 Shortly after arriving in the territory (Oklahoma didn't achieve statehood until 1907), George, a born "numbers man," opened and for several years operated a profitable bank in the small town of Butler. When a big oil play erupted near the community of Drumright in the early years of the 20th century, the forward-thinking entrepreneur quickly moved the clan there and established a second bank to service the financial needs the heady activity generated. But sitting on the sidelines wasn't where an energetic man like George desired to be. He recognized potential and opportunity — just like an oilman — and that meant getting a piece of the action.
To that end, in 1913 the banker turned wildcatter sank his first well in the famous Cushing/Drumright field. Following the success of that introductory venture, he admittedly was hooked, and for the next 20 years, George (and a family that included his eldest son, Eugene L. "Gene" Ames, an independent oilman in his own right and off-and-on partner of the venerable Gilcrease Oil Company) followed the booms and busts, leasing and drilling from Oklahoma to Arkansas and eventually into oil-rich East Texas, where this restless group of nomads finally stopped, settled in and rode out the lean Depression years.
Now calling the town of Gladewater home, George in 1932 constructed and operated a 5,000-barrel-a-day refinery that produced gasoline for use in local markets. While Gene helped operate the refinery, he also proved to be a formidable oil property trader as well, making a number of handshake deals (no contracts back then) with his partners at Gilcrease. Despite the fact that the price of oil was severely depressed and times were tough, the canny pair — knowing things could improve tomorrow — continued to amass ownership interests in producing wells across the gushing East Texas field — interests numbering more than 300. That was faith!
The Ames clan relocated once more, in 1942. This time it was to San Antonio, where the family remains based to this day. Gene became president of Gilcrease and oversaw the company's entire operations, which included multiple sites across greater Texas, Kansas, Oklahoma and New Mexico. He held this position for the remainder of his professional life.
Born to the family in 1933 in the boom town of Gladewater, Eugene L. (Gene) Ames Jr. wasn't committed to a future within the oil business until, as he recalls, "I started working summers during my high school and college years at Yellowstone National Park. While surrounded by so much of nature's glory, I became enamored with geology." That interest never waned, and in 1955 Gene Jr. graduated from the University of Texas with a bachelor of science in geology, then also went to work for his father as a geologist at the Gilcrease Oil Company.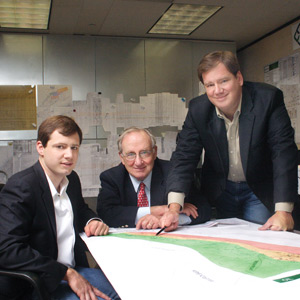 In 1962, the Gilcrease Company was sold; its name was changed to the Venus Oil Company; Gene Sr. retired; and Gene Jr. took the reins. Over the years, under his leadership, the company had unprecedented success in discovering and/or developing several great oil and gas fields, including Vidor Ames, Vernon (in Louisiana), Shanghai, Hutchins Kubela and others. In recognition of his leadership ability, his peers in the oil industry in 1991 elected Gene Jr. as chairman of the prestigious Independent Petroleum Association of America.
Gene Jr. fathered three sons — John, Gene III and Stephen. No surprise here, but two of the three are active within the oil and gas business. His daughter, Elizabeth Ames Jones, while not in the family business per se, until recently was chair of the state's oil and gas regulatory body, the Texas Railroad Commission. John attained a degree in Petroleum Land Management from the University of Texas, and Gene III holds two degrees, one in business administration and the other in geology, both from Trinity University. And while the brothers worked with Dad at Venus at one time or another, each has now established his own successful, independent business.
John is the president and founder of Amexco, an exploration and development company that is active in Texas and southern Oklahoma. Gene III heads Ames Energy Advisors, LLC. and Bissell Operating, LLC. Ames Energy Advisors provides expert technical, geological, geophysical and ownership consulting for mineral and royalty owners who require negotiation help. The company has also proven itself a valuable resource to R and D, exploration and production, saltwater disposal and environmental firms in need of geological or operational expertise. As a result of his proficiency, Gene III has, under contract, written multiple dissertations on targeted oil and gas activity and presented several papers at technical conferences covering various technical and operational aspects found in specific production fields.
Regarding Bissell, Gene III says, "It's basically a corporate entity that I use as a means to drill wells and oversee production. Most of our existing activity is located in the central Gulf Coast and in West Texas, but we are working on some very large mid-continent projects as well." At the current end of this long and distinguished line of energy-exploiting Ameses is Gene III's 24-year-old son, Corwin. The recent University of Texas graduate, with a degree in petroleum engineering, is now employed as a reservoir engineer with Fort Worth's high-octane XTO Energy Company, an independent subsidiary of Exxon. Does he like it? You bet!
Like his many driven predecessors, Corwin is also thriving on the industry challenges he daily encounters in his new, guaranteed to be exciting, career. As he says, "Learning the 'ins and outs' of drilling wells, analyzing reservoir behavior, improving older projects with newer technology, just overcoming incredibly frustrating leasing obstacles has been an experience." For Corwin, however, no matter how steeped in family lore and childhood exposure, the most fascinating aspect will always be "continuing to learn, adapt to and profit from this crazy, evolving game!" He is an Ames after all. (You might even say he's got the "Genes" for it.)
By: Ernie Altgelt
Photography of Hughes Family by: Oscar Williams
Photography of Ames Family by: Janet Rogers