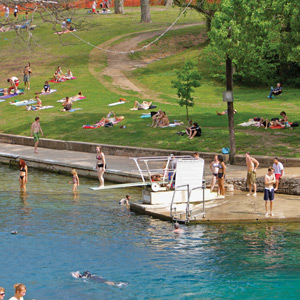 You could almost write the script verbatim. It's the conversation countless Texans will be having this summer as the heat gets turned up to 11 all over the Lone Star State. "Whew, buddy, it's a scorcher out there. It's hotter than a [insert folksy phrase here]. That's it, I'm moving to Montana." But before you throw in the towel and head north, there is one sure-fire way to beat the Texas heat that has been working for centuries — swimming holes. This not-so-secret solution is the only thing guaranteed to overcome those inevitable and unbearable triple-digit days. And the good news is that Texas is full of swimming holes just waiting for folks to jump in.
Here is a list of my favorites within a day's drive from San Antonio:
San Pedro Springs — San Antonio
Located almost in the heart of San Antonio, San Pedro Springs sits in the middle of San Pedro Park, the oldest park in Texas and just west of San Antonio College and Brackenridge Park. Discovered by a monk in 1709, these ancient springs have been refreshing visitors ever since and were actually declared public by the King of Spain, which gives you an idea of how long folks have been coming here to cool off. The water is nice and refreshing, making San Pedro Springs the best option for beating the heat without going the distance.
Comal and Guadalupe Rivers — New Braunfels
Try to explain tubing to someone from another country and you'll get a lot of blank stares and/or hysterical laughing. When you think about it, the thought of ripping out the inner workings of a tractor tire and sitting on top of it to float down a river is a pretty crazy idea. But for us Texans, it is second nature, and the best place in Texas to partake of this age-old tradition is New Braunfels. There are two rivers in town for tubing and which one you prefer is a matter of style. The rowdier bunch tends to stick with the Comal, which can get bogged down with inner tube traffic if there is such a thing, while the calmer crowd with a bit more time heads to the Guadalupe River for more elbow room and to enjoy the more natural side of things. But whichever group you fall into, New Braunfels is the place to go. There are tube renters aplenty in town, so there's no need to bring your own tube. Both rivers offer all the refreshing water and sun you'll need to beat the heat.
Rio Frio — Concan
"Rio Frio" means cold river, and after one jump into the water, you'll agree that the Rio Frio is appropriately named. This river winds its way through some of the most beautiful land in Texas, with the most popular parts lying between the small towns of Leakey and Concan. A local tube rental company will happily point you in the right direction for a slow-moving tube ride down the Rio Frio, and some will even shuttle you from start to finish. Looking for a great stretch to kick back and enjoy? Venture into Garner State Park. It can get a little crazy with vacationers and afternoon grillers on the beaches of "Old Garner," so if you're looking for some serenity, head down river from the dam and get ready for relaxation.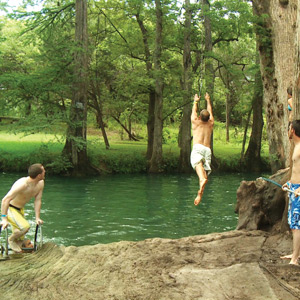 Blue Hole — Wimberley
Imagine the perfect Texas swimming hole with clean, crisp water, towering cypress trees, rope swings and plenty of Texas sunshine, and chances are you just pictured something that looks almost exactly like Wimberley's Blue Hole. This laid-back stretch of Cypress Creek makes for an excellent afternoon retreat. It's more of a swimming "creek" than a swimming "hole," but don't get caught up on semantics, as Blue Hole will certainly satisfy. The creek is almost completely shaded by trees, which makes for incredible swimming without the burn, but for those who prefer to bake, there is plenty of grassy real estate where you can throw down your towel and let the sun do its job.
Zedler Mill — Luling
Zedler Mill is more than a swimming hole. It's a historic site along the San Marcos River that used to be a working mill that supplied the town of Luling with all the grain it needed. However, the dam that diverted the water to the mill now serves a much better function — creating one of the best off-the-beaten path swimming holes in Texas. This stretch of river is not only great for an afternoon dip, it also has a rope swing and a perfectly positioned tree stretching out over the water at a 45-degree angle, allowing brave daytrippers to climb up and plunge off into the water below.
Guadalupe River — Kerrville
The Guadalupe River in these parts doesn't just provide Texans with a single swimming hole, but an entire chain of them ready for the dipping. Stretching roughly from Hunt down to Comfort, the Guadalupe River winds and turns through the Hill Country, making picturesque spots at every turn and low-water crossing. One of the most popular local spots is known as Monkey Island, just south of Kerrville on the road to Comfort. However, quieter spots are easy to find up and down Texas Highway 39. Just bring a towel or two and go hole hopping through this beautiful part of Texas.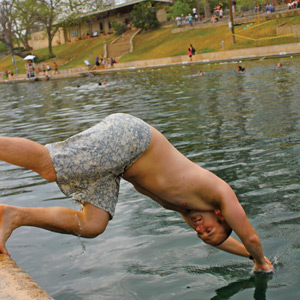 City Park — San Marcos
One look at City Park and it's obvious why folks want to go to college in San Marcos. The cold water of the San Marcos River surfaces upstream at Aquarena Springs, then gracefully winds its way down to meet the dozens (sometimes hundreds) of folks basking in the sunshine at City Park and working up the courage to jump into the chilly, fast-moving waters of the river. The huge pecan trees shading the grassy fields make City Park one of the best places in Texas to spend the afternoon tossing the Frisbee, working on the tan and swimming in the water.
Barton Springs — Austin
Located almost in the shadow of downtown, Barton Springs is one of the best urban swimming holes in Texas. The water flows out of the ground and into Barton Springs at a consistent 68 degrees year round, which means that a dip into this chilly water brings new meaning to the word "refreshing." Inside the park visitors get to engage in what I call the "Barton Springs Two Steps" consisting of (1) lying out on the grassy hill until the sweat beads start to pour and then (2) jumping into the icy waters and washing them all away. You can then swim as desired.
TIPS:
Drink lots of water.
Wear sunscreen.
Bring a change of clothes — While most food joints within spittin' distance of a swimming hole are good with swimsuits, you might want to throw on something that isn't dripping wet.
Tune into The Daytripper on your local PBS station, or visit www.thedaytripper.com
By: Chet Garner