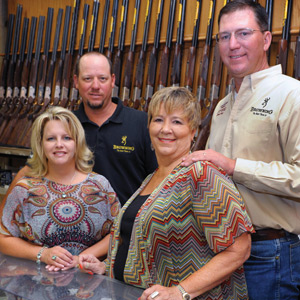 With San Antonio's proximity to the game-rich Texas Hill Country and the vast chaparral lands to the south and west, coupled with the city's colorful cowboy past and subsequent embrace of its frontier spirit, it's not surprising that to many of its citizens the private ownership and use of firearms for sport, pleasure and protection is more than just a legal right, it's a given.
As a natural result of this deeply rooted attachment for all things ammo-related, over its long history, the area has spawned numerous businesses that cater to the shooter. They provide not only weaponry, related equipment and repair but, perhaps more importantly, professional advice and guidance to any and all aiming for success and safety on the hunt or at the range. SAN ANTONIO MAN has targeted three such locally owned and operated enterprises considered "top caliber" in the firearm retailing industry. They have established decades-long reputations for offering superior service, a commitment to quality and exceptional expertise in all fields of personal armament — three that are literally "gunning for business!"
Dury's Gun Shop
Located on San Antonio's bustling South Side, Dury's Gun Shop boasts Alamo City roots that reach back a century or more to the late 1800s, when John M. Dury opened a small establishment in the downtown area that offered not only rifle, pistol and shotgun sales and repair but locksmithing as well. With his passing and the store's closing, however, it wasn't until 1959 that his grandson, John L. Dury, would re-establish the link between the surname Dury with the care, maintenance and acquisition of high-quality, lifetime-warranted firearms.
A born tinkerer
As a boy, the ever-curious John L. always exhibited a natural mechanical inclination coupled with a deep appreciation and respect for precision and exceptional craftsmanship. Fortunately for the eager adolescent, his father, a traveling representative with the Remington armament company as well as a competitive and successful sport shooter, was able to encourage his son's interest by providing early and ongoing opportunities to discover the mechanical and technical intricacies found in firearm construction. During John's formative years, his tinkering slowly evolved into a passion, as the self-educated youngster acquired and then honed the skills and abilities he would require for a career centered on the science of gunpowder-based weaponry.
Humble beginnings
Starting small in his first true commercial venture, John opened for business in his parents' one-car garage. The conscientious 20-something and recent college graduate began by initially repairing and customizing rifles and shotguns for a limited clientele including — thanks to his father's professional connections — some of the area's established dealers. Over time, as a result of his exceptional work, which always reflected his fierce commitment to service and honesty, additional business swelled his customer list while expanding his reputation.
With increased repair and customization orders, coupled with a desire to offer and sell rifles, guns and related merchandise, a relocation from the cramped garage was eventually needed. The result was a move in 1973 to larger digs on nearby Southcross Street. It was there that John with his wife, Betty (a young mother at the time), spent the next 30 years successfully building the business that in 2003 would require a third and final move to its current and even more spacious location just off Interstate 281 on Hot Wells Boulevard.
Fully armed and ready
Today, solidly established and flourishing, Dury's Gun Shop operates as a well-planned and comfortable 5,000-square-foot supermarket of all things arms and arms-related, catering to the hunter, target shooter, protectionist, collector and law enforcement officer. The professional staff of 35 includes two of Betty and John's sons, a daughter-in-law and granddaughter — John passed away in 2005, and Betty is now the company's president. With more than 1,800 various shotguns, rifles and pistols in stock — most on display at the store or on its user-friendly website — Dury's has certainly come a long way from that cramped suburban garage.
So, while just about every quality of weapon — imported and American, new and used, make and model — is available, what really makes a visit to Dury's Gun Shop so pleasurable are the knowledgeable and helpful personnel one encounters. With 10 salesmen, a visitor seldom waits for attention. John and Betty's eldest son, John R. Dury, is the vice president of sales and keeps his team hopping. In the back, four highly trained gunsmiths, led by the founders' other very capable son, David, (also vice president) are ready to handle any repair or alteration.
And while rifles, guns and pistols are Dury's Gun Shop's primary stock-in-trade, cleaning supplies and kits, gun safes, fine optical equipment, cases and holsters, instructional videos, suppressors and a vast amount of ammunition are all available as well. As the sales chief, John R. Dury, emphatically states, "If a shooter needs it, we'll most likely have it or, we'll get it — ASAP."
Special recognition from Glock
One kudo that Dury's is justifiably proud of is its designation by the Glock Arms Company to be its exclusive South Texas distributor to law enforcement personnel. Those who choose a Glock product for their professional use (and that's most departments' officers) rely on Dury's for their weapon and servicing. They are not only assured of getting a quality piece but an appreciated professional discount as well. Glock, because of its long relationship with Dury's, allows no other area dealer this consideration.
Fifty-plus years of providing exceptional service and products should convince buyers not to have any hesitation about doing business with Dury's Gun Shop. But if further reassurance is required, that's no problem. As Betty happily volunteers, "All of our guns, new and used, come with a lifetime warranty. That was true in John M. Dury's time in the 1880s, and it's still true today!"
Nagel's Gun Shop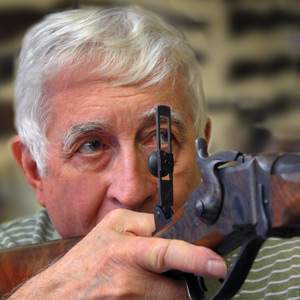 To many area shooters, Nagel's Gun Shop is considered the granddaddy of San Antonio's firearm retailers. And to the customers who have patronized this venerable establishment over its many successful years, it does seem like it's been in business forever. Actually, the store is more recent than that. Nagel's opened in 1942. Since that time, however, literally hundreds of thousands of assorted rifles, shotguns, pistols and other armaments have been bought, sold, repaired, modified and even traded, fostering a growing and loyal clientele comprising hunters, collectors, law enforcement personnel and others that accurately associate a Nagel transaction with quality, selection, expertise, service and satisfaction.
A gift for guns
As a child growing up in rural Gonzales, Texas, company founder Homer H. Nagel loved shooting. And while seemingly blessed with a natural affinity for using and understanding firearms, the gifted youngster not only proved to be a crack shot, but of greater importance, also began demonstrating the technical skills that would serve him so well in his later life. As an adult, he earned acclaim through his participation in multiple large-bore rifle competitions and even held a national record at one time. But fueled by his early interest in and abilities with guns, it was the flourishing enterprise he eventually established for which enthusiasts would ultimately remember him.
Moving with his bride to San Antonio in 1928, it would be some years before Homer Nagel would turn professional and officially enter the gun business. Initially pursuing other occupations, but always maintaining his connection to firearms, the primarily self-taught but talented gunsmith and machinist saw 10 years pass before he accepted his first employment with a real gun store.
Signing on in 1938 as a gunsmith with Toepperwein's, the city's premier sporting goods store at the time, certainly paid testament to Homer's obvious abilities with firearm repair and modification. And his beneficial four-year stay provided the young man with opportunities to not just enhance his smithing skills but also get a taste of retailing. After his stint at Toepperwein's, in 1942 a more experienced Homer felt ready to go it alone.
Yard work
Starting in a small shop in his backyard, Homer Nagel continued servicing guns of all types on a part-time basis while devoting most of his time to Brooks AFB, where he contributed as a machinist for the duration of World War II. With the war's conclusion, however, he, with two ex-GI assistants, returned full time to the business. Interestingly enough, a lot of the work Homer became known for in the 1940s and '50s was converting (sporterizing) surplus military weapons for civilian hunting uses. He and his co-workers would install scopes, rework bolts and add shotgun chokes to these former government issues, giving new function to these excellent weapons. Even now, it's not unusual to come across an old converted G1 Springfield or military Mauser bearing the stamp "HH Nagel."
To accommodate growth, in 1952 Homer moved his operation to a retail center on West Avenue. Nagel's Gun Shop remained there until 1957, when additional growth required a final move to its present location on San Pedro inside Loop 410. That same year, his 17-year-old son, Robert H. (Bob) Nagel, would join the business and never leave.
A booming business
Today, with Bob at the helm (Homer passed away in 1986), Nagel's boasts 15,000 square feet housing an amazing inventory that includes a seemingly unlimited supply of rifles, shotguns and pistols plus masses of ammunition, reloading supplies, optics, cutlery, safes, cases, gun accessories and clothing, all enticingly displayed throughout multiple jam-packed showrooms. Fortunately, all of this is supported by a cadre of 29 highly trained employees (including four exceptional gunsmiths) that also includes Bob's daughter, Robin, who joined in 1983, and his son, Robert, who came on board in 1985. All are committed to, as Bob volunteers, "making sure every customer leaves, not just with the correct firearm, but, of equal importance, the basic knowledge he or she needs to ensure complete safety and understanding."
Nagel's is the largest privately owned gun shop in South Texas. And because of its size, customers are generally delighted by not having to special-order most items — what they're looking for is usually in stock. All brands are offered — imported and American, new and used, utilitarian and collectible — and, regarding all sales (at the store or via the comprehensive website) customer satisfaction is paramount. So after so many years of unabated and justifiable success, when asked what is the most gratifying aspect of his professional life, Bob quickly responds, "Seeing a father purchase his son his first firearm and knowing that it came from Nagel's — it's just something one family does for another!"
Don's Gun Shop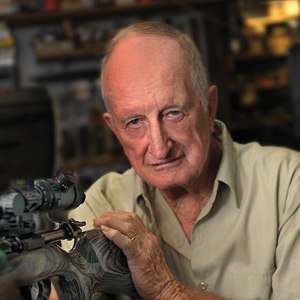 While his friendly competitors (Dury's and Nagel's) may boast much larger operations, the compact but competent enterprise that Don Bottoms founded some 50 years ago is no less a respected source for expert firearm acquisition, customization and repair. Located just inside Loop 410 between Babcock and Fredericksburg Roads, where it's been based since the early 1970s, Don's Gun Shop has become a cherished institution serving generations of the shooting public seeking a personal one-on-one relationship that generally only a smaller establishment can provide. (In this case it's two persons, Don and his daughter, Laurie.) Simply said, at Don's, you get Don!
As luck would have it
Born and raised on rural property in and around San Antonio, Don didn't grow up in a particularly heavy shooting environment. He was familiar with firearms (as any farm kid would be) and certainly received basic riflery training with the United States Army during the Korean conflict, but mastering the art of gunsmithing with the subsequent acquisition of a lifelong career didn't occur until his early adult years, and the beginnings were pure serendipity.
After his stint in the Army ended in the mid-1950s, a young, footloose Don and a buddy happened to pay a visit to Homer Nagel's well-established gun shop (then on West Avenue). While there, the friend asked if there were any employment opportunities. Mr. Nagel replied, "No." Some months later, however, Don, alone this time, revisited the store, and to his surprise, Mr. Nagel remembered his first visit, that earlier request for a job and this time indicated that an opening did exist. As Don recalls, "With no commitments elsewhere (and certainly no experience either), I readily accepted."
After eight years of on-the-job "Nagel" training and absorbing all aspects of the gun business — especially the smithing and customization — a confident Don Bottoms decided, in 1963, that it was time to step out on his own. The parting was amicable.
Old school
Fortunate to have learned from one of the best, Don proved up to the challenge of establishing and operating what would quickly become the flourishing signature proprietorship he's known for today. Setting up shop initially in a building on Vance Jackson, after a fire in 1972 he relocated the company to its present space, where a smiling Don admits, "Inside and out, it really hasn't changed much." And, as evidenced by its loyal and always growing clientele, it hasn't needed to. As Don further volunteers, "We're old school, and we plan on staying that way."
The company's namesake, aside from handling some counter sales, is, of course, the store's extremely qualified gunsmith. His well-used workshop in the rear is a testament to his many productive years in the business and impresses customers with its highly organized system of essential parts, tools and machinery. Laurie, knowledgeable in her own right and also in sales, seemingly does everything else. Together, they're able to satisfy most customers' needs, ranging from delicate repair work on new and antique pieces to providing up-to-date information, advice and, most importantly, the acquisition of quality, name-brand weaponry, including that of the latest technology. Don's Gun Shop also has the distinction of being one of the few legally authorized "black powder" vendors in South Texas. And he even services air rifles, including the Benjamin, Crosman and Sheridan brands, and repairs Coleman lanterns and stoves.
Shooting the breeze
One unique impression many experience when visiting Don's Gun Shop is the feeling of stepping back into an earlier, simpler time when customers would come in not only to transact business but also to enjoy some good company, swap stories or just take a break from their more mundane routines. At Don's establishment it's not unusual for folks to drop by just for a visit. More surprisingly, perhaps, are his multiple "unofficial" employees — regulars and old friends who, when visiting, are happy to answer the phone, do a chore or two and even wait on customers if Don and Laurie are busy. They're just glad to be there. Don's Gun Shop can be like a home away from home for many. New customers can't help but respond in kind to the warmth and camaraderie, coupled with Don's obvious professionalism and deep expertise, and to shooters, that's very neat!
By: Ernie Altgelt
Photography by: Greg Harrison