Ruth's Chris Steakhouse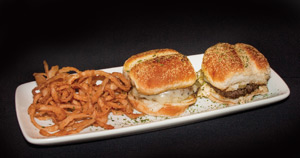 Downtown: 1170 E. Commerce St,
San Antonio, TX 78205
(210) 227-8847
Concord Plaza: 7720 Jones Maltsberger,
San Antonio, TX 78216
(210) 821-5051
www.ruthschrisSA.com
San Antonians are catching on to the great deals available at Ruth's Chris happy hour, available Monday through Friday from 4 until 7 p.m. Well drinks, draft beer, house wine, margaritas and martinis are available for $4, and there are four great appetizers (Prime Bites) for $7 — two prime sliders with Swiss cheese and crispy fried onions, seared ahi tuna served atop cucumber chips with a sweet citrus chili garlic sauce, shrimp and crab au gratin with hot French bread and lightly fried calamari with a sweet and spicy Thai chili sauce. At the downtown location, patrons at the Cameo Theatre across the street often drop in for a light happy hour dinner before attending the Cameo. The Prime Bites are also offered downtown from 9 p.m. until closing Thursdays, Fridays and Saturdays — a perfect drop-in spot after a play, movie or the Symphony. And there's complimentary valet parking. What's not to like?
Big Lou's Pizza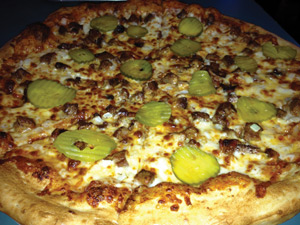 3048 S. W.W. White, San Antonio, TX 78222
(210) 337-0707
www.biglouspizzaonline.com
Serving up great pizza since 2000, Big Lou's has a line of loyal patrons ordering pizza that is worth the wait and the drive. We ordered the 16″ BBQ brisket pizza. This pizza is made with barbecue sauce as a base replacement for tomato sauce and includes ample portions of freshly smoked beef brisket on melted cheese. Topped with onions and pickles, which offer a surprising enhancement to the flavor, this pizza is a unique taste experience, and you will definitely want to to take home any leftovers. The service staff is also to be commended on their hospitality and attentiveness. Big Lou's large 42-inch pizza was featured on the Food Channel's Man vs. Food, but don't expect to take one of these home as they may be too big to fit through the door! Instead bring a group of friends and enjoy a great casual dining experience.
Old Smokehouse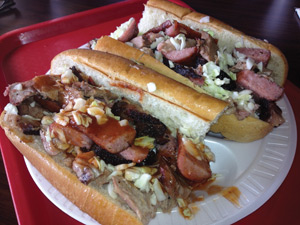 5145 Fredericksburg Rd., San Antonio, TX 78229
(210) 340-5039
www.oldsmokehouse.net
Old Smokehouse is exactly what you expect a great barbecue restaurant to be … wooden walls, paper plates and a menu yellowed by real smoke from the pit. Try the "Big Smokey," a giant sandwich made with a one-pound combination of juicy beef brisket, sliced pork and sausage complemented with a generous serving of marinated cabbage on a 12-inch bun. At $12.95 it is worth the price for the amount of food in this sandwich. It is a real bargain if you share it with someone else, and you may have a hard time finding room for side dishes. This no-frills barbecue restaurant is conveniently located on Fredericksburg Road near Callaghan.