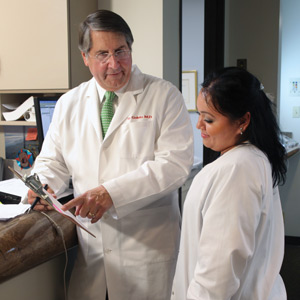 The legacy that noted orthopedic surgeon, joint replacement specialist and healer, Dr. Ty Goletz, leaves many years from now will, in part, be measured one step at a time. This will certainly be reflected in a career and life exceptional in its many stages of hard-earned advancement resulting in an enviable degree of overall achievement and creation but, perhaps more tellingly, in the countless individuals who have throughout his working life benefited from his extraordinary, often selfless efforts on their behalf. These efforts are supported by an exceptional set of skills, a prodigious depth of knowledge and a wealth of personal compassion all coupled with incredible innovative technology. Where pain, mobile incapacity and often a loss of hope existed, Dr. Goletz has been able to provide an avenue for physical restoration, reclamation and redemption. Truly, for him, and especially his many grateful patients, success can be measured one wonderful step at a time.
The influence of others
Although Dr. Goletz now considers himself an "official" San Antonian — he's resided in the Alamo City since 1982 — his roots stretch first to his birthplace of Wilkensburg, Pa., followed by a few additional years in Chicago. The majority of his formative youth, however, was spent in the bucolic Milwaukee suburb of Brookfield, Wis., where his father worked as a vice president (overseeing the cheese division) for Universal Foods, while his mother taught third grade. From age 9 until his high school graduation in 1969, Brookfield was home. Life was pleasant and filled with family, friends, study and especially sports. During his four years at Brookfield Central High, the talented young athlete became an all-conference player in tennis and football while maintaining a very impressive GPA. And while intensive study would eventually require a greater commitment in time and energy, sports and a physical life would always be important — then and still today.
As he was growing up, both parents proved to be excellent role models for the ever active and curious young Ty and certainly instilled many of the values that continue to serve him so well, but it would ultimately be a beloved neighbor who would provide the direction and focus leading toward a career in medicine. Respected family practitioner and close family friend Dr. Floyd Morebeck recognized in 14-year-old Ty Goletz a potential and promise and took it upon himself to offer encouragement. To this end, as Dr. Goletz remembers, "I was invited to 'observe' the doctor as he performed a fairly intensive chest surgery, and I eagerly accepted. During the procedure, however, I promptly fainted."
Fortunately, when consciousness was restored, the pale but determined youngster bravely returned to the operating room and, without incident this time, was able to watch Dr. Morebeck tackle a second surgery. After that transformational experience, Dr. Goletz readily admits, "From then on, all I ever wanted to do was be a surgeon."
Degrees of study
Blessed with ample ability and ambition, Dr. Goletz went on to spend two years at the University of Colorado before returning to his home state and transferring to the University of Wisconsin-Madison, where he earned an undergraduate degree in chemistry before entering its affiliated medical school. As a freshman, a driven "head-in-the-books" Ty Goletz was named the outstanding student in anatomy. After receiving multiple scholastic awards and recognitions, he went on to graduate in 1977 with highest honors and a treasured medical degree. As a result of his stellar academic performance followed by a successful residency, the now Dr. Goletz was flattered to be asked to take part in a prestigious fellowship program headed by the renowned Dr. Douglas Jackson, a pioneer in arthroscopic surgery of the knee and sports medicine, working out of Long Beach, Calif. At the time, sports medicine was a new subspecialty of orthopedics and primarily encompassed joint injuries. Dr. Goletz, fueled by his love of competitive sports and intrigued by the specialty, went on to spend a fruitful year with Dr. Jackson learning — and mastering — the involved techniques, skills and technology required for successful knee surgery and arthroscopy. Oddly enough, one of the requirements of the program was to run in a marathon. As Dr. Goletz admits when recalling that particular part of the curriculum, "Once was enough."
After successfully completing both his residency and his studies with Dr. Jackson, Dr. Goletz, now ready for the "real world," decided to seek a private practice opportunity that would allow for further interaction with sports-related injuries. The University of Wisconsin's Dr. William Clancy, another early proponent of sports medicine specialization and a fan of the youthful achiever, arranged for an interview with the established orthopedic surgeon Dr. Jack Henry, based in San Antonio. Dr. Henry was then the team physician for the San Antonio Spurs.  In 1982 Dr. Goletz eagerly joined Dr. Henry's practice and, over the course of the next eight years, shared responsibility for taking care of the NBA team while also helping grow the practice from a two-physician group to one comprising five doctors.
Stepping out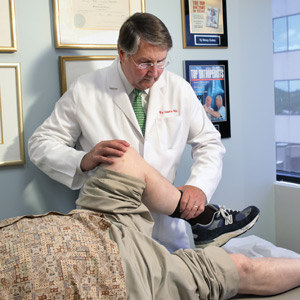 In 1990, a more experienced (and appreciative) Dr. Goletz left Dr. Henry's clinic and started his own group practice in Medical Center Tower II. Called the Center for Orthopaedic Surgery and Sports Medicine, it has grown over the years into a four-man group that also includes Dr. Uwe Pontius, Dr. Greg Gordon and Dr. Geoffrey Millican. Currently, 70 percent of Dr. Goletz's personal practice involves knee surgery, with either total joint replacement or arthroscopy with simple procedures or more complex reconstruction of the joint.  Another 20 percent involves shoulder surgery, mostly arthroscopic, and the remaining 10 percent is hip replacement.  As he relates, however, "My primary focus is joint replacement," and, as he freely admits, he loves it. And he must because he performs an impressive 580 delicate surgeries per year. When queried about the rewards associated with his work, he volunteers, "The most satisfying aspect is being able to relieve a patient's pain and restore function.  When they express to me that their life has improved or they're able to return to an active lifestyle or just walk again without discomfort, that is very gratifying."
Shortly after establishing his group practice, Dr. Goletz became chief of staff and chief of orthopedics of the Baptist Hospital System's St. Luke's Hospital. His subsequent relationship with that institution and the Baptist System in general has continued and deepened over the years. As evidence, over the last 10 years, he and colleague Dr. Alasdair Goldstein, an equally accomplished rehabilitation physician, helped establish a coordinated care approach to knee and hip replacement.  This unique effort involves a multidisciplinary approach to medicine resulting in many benefits for the hospitals involved and, more importantly, for the patient. As a result of their aptly named "Joint Club" (see sidebar) the Baptist System, and more specifically St. Luke's and the Northeast Baptist Hospitals, have been awarded Gold Seals of Approval for joint replacement of both knees and hips by the Joint Commission, the nation's largest standards-setting and accrediting body in health care.  This is significant since there are only 150 hospitals nationwide that have earned this accolade.
After hours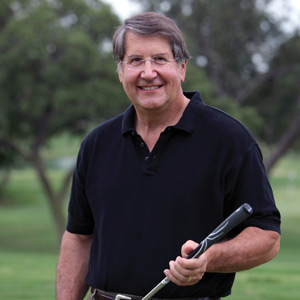 Aside from his very busy practice (his workdays average 13 hours in length), Dr. Goletz still finds the time to give to others. To this end, he's been a past chairman of the Physician's Division of United Way, served on the board of the Acute Care Episode Project with the Baptist System and Medicare and has been involved with the American Academy of Orthopaedic Surgeons, helping plan their annual meetings and monitoring several scientific sessions.  He has also served on the board of governors for the Christus Santa Rosa Surgery Center and helped develop the Ambulatory Surgery Center on Ewing Halsell. Other professional affiliations include the American Academy of Orthopaedic Surgeons, the Arthroscopy Association, the Sports Medicine Society, the AOA Honor Society and the Texas Medical Association.
Since 2008, Dr. Goletz has been named a "Top Doctor" by his peers and has been recognized in Texas Monthly magazine as one of the nation's best orthopedic surgeons.
With so many professional (albeit enjoyed) demands on his life, it's surprising he has time for anything else. But there is an equally contented and fulfilled private Ty Goletz who has been happily married to his wife, Barbara, for 39 years and is the proud father of their daughter, Lindsay. Both he and his bride love the sporting life, are very physically active and enjoy bike riding, hiking, golfing, skiing and traveling — but no more marathons.
With so much accomplished — but not done yet — he happily concedes, "I've been fortunate. I've worked hard too. Life is great, but I, as I also encourage my courageous patients to do, will continually strive for improvement one step at a time."
---
The Joint Club
A team approach to successful joint replacement
In 1992 Dr. Ty Goletz, orthopedic surgeon; Dr. Alasdair Goldstein, rehabilitation specialist; and the Baptist Hospital System had a vision: to develop a more effective, all-inclusive approach to successful joint replacement. Starting initially within the St. Luke's Baptist Hospital's orthopedic unit, then expanding to Northeast and now North Central Baptist Hospitals, Drs. Goletz and Goldstein believed a team approach would not only bring substantial benefits to the patient but to all parties involved. Called, appropriately enough, the Joint Club, since its inception the results have been incredible.
Basically, for all patients who have opted for joint replacement, a comprehensive program is initiated at the outset where physicians, administrators, nurses, physical therapists, occupational therapists, pharmacists, dietitians, infectious disease consultants, outpatient physical therapy coordinators and case management personnel are teamed to provide a unified and coordinated approach, ensuring optimal results. All candidates for the procedures enter a very informative preoperative education program. After surgery, a comprehensive postoperative game plan is established, covering initial in-hospital rehab and extending to the establishment and ultimate conclusion of required outpatient therapy.  As a justifiably proud Dr. Goletz relates, "Due to this program our teams have reduced the length of a patient's hospital stay from 6 to 3.2 days, improved our discharged home rates to greater than 80 percent and have dramatically decreased costs. And our patients love it too."
For more information about the Baptist Hospital System's Joint Club,
call (210) 297-7005 or visit bhsjoints.com.
By: Ernie Altgelt
Photography: Mark Langford