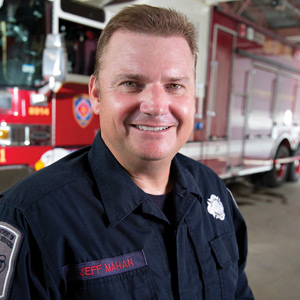 Jeff Mahan's mom helped him see the light. Racing motorcycles was fun. And he was pretty good at it. But not good enough.
So he figured he'd make his first million tinting car and truck windows and repairing motorcycles too. He was on his way to that million dollars, he thought, one tint job and bike at a time. Doing so well, in fact, that fresh out of Robert E. Lee High School he bought a shop in 1984 to tint windows and repair motorcycles. But by the time he paid for his Yellow Pages ad and other expenses, he realized he wasn't making any money.
That's when his mom's words rattled back through his brain: "Go to college, Jeff." She'd saved money for his education, and he gave it a try. "But I hated it," he laughs. "College wasn't for me."
Mahan needed to find something else. Something he loved. Something for which he had a passion. Turns out that was firefighting.
No one in his family had ever been a firefighter. "But I knew it was what I wanted to do … to be," he says. He enrolled in the Texas A&M Fire School in College Station. It was a six-month program, and he loved it.
He laughs, "Maybe college wasn't for me, but I was named the outstanding fire student in my class." And he was elected president of his cadet class in the San Antonio Fire Department Fire Academy when he went there a few years later.
Mahan's first jobs took him to the New Braunfels and Shavano Park Fire Departments. He enjoyed his time in both those communities, but he wanted more. More of a challenge. More of an opportunity to grow in his profession. So 17 years ago he applied to and was accepted by the San Antonio Fire Department. What is it about working as a fireman that attracted Mahan in the first place and keeps him challenged and excited about his job even now? "I am a problem solver. I love to fix stuff. To figure things out. And that's really what firefighters do," he explains.
He loves the tools of the trade — from wrenches and hoses to the Jaws of Life that can saw through today's modern cars to extricate folks trapped inside. "We're not really in the business of fighting fires," he says. "We're in the business of saving lives, rescuing people and their pets. When that's done, we can fight fire."
Mahan spent his first few years in EMS (emergency medical services) driving an ambulance, assisting folks in need. Later he moved to Fire Station 11 — and into rescue. While he won't say it, there is a hierarchy in the SAFD. And at age 47 he is at the top of his game as a "fire engineer" and member of the elite Technical Rescue Team. Mahan and many of his colleagues in Fire Station 11 have had extensive training in a variety of rescue situations, from swift water and trench rescues to caves and structural collapse to elevator rescue and advanced vehicle extrication. Often they are the unsung heroes seen in graphic video coverage rescuing drivers who have ended up in creeks, lakes and riverbeds. Or they are seen pulling folks out of collapsed buildings.
Mahan was one of the original members of the highly esteemed Texas Task Force One — the team of rescue and firefighting experts who are on call to respond to emergencies across the United States and beyond.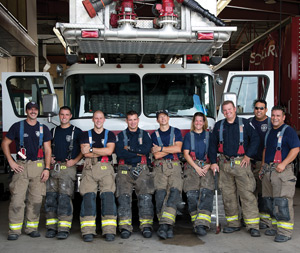 For example, in September 2001, when terrorists took down the Twin Towers in New York City, Texas Task Force One was sent to help with search, rescue and recovery. But Mahan was on another assignment then and could not go. "It was a major disappointment," he says. "I wanted to be there."
When you see incredible rescues on TV, look for the guy with the red hair, green eyes and stocky build. That's Mahan. As for the stocky build, he shyly acknowledges he has put on "probably 30 pounds since I left EMS and the ambulance."
He explains, "When you work on an ambulance, you rarely have time to eat. You are always on call. Running from one place to another. Always on the go, call after call after call." But when he moved into Fire Station 11 and into rescue, his life changed. Sure, he is on call 24/7 when on duty. But there is much more down time than when he was in EMS.
He can work out, relax, train, clean and more — the fire station has fitness equipment to help Mahan and his co-workers stay in shape. But, as you may have heard, firefighters cook their own meals. "Many of us are really good cooks," he says. "We share the cooking at the station."
Divorced but still friendly with his ex-wife, Mahan has a girlfriend who confirms he can cook. And she is quick to note he cleans up after himself. He has lots of recipes, including an apple pie he makes in a skillet and a Salsa/Hot Sauce recipe he borrowed from Juan, one of his colleagues at Fire Station 11.
When asked if what he does is dangerous, he simply smiles. After all, what could be dangerous about crawling through caves, rappelling down tall buildings, pulling people out of cars in swift water or walking into homes and office buildings that are fully engulfed in flames? It's just what he and his colleagues do. What does he like best? Auto extractions — rescuing folks whose cars may be hanging off bridges or worse. Hey, it's all in a day's work.
As for whether he'd like to see his boys follow him into the fire department — he has two sons 18 and 15 years old — he says that would be fine. In fact, he tells me his youngest boy talks about becoming a firefighter. His older son attends the Austin Institute of Art, and Mahan notes, that's OK too.
From a guy who raced motorcycles as a teen to a guy who rescues folks for a living, Jeff Mahan could be a role model for every teen in this city. And despite his mom's wish that he go to college, there's no doubt she's proud of her boy.
By: Ron Aaron Eisenberg
Photography: Casey Howell