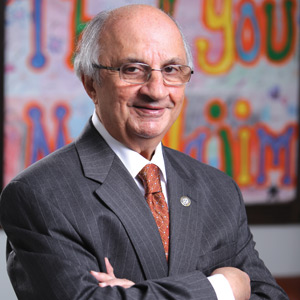 To many, Harvey Najim will always be associated with an extraordinary self-made commercial success built on a personal straightforward philosophy of totally, and unabashedly, "giving his all."
And while certainly apt — since both he and the enterprise he founded, nurtured and then personally labored to better for the past 32 years continue to flourish, produce and prosper — what others are beginning to associate with him and his philosophy is not just corporate accomplishment but rather, perhaps more tellingly of the man, a deep sense of community commitment as well.
So while business-related accolades will undoubtedly continue to accrue, Harvey Najim, equally noted for his philanthropy and as a caring, concerned citizen through his bestowal of a hard-earned and generous beneficence to a grateful populace, seems today even more driven to, quite simply, keep giving his all.
Early influences
Born in 1940 and raised in Springfield, Ill., to a mother and father of Lebanese extraction, Najim grew up in a solidly middle-class family, where the values of hard work, advanced education and kindness to others were stressed. In his early years, the always energetic and greatly loved youngster enjoyed an active and happy childhood playing with friends and siblings, but with the advent of high school came the expectation to work within the family's wholesale candy and tobacco partnership. While the labors could be demanding, the time spent offered invaluable experience that instilled what would become a lifelong positive work ethic coupled with the recognition and realized benefit of just "doing a good job." There's no doubt that the hours he devoted at this time, while guided by a caring father, laid the groundwork for a future comprising serious achievement in the highly competitive American business world.
And while the knowledge and experience gathered as a productive member of the family enterprise did prove invaluable, it was also his parents' belief in the importance of higher education that would equally contribute to Najim's current success. As he recalls, "My father had an eighth-grade education; my mother, only a high school diploma; yet while each lacked more formal schooling, both understood the importance of continuous knowledge acquisition. They instilled this in me as well. I had to go to college then, and I've never stopped learning since."
While far from impoverished, the Najim family (Mr. and Mrs. Najim, Harvey and three other sons) was unable to fund Harvey's collegiate aspirations. Not to be deterred, however, the determined young man was accepted into Washington University in St. Louis, Mo., where he entered its pre-med program. While there, he solely supported himself by working full time in a school cafeteria. Regarding the pre-med course of study, his parents greatly desired that he become a doctor — an occupation he soon realized wasn't right for him. After two years and his realization about medicine, he transferred to the University of Kansas in Lawrence, then finally to Wichita State University, this time supporting himself as an after-hours motel accountant. He graduated in 1964, with a degree in mathematics, an ROTC commission as a second lieutenant in the United States Army and a solid 3.3 GPA.
San Antonio, IBM and … the Army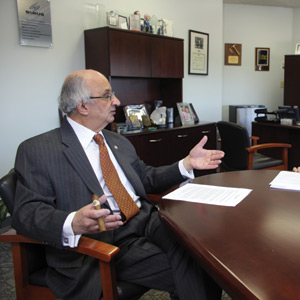 Surprisingly, it was the Army that would ultimately introduce Najim not only to San Antonio but, in regards to his forthcoming career, to the IBM Corporation. To fulfill his two-year military commitment, the 24-year-old found himself stationed at Fort Sam Houston's renowned Brooke Army Medical Center. Because of his math background, the junior officer was assigned to the center's data processing department. Looking back on that assignment, Najim can only marvel at the pure serendipity (or fate) that put him in that position. While at BAMC, he was able to "discover opportunities and make invaluable contacts" that would provide the professional impetus for this destined super achiever.
As a data processing officer, Harvey came into regular contact with IBM sales reps and technicians. With his separation from the service looming, it was these same individuals that gave the soon-to-be civilian the idea of joining IBM in some capacity. His original game plan was to return to Kansas and rejoin the aeronautical giant, Boeing Aircraft, where he had briefly been employed prior to his military service. As he remembers of that time, however, "I'd never thought of going to work for IBM, but after consideration, it seemed like a pretty good idea, and I'd get to stay in San Antonio, where I was settled." In retrospect, he admits his decision to join IBM was one of the best calls he ever made.
By March of 1967, Najim was a full-fledged "IBM man" who would go on to accrue 13 productive years (occasionally relocating to other cities) working in a variety of capacities and handling various marketing, technical and management responsibilities. His last job with the company, based once more in San Antonio to his delight, was his assignment as a systems engineering manager. In this role, he directed a highly trained team of engineers who assisted customers with the implementation of their newly purchased IBM computers. And while he was always comfortable at IBM, it was this final position that not only gave him the necessary technical abilities and experience but also the confidence and determination to strike out on his own.
After an amicable parting from IBM in early 1980, by November of that year, he had established Star Data Systems as an independent "remarketer" of his former employer's new and used equipment. Basically, Star (initially a one-man operation with Harvey being that man), would identify and approach potential customers for midrange IBM computer systems, sell them on using the equipment, help them acquire the same, then provide setup and installation, all for a fee — actually, not that much different from what he had been doing most recently for IBM. That first year, as a proud Najim recalls, "Working alone, I was able to secure a fair amount of business and even posted billings of more than $1.5 million. My take-home, however, was considerably less than I'd made with IBM." By any standard, it was considered a good start.
Big business
Today, Najim's startup has grown into a nationally recognized, service-oriented technology provider catering to Fortune 500 customers from coast to coast while employing a workforce of more than 1,100 with offices in 138 locations. Renamed Sirius Computer Solutions (after the brightest star in the universe) in 1997, the firm not only offers the entire IBM product line but also provides turnkey technology solutions from other industry leaders, including HP, Cisco, Dell and NetApp. It has also formed strategic business relationships with leading software vendors.
Revenues for 2011 exceeded an enviable $1.35 billion. Not bad, Mr. Najim!
As the founder and guiding force since the company's onset, he has needed to wear many hats. But as he candidly admits, "I can't do everything alone." With continual growth over the years, he needed to assemble and develop "an exceptional executive management team" capable of handling, and expanding, operations while adapting to the ever-changing times. To this end, he has been (as with most things in his life) very successful. With a well-functioning management group in place, Najim, while remaining actively involved, was able to relinquish his role as president in 2008 and then as CEO in 2011. When asked about his "slightly" reduced role at Sirius, the ex-boss smilingly responds, "I've always worked hard — sometimes too hard. So, thanks to having a little more time, I think I do enjoy my life more today than maybe 15 or 20 years ago."
Giving back
As an admitted workaholic, however, Najim is not inclined to just sit around. Beyond and outside of his ongoing contributions within the company he created, a great deal of his current time is devoted to "giving back" to his cherished community. In 2006, following an intense personal crisis, he vowed that if "I can get through this, I will help others who are less fortunate." Once the crisis was resolved, his "kept promise" resulted in the establishment of the Harvey E. Najim Family Foundation. Initially funded by $75 million from the proceeds of an equity partnership transaction, then with another $7 million in 2010 (honoring his 70th birthday), his foundation is more than able to provide substantial support to myriad children's charitable organizations in the greater San Antonio area.
As Najim explains, "I am fortunate to be in the position I am. This community has provided so much for my company, my family and myself. I am excited about being able to give back. Awarding grants to nonprofit organizations focused on children is my way of personally contributing to the future of San Antonio. I am hopeful that my foundation will help make a difference in their lives and increase the overall quality of life in our community." As an indication of his ongoing commitment to area children, he has pledged an additional $125 million to the foundation over the next three to five years. As a result of his largess, he has received many awards and a great deal of justified recognition from the nonprofit community.
Beyond his extensive involvement with his foundation, Najim finds time for many other worthwhile community commitments. He is a member of the Board of Trustees of St. Mary's University, the Board of Trustees of United Way, the advisory board of SAMMinistries, the advisory board of the UT Health Science Center, the advisory board for the SA Lighthouse for the Blind, the board for Haven for Hope and the board of IDEA Carver Public Schools.
With so much behind him, yet still going strong, the Texas and San Antonio Business Hall-of-Famer and recipient of the prestigious Lifetime Achievement Award from IBM (one of only two given to non-IBM employees) and the Lifetime Achievement Award from the industry's respected VARBusiness magazine isn't ready for retirement yet. When queried about his future plans, the spry 72-year-old, with an unmistakable twinkle in his eye says, "I'll always be in business — giving my all to make money, giving my all to creating enterprise, but perhaps most importantly at this time of my life, giving my all to simply give back to others."
The Harvey E. Najim Family Foundation

–
Making a difference in the lives of children

Established in December 2006 by its namesake, the Harvey E. Najim Family Foundation is tasked with supporting children's charitable organizations in the greater San Antonio area, including all of Bexar County and its surrounding counties. Recipients of funds include 501(c)(3) public charities that advance children's education, medical treatment and other charitable purposes. Grants are awarded by the foundation's selection committee, which consists of Mr. Najim, his two daughters and a very involved board of directors.

Through the board's direction, the foundation has given out an impressive $34 million in grants and pledges to approximately 146 worthwhile and carefully vetted organizations over the past five years, directly benefiting thousands of area children. As Harvey explains, "These funds have been and will continue to be used to make a difference in the lives of children by providing food, clothing, shelter, medical treatment, assistance for those with developmental disabilities and early childhood education."

For additional information about the Harvey E. Najim Family Foundation, including grant application requirements and a comprehensive listing of its 2012 recipients, please visit www.najimfoundation.org or call (210) 369-0666.
By: Ernie Altgelt
Photography: Mark Langford