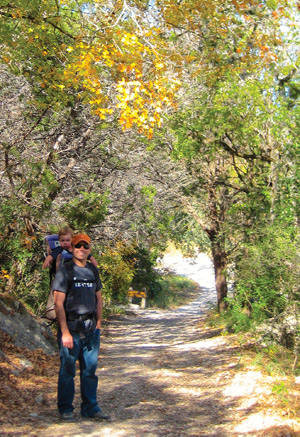 As the summer heat fades and the cooler days of autumn arrive, many Texans emerge from their air-conditioned caves and start seeking the outdoors. Like a bear emerging from hibernation when the weather warms up, we leave our houses when the weather cools off, when the sunshine warms the skin instead of causing spontaneous combustion, when the breeze brings a chill instead of feeling like a blowtorch to the face.
Yes, it is at this time of year that we all stop complaining about the heat and are once again thankful to live in Texas.
So for everyone who has spent the past few months hiding from the sun, it's time to go back outside. It's time to TAKE A HIKE. Here is a list of my favorites hikes that are all an easy drive from San Antonio.
BASTROP STATE PARK, Bastrop
While the "Lost Pines" of Bastrop State Park might not look like they did before the wildfire of September 2011, that shouldn't stop you from visiting this historic park, which looks totally different than it ever has before and likely ever will again. Now is the perfect time to spend the day hiking through a burnt forest and seeing firsthand the devastating effects of the worst wildfire in Texas history. It's also a great time to take your children, who have the once-in-a-lifetime opportunity to grow up with the second generation of "Lost Pines."
CIBOLO NATURE CENTER, Boerne
One doesn't often think of hiking through marshland in the Texas Hill Country, but that's exactly one of the reasons the Cibolo Nature Center exists — to protect this diverse area, which includes marshland, grass prairie, live oak savannah and a riparian forest of towering bald cypresses following Cibolo Creek. If you don't know the difference between these distinct ecosystems, that's OK, but it definitely means you need to spend a day hiking the trails of the Cibolo Nature Center. Just take the short 30-mile drive up I-10 to Boerne, and you'll feel worlds away in no time.
GARNER STATE PARK, Concan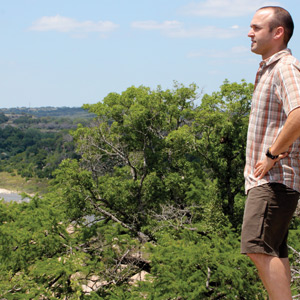 Sitting about 90 miles west of San Antonio, between the small towns of Leakey and Concan, is one of my favorite state parks in Texas. While the summer months bring thousand of visitors looking to tube all day and dance all night, the fall and winter months offer visitors the chance to see a different and much quieter park. My favorite hike is the half-mile jaunt to the top of Mount Baldy. What the hike lacks in distance, it makes up for in elevation. There's nothing quite like standing on the top, tracing the winding Rio Frio with my finger, and looking out across some of the prettiest land on earth.
GOVERNMENT CANYON STATE NATURAL AREA, San Antonio
Just outside of Loop 1604 and near Helotes lies this hidden gem of a park consisting of 11,600 acres that were saved from developers in the early 1990s after it became clear how vital this area is to the Edwards Aquifer. Today, the area has more than 40 miles of hike and bike trails and 1,100 acres of protected habitat for the endangered golden-cheeked warbler. So bring your binoculars.
FRIEDRICH WILDERNESS PARK, San Antonio
Northwest of San Antonio, less than a mile from I-10, one of the busiest highways in Texas, is a place where you can feel like you were dropped into the middle of nowhere. The park offers 180 acres of beautiful Hill Country land with trails ranging from wheelchair accessible to steep and tough.
LOST MAPLES STATE NATURAL AREA, Vanderpool
Good news! You don't have to head to Canada to see the leaves of beautiful maple trees change color. You only have to make the 80-mile drive west of San Antonio and take a hike through the "Lost Maples" of Texas. The Texas Parks & Wildlife Department website keeps a watchful eye on the trees, and when they are at their peak of color sometime in October/November, visitors from all across the South flock to this park to see the beautiful fall foliage, and you should too.
NATURAL BRIDGE CAVERNS, Natural Bridge Caverns
This may not be a hike in the sunshine, but it's a great hike nonetheless into the depths of Texas. Just 30 miles north of San Antonio, but 180 feet under the surface, the main "Discovery Tour" takes visitors on a half-mile wheelchair-accessible hike to see a number of amazing stalactites and stalagmites that have formed over thousands of years. So if the weather is still too hot for you, there is no excuse here, as the cave stays a cool temperature year round.
PEDERNALES FALLS STATE PARK, Johnson City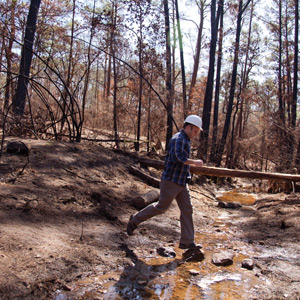 This beautiful park lying 75 miles north of San Antonio is a hiker's dream. The park has easy quarter-mile hikes, all the way up to full-on 7-milers winding around mountains. The most stunning feature of the park is the huge rock face of Pedernales Falls, which is especially beautiful when flowing. However, the more subtle beauty lies on every trail and piece of this Hill Country land.
The Joy is in the Journey
Remember, the joy of hiking is in the journey, not the destination. And as long as you are open to getting out there and hitting the trails, you are going to have a great experience. Maybe you'll see an endangered bird. Maybe you'll fight off a charging buck. Maybe you'll see the most beautiful flower you've ever laid eyes on. Or maybe you'll just hike a Texas trail that will remind you how wonderful it feels to be outside.
Tune into The Daytripper on your local PBS station, or visit www.thedaytripper.com
By: Chet Garner