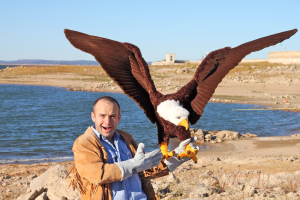 Texans are quick to head toward water in the blistering months of summer, but when the weather turns colder, spending time lakeside isn't usually at the top of most Texans' must-do list. However, during the winter there are plenty of reasons to head toward the icy waters of Lake Buchanan: multiple feathery, majestic, and bald reasons. So gas up the boat or just hop in the car, and get ready to go hunting for BALD EAGLES.
The lake
Lake Buchanan is the northern-most member of the Highland Lakes, a chain of seven lakes that starts on the border of Burnet and Llano Counties and finishes up with Lady Bird Lake cutting right through the heart of downtown Austin. Lake Buchanan is by far the largest of the Highland Lakes, covering almost 35 square miles and located about two hours north of San Antonio. While this lake isn't the only place to spot these elusive birds of prey, it is certainly the best and most time-tested place to encounter a bald eagle in the wild.
The bald-headed visitors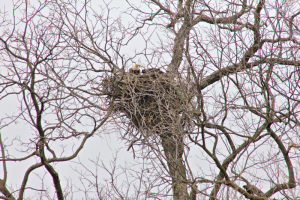 While countless Texans visit Lake Buchanan in the summer, the most unusual visitors are the bald eagles that come around during the winter months. You may be thinking, "What the heck are bald eagles doing in Texas?" That was certainly my first question, as I mistakenly thought bald eagles were reserved for much higher latitudes — places like Alaska and Canada. Definitely not Burnet and Llano.
Well, it turns out our nation's noble symbol of freedom, truth and justice makes its way to the Lone Star State each winter to build nests, hatch its young and teach them how to hunt for tasty Texas fish. After some thought, I definitely can't blame them for wanting to skirt the sub-zero blizzards of the north and seek out warmer temperatures here in Texas. After all, it's much easier to catch a fish in a lake not covered with 6 feet of ice.
Let's go hunting
So, now it's time to go hunting. The good news is that tracking down one of these bald birds is actually much easier than one might think. Of course, there are no guarantees, but if you know where to hunt, the odds will definitely be in your favor. But leave your shotgun at home. While bald eagles are no longer on the endangered species list, they are still protected from hunting, and poaching one comes with a huge price tag plus prison time. So the only things you'll want to be armed with are binoculars and a zoom lens for your camera.
Vanishing Texas River Cruise
My favorite way to spot eagles is to get out onto the waters of the lake itself. And the easiest way to do that is to hop aboard a Vanishing Texas River Cruise. The folks here offer multiple cruise options, with some geared specifically toward spotting bald eagles in the wild. From the top deck of this double-decker boat, I spent almost two full hours scanning the horizon for eagles. And after seeing dozens of other birds, such as herons and osprey, a pair of bald eagles finally appeared on the shoreline. It was absolutely incredible seeing these beautiful birds in the wild, and the extremely knowledgeable tour guide packed in enough information to fill an entire textbook about the experience. As a double bonus, when water levels are high enough, the cruise takes visitors past the Fall Creek Waterfalls. And if water levels are too low, visitors get to see the sunken ghost town of Bluffton. You truly win either way.
Kayak hunt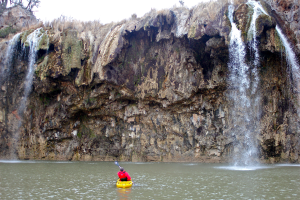 For those that prefer to do all the work themselves, another way to hit the water is by renting a kayak from Buchanan Adventure Tours. The cold and quiet lake takes on a completely different personality when you're gliding inches above the water and hearing only the wind and the small splash of a paddle. This is definitely the most peaceful way to experience the lake, and it can truly take you much closer if you stumble upon an eagle perched atop a lonely branch. You might even want to bring some extra fish to hold above your head and see if a bald eagle might snatch it out of your hand. If it works with pigeons and seagulls, it has to work with eagles, right?
The roadside nest
But if you're dead afraid of the water, terrified of the cold, and would rather just enjoy the eagles from the comfort of your car, you're in luck. A few miles past the Lake Buchanan Dam, driving toward Llano, lies a pull-off along Highway 29 that is only yards from an actual bald eagle nest. Because of the frequent travelers making stops, TxDOT maintains a pullover spot marked by giant orange signs that is very hard to miss. At first glance, you might think you are looking at nothing but a giant pile of sticks caught in a tree from recent floodwaters.
However, keep looking, and sooner or later the small beak of a baby bird might pop up from the roughage. You might be surprised to see bald eagle babies with brown heads, but that's because the signature white feathers don't develop until around year two or three. But keep looking long enough, and momma or poppa might fly in, white head and all, bearing a fresh fish caught from the nearby Llano River. Make sure you have the camera ready, because this is an amazing sight. Another golden moment is to watch the babies take their first flight out of the nest.
 Final stop
So after a long and successful day of hunting for eagles (whether or not you actually see an eagle), reward yourself by stopping by Canyon of the Eagles, a nature park and resort tucked away along the northeast side of Lake Buchanan. During the day, one might encounter a bald eagle along the trails, but in the evening, you're guaranteed to encounter delicious food, wine and one heck of a sunset. So grab a glass, sit by the outdoor campfire, and relish in a day well spent hunting our nation's noble symbol of freedom. Canyon of the Eagles is also a great spot to make a weekend out of it.
And if we can learn anything from the eagles, it's that we should all head to Lake Buchanan for the winter. See you on the road!