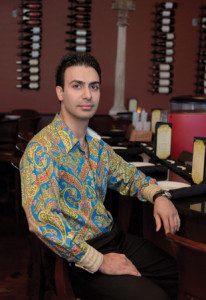 When Mazi Enti came to America in 2003, he knew what he wanted to be: a dentist. But the closest he's come to dentistry is the orthodontist who straightened his teeth. The braces just came off! Born in Tehran in 1982, Enti spoke no English when he arrived in San Antonio. His plan was to live with his dad and go to dental school at the University of Texas Health Science Center. Earlier, he'd studied computer software in Iran, had earned a master's degree and figured he could apply his computer skills to architecture. So he moved to Naples, where he studied architecture. But Italian — especially the dialect spoken in Naples — proved to be too tough a language. So when that didn't work out, he accepted his dad's offer to come live with him in San Antonio. That move rekindled his desire to become a dentist. But father and son were like oil and water. And dental school was put on the back burner when he moved out and suddenly found himself on his own. Truly a stranger in a strange land. He was soon hired by a fellow Iranian, Hossein Bagheri, as a dishwasher/busboy at Salsalito Cantina Mexican Restaurant on Nacogdoches Road. And that's where the thought of becoming a dentist truly fell by the wayside as Enti fell in love with the restaurant business.
"I knew nothing about restaurants, nothing about cooking," he recalls. "But I loved the business." He began studying every job in Salsalito's — from busboy to dishwasher to line cook to server to bar tender to front-of-the-house manager. "One day I even worked as the 'tortilla lady,'" he says. "No job was too big or too small." He recalls what his mom taught him years ago: "You have two ears and one mouth for a reason. Use your ears. Listen. Learn." At the same time that he was working at Salsalito's, Enti enrolled in the ESL (English as a Second Language) classes at San Antonio College. "Those classes were great. The professor was so caring. So helpful," he says. "That's where I learned English." He speaks several languages — Farsi, English, Italian and French. He's also learning Spanish, which he says you must learn to work in restaurants these days. After six years he left Salsalito's and moved to Acenar, Lisa Wong's highly acclaimed restaurant on the River Walk in downtown San Antonio. Enti credits her with teaching him the truly fine points of restaurant management. "Lisa Wong taught me a lot," he comments. After two years working for Wong, Enti relates, "Hossein called me and asked if I'd be interested in opening a restaurant with his brother Maury. I had long admired Hossein, and I was impressed with all the things he owned — nice house, nice car, you name it. I wanted to make a lot of money," he recalls, thinking back to the time Hossein called him about the new restaurant. He jumped at the chance.
On Nov. 29, 2008, he and Maury opened Scuzzi's Italian Grill at Loop 1604 and NW Military Highway. That's the same year he became a U.S. citizen.
I assumed Enti knew a lot about Italian restaurants since he'd lived in Naples. But that was not the case. "I knew nothing about Italian cuisine," he laughs. "But I am a quick learner." He had studied Italian wines and special menu items and learned it all, which took no time at all, he recalls. Enti is always learning. "I try to check out every new restaurant that opens in San Antonio. I want to keep up with all of the trends. Everything new. That's how you stay ahead of the game," he explains. He says his key to success is mastering customer service. At Scuzzi's he is always at work. Checking on the kitchen. Overseeing the bar. Making sure customers are being cared for. It's his life. "Before Scuzzi's I worked 18 hours a day. I still do," he says. That's why he moved into the apartment complex right next door. He can walk to work and even sneak home for a midday nap. Although he never sees or talks to his dad, his stepmother, Mary Naderi, whom he calls his "other mother," is a big help in the restaurant. ("She and my dad are divorced.") And Mary and his mom, who still lives in Tehran, are good friends.
Working so many hours, what does he do for fun? "I love salsa dancing," he admits. "For fun I'll hang out with a few of my friends, maybe go dancing, have a glass of wine. That's really it." He says he drinks very little — "I'm the designated driver whenever we go out." His favorite restaurant in San Antonio, other than his own, is Chama Gaúcha Brazilian Steakhouse. Their level of service is just like ours at Scuzzi's, he explains. And while he doesn't say it, it's probably a treat to eat something other than Italian food from time to time. Enti has 36 employees at Scuzzi's — 28 full time. He knows how important his employees are to his business' success. He looks for "personality" in his employees, and he avoids complainers. "When I'm hiring someone, and they say they left their previous job because they didn't like the manager or the manager didn't like them, they don't get hired. If someone will complain about an old boss, they'll complain about me too. And they'll often complain to customers. Who needs that?" he asks. "I want team players working for me."
What's next for Enti? "We'll probably open a second location in the near future," he says. He won't confirm where, but I wouldn't be surprised to find Scuzzi's 2 not far from the new Trader Joe's in the Quarry Village on Basse at Jones-Maltsberger. Some day, he says, he'd love to open a family-oriented restaurant with a play area for kids. Something like Big'Z Burger Joint, but different. As for his goal of making a lot of money: When asked, he just smiles. A really big smile. And, of course, he has time to make even more. He's only 30 years old.
by Ron Aaron Eisenberg
Photography Casey Howell