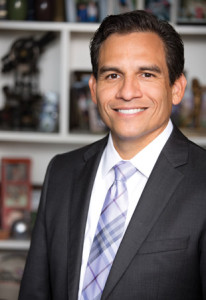 How do you go from earning $15,00 a year in 2012 to grossing over $9 million dollars in 2012?
Just ask Rolando Briones, 43. He's done it and he's done it on his own. It all began with getting fired from the San Antonio Water System. Briones loved working for SAWS. "I learned a lot there, and I was making good money," he says. But like many who worked for the San Antonio-owned water company, he did not get along with the then-CEO, retired Air Force Gen. Gene Habiger. The fact is, a lot of folks didn't get along with "the General," as he was called. The end came when Briones refused to swallow raw eggs at a SAWS staff meeting, something Habiger reportedly forced on his senior staff from time to time. No eggs, no job! It was March 15, 2002. Briones says, "Getting fired was the best thing that ever happened to me." That same day he founded Briones Consulting and Engineering, Ltd., on Broadway, just inside Loop 410. (He now has satellite offices across the country.) And one year later, to the day, he married his wife, Krista. They now have two boys.
Briones credits SAWS with teaching him much of what he needed to know about civil engineering — designing infrastructure for projects large and small. At SAWS he got hands-on experience with major projects across our community.
With an undergraduate degree in civil engineering from UT-Austin, and two master's degrees from UTSA — an M.B.A. in finance and an M.A. in civil engineering — Briones knew he was grounded in what he needed to know about engineering. "So I immediately broke every rule I'd learned studying finance," he laughs.  He didn't have much money, so he opened and grew his business initially on credit cards. "It was risky," he says. "But I was determined to be successful." He identified infrastructure as his niche — roads, sewers, water projects. Basic stuff became his bread and butter. No job was too small for Briones. When the recession hit in mid-2005, Briones had 18 employees, and he was determined not to lay off any of them. "We were lucky, in a way," he says. "I'd always wanted to work on single-family homes, that kind of real estate development. But that hadn't happened for us. We were primarily doing commercial work, which turned out to be a blessing."
Many of the housing projects went belly up. But the commercial work remained solvent. In fact, his business grew 300 percent during the recession. Not that he didn't have problems — a couple of his clients stiffed him for over $100,000 each. How did he do it? He chased business everywhere. He opened an office in New York City because a friend told him there was business to be had. He's now in several states with nearly 40 employees. The latest addition is an employee in Maryland. He likes hiring older people. "They've got experience, knowledge and judgment that's priceless," he says. His oldest engineer is 82 and comes to work every day. Briones grew up in a loving household. His parents never earned much money. Neither graduated from high school. But they emphasized the importance of education. His dad worked as a cashier in a convenience store, and his mom cleaned hotel rooms and houses. They told their son he needed an education so he wouldn't end up with jobs like theirs. Briones is thankful he went to Robert E. Lee High School. "I was on the free breakfast and lunch program. So were many of my classmates," he recalls. He says Lee was a great setting because there were students from every walk of life, rich and poor. He always assumed the kids who were smart were rich. And that gave him the desire to do well in life.
Student loans, scholarships and part-time jobs got him through UT and UTSA. He'd promised his folks he'd get college degrees for them — thus the undergraduate and two master's degrees. The secret to his success is simple: Hard work. Lots of hours. And a commitment to succeed. In the early years he was even commuting to Houston for engineering jobs. Briones still works long hours, with even longer hours to come since he is running for San Antonio City Council District 8, along with several other candidates, in the nonpartisan election coming up in spring 2013. Public service is not new to Briones. He has served on a number of boards, including the San Antonio Planning Commission, the City of San Antonio Zoning Board of Adjustments and the San Antonio Zoning Commission. For fun, Briones plays golf and runs marathons. His goal is to run a marathon in every state. He ran his first marathon in five hours, and his latest time was three hours, 35 minutes. He's played golf in Scotland, South Africa and elsewhere around the world. He currently sports a 15/16 handicap.
You wouldn't know his projects off the top of your head, but Briones Engineering has done much of the civil engineering work on the new downtown Grand Hyatt, a large water treatment plant in Weslaco in the Rio Grande Valley and several projects for Habitat for Humanity (some of which he has done pro bono). His company also is the engineering firm for the Texas A&M campus in San Antonio. Of all the jobs he's done, however, the one that stands out is a project he did while at SAWS: "We put a sewer line into a really poor neighborhood near Brooks AFB along Old Corpus Christi Road. A man walked out to talk with me, and I assumed he was going to complain about the mud. In more affluent neighborhoods people complained about everything, like the color of the asphalt or small cracks in the curbs. "But this fellow walked up to me and started crying and said he and his wife had always prayed they'd get a sewer line, and he was just sorry she hadn't lived to see it."
Briones hugged him. That's a much better ending than the day a woman slapped his face during a Zoning Commission meeting. True story. And it makes you wonder why he wants to serve on City Council.
by Ron Aaron Eisenberg
Photography Casey Howell