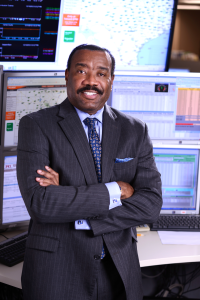 Many men ultimately come to be defined by their chosen profession, but for San Antonio's Doyle N. Beneby, the president and chief executive officer of CPS Energy, the reverse is perhaps more the case – his abilities and personal energy have come to characterize the industry he has spent a lifetime embracing, bettering and serving to the direct and substantial benefit of millions across a large part of the continental United States.  With almost 30 productive years working and learning within the field of effective, efficient and dependable power generation and distribution, this dynamic individual, as demonstrated by his many public and private accomplishments, today finds himself at the apex of a well-founded career and life. Here he continues to guide, innovate and inspire, while of greater importance, ensuring and enhancing the comfort, productivity and well-being of an appreciative citizenry.
A grandmother lights the way
A native of South Florida, Beneby was born in 1959 to parents of modest means. His father worked as a laborer for diverse industries, while his mother taught school. His grandparents emigrated from the West Indies. When he was a very young child, his parents divorced, leaving the toddler in a fatherless Miami household shared with his mother, several cousins and, fortunately for him, his maternal grandmother. While it was a loving albeit crowded home, with so much constant activity there wasn't much time for a lot of personal attention to be lavished on any one occupant. As a result, independence was instilled early, and in retrospect, this proved an important role in Beneby's impending success. He was particularly influenced by his grandmother, who through her admirable and tireless actions became the individual he most desired to emulate. She labored daily as a maid, yet never complained about her lot in life. More importantly for her grandson, she tenaciously held to the belief that "education coupled with hard work" was the inalterable key to advancement.
It was her steadfast determination regarding those truths that kept Beneby focused during and beyond his academic years. When he looks back at her innate wisdom and unrelenting encouragement, he feels a deep gratitude for what she imparted. As he admits, when facing current confrontations and challenges, "it's like she's sitting on my shoulder, there to help me do the right thing, still guiding me as she did so many years before."
Bright with books and basketball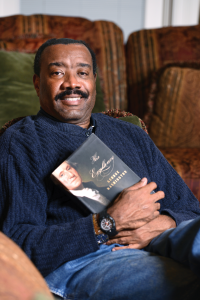 Always a bright child, Beneby was particularly adept at math. As an example, during family shopping trips to the grocery store the youngster would get his mother to tell him the cost of each item she planned to purchase. When the basket was full, he would almost magically calculate the exact dollar amount owed – including tax – before reaching the checkout counter. As he recalls, "Even as a kid, I was a 'numbers' guy. It just came natural." And it wasn't only math at which he excelled. In school, Beneby, who loved to read (and still does), found almost all of the assignments easy. The result was his being placed in advanced groups where more rigorous studies were involved. Still, he fought to stay attentive, constantly battling boredom – but then he would remember his grandmother. Overall, he proved to be an excellent student (needing occasional prodding) who handily maintained an A average while participating in sports and working at a variety of after-school jobs, including a stint at McDonald's. All in all, as he relates, "I was a happy kid but always wanting more. I needed to be challenged, mentally and physically."
After graduation, an advanced education was attainable thanks in large part to his considerable skills on his high school's basketball court. Quite frankly, Beneby, aided by a lean and quick 6-foot, 5-inch build, was really good – enough so that he was awarded a full athletic scholarship to Montana Tech. When not competing with the basketball team or working part-time for the university, he studied math and engineering. His family, especially his grandmother, was ecstatic with this scholastic opportunity. After receiving his Bachelor of Science degree in mining and engineering in 1982, Beneby spent his first post-graduation year working as an underground surveyor with Anaconda Copper in Montana. While he found the work instructional, his strong ties to Miami beckoned, and in 1983 he eagerly returned home. Through pure serendipity, this future superstar of energy soon discovered and ultimately embarked on a path that he still joyfully treads today.
Plugged in at FP&L
With his degree in hand, Beneby found the only employer in his hometown with the potential need for his particular skill set was the Florida Power & Light Company. Initially securing a position as an entry-level marketing services representative, he spent the next 17 years working his way through the ranks by continuously accepting various positions of increasing responsibility and leadership. These included field crew supervisor, engineering manager, transmission superintendent, labor relations specialist, new constructions superintendent, director of customer service and director of distribution and culminated with his ascension to that of general manager of two major power plants. As he proudly relates, "I did it all and that was my plan. I quickly realized this was the industry I was meant to work within, and I wanted to know all aspects of it." The experiences encountered at FP&L (along with his acquisition of an MBA from the University of Miami in 1996) proved invaluable and allowed the high-energy and ambitious Beneby to pursue even loftier goals within his chosen field.
Electric at Exelon
In 2001 Beneby relocated to Michigan, where, as a site general manager for the Consumers Energy Company, he continued to acquire and hone the skills essential for future advancement. It was his next stop, however, where he would excitedly face the additional challenges and accept the broader responsibilities that would ultimately prepare him for the leadership position he holds today. Joining the Exelon Power Company in 2003, Beneby became an employee of one of the nation's largest electric producers, and as he recalls, "The opportunities for career progression were rife." Headquartered in Chicago, and single at the time, he spent the next seven years moving from position to position and market to market, learning, doing, fixing, improving and always advancing. Repeatedly being recognized and rewarded for his exceptional work, Beneby soared through the managerial ranks, ending his tenure at the utility giant as its president, Exelon Power, and senior vice president, Exelon Generation. Some might be content with these prestigious titles, but Beneby — always reaching, always striving — wanted more. Hence his ready acceptance of the 2010 offer to become the top man at CPS Energy. His entire professional past had prepared him for this important appointment.
Taking charge at CPS
As the boss, Beneby oversees all internal processes and procedures at CPS Energy. Externally, he represents the company in areas that are important to the community and the utility. After only two and half years at the helm, he has already made significant strides in the areas of employee and community relations. Heralding safety as the company's first priority, he says, "Every employee should return home to his or her family as that individual left." As for the community, he's adamant that San Antonio should become a solar hub, leading in clean technology jobs.
To these ends he has:
Led the transition to a lower carbon-intense fleet, utilizing clean coal, natural gas and nuclear combined with renewable sources, including wind and solar. This diversification hedged CPS Energy against tougher emission standards while maintaining the lowest customer rates among the 10 largest U.S. cities.
Brokered partnerships with seven clean technology companies to bring thousands of jobs to the area while fostering increased research and development.
Dramatically improved workplace safety awareness, resulting in a 50-percent reduction of injuries.
Maintained the premier credit rating among all public power utilities in the nation.
Improved customer satisfaction levels and reliability metrics across the board.
A battery of boards
Beyond his considerable corporate responsibilities, Beneby makes time to share his expertise and wisdom in a variety of other ways. Examples include his service on the board of directors for multiple corporate and industry organizations, including Capital Power Corporation, Keystone Energy, the American Gas Association, Texas Public Power Association (TPPA) and the American Public Power Association (APPA). He also serves on the board of directors for the Greater San Antonio Chamber of Commerce, the San Antonio Economic Development Foundation, the San Antonio Medical Foundation, the Association of Edison Illuminating Companies, the University of the Incarnate Word, Lincoln University, United Way of San Antonio and the American Heart Association.
As the chairman of the American Heart Association for the second consecutive year, Beneby assisted the local chapter in not only exceeding its 2012 fundraising goal, but securing the highest amount pledged in its campaign history. He has also devoted considerable energies in the past to mentoring the youth in many of the communities where he was based.
Staying current at home
So is there a personal life as well? At first glance one might not think so, but besides satisfying his voracious appetite for nonfiction and an occasional game of golf, fortunately for his wife, Christine, and two very young twins, D. J. and Baye, his greatest commitment remains fulfilling his role as an involved and caring dad and husband. As he admits, "I'm a nurturer, at work and at home. It's just what I do and I love it." Based on the bright smiles and hugs he receives from Christine and the twins when he gets home late from another busy day at the office, he must be good at it. But where does he get all that "energy"?
By Ernie Altgelt