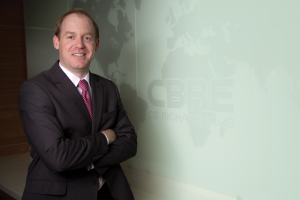 Like the minor league baseball player who realizes the odds of making it to the major leagues are slim and none, Gene Williams put his love of golf and his dreams of playing on the PGA Tour on hold and turned to commercial real estate, where he's become a star. Not that he didn't give golf a chance.
Born in Beeville in 1978, Williams went to the University of Virginia on a golf scholarship before transferring to TCU, where he graduated in 2001 after playing golf there too. He majored in marketing and minored in Spanish. He was pretty good at the game of golf. In fact, he finished eighth in his first professional event in 2002. Williams had a plan and the desire to make it. He incorporated himself and raised the money he needed to compete as a developmental player — golf's minor league. It's the first step to the PGA Tour. It was a challenging life. He drove to most of the tournaments from Texas to the Carolinas with stops in states in between. He would play golf all week, compete over the weekend if he made the cut, and then drive nearly all night to the next tournament in time for the Monday Pro-Am round. This went on week after week, month after month. At the time he was single, which made it easier to be a nomad. But the life began to wear on him, and the prospects of making it to the big leagues — the PGA Tour — were slim. In 2005, at age 27, Williams realized it was time to move on. Think of the character Crash in the movie Bull Durham — 12 years in the minor leagues and just 12 days in the majors.
Williams' time had come to find a new career. He talked to people he knew around the country in an effort to figure out what he wanted to do next. "Many of my friends were in real estate, and they loved it," he explains. "It seemed to be a good fit for me." And that turned out to be an understatement. He was living in Austin at the time, but when he decided to change careers, San Antonio seemed to be the place to be. He moved to the Alamo City in 2005, interviewed with several firms and joined the Weitzman Group, where he quickly became a top seller. In 2012 he moved to CBRE, one of the largest commercial real estate companies in the world, where he currently works in offices overlooking the Quarry Golf Course. He acknowledges that the golf course views are like a magnet on many a day when he can see folks on the links from his office window. Williams put the same energy into learning commercial real estate as he put into mastering golf. For example, he says he drove nearly every street in San Antonio and Bexar County visiting every neighborhood — residential and commercial. It was much like the repeated practice rounds on a golf course checking out greens and sand traps and more. He wanted to know everything he could about the lay of the land.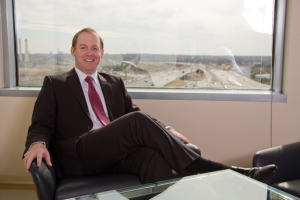 "Golf and commercial real estate have a lot in common," Williams says. "In many ways it really is all about focus." He says in golf it is literally keeping your eye on the ball and remembering the twists and turns on every hole. In commercial real estate it's visualizing shopping centers and neighborhoods and figuring out who might go where and why. With golf and weekly travel gone, he was able to put his personal life in order too. Friends introduced him to a woman they knew, and he and Sonya Medina were married in March 2010; they now have a baby boy. Sonya had served in the White House in the George W. Bush administration. She spent time with AT&T and now is an executive with Silver Eagle Distributors. Honored as one of San Antonio Business Journal's 40 under 40, she probably knows anyone who is someone in Texas and beyond. And those connections can't hurt Williams' career either. This year Williams is being honored by the Business Journal in 40 under 40. If this were Washington, D.C., the Williamses would be seen as a power couple at the top of everyone's dinner invitation list. Williams loves what he is doing now, loves his team at CBRE and enjoys working with clients from across the country. And he is making a lot more money than he did traveling to developmental league golf tournaments prior to 2005. What does he love about his job? "I'm a problem solver," he explains. "Clients want to grow or figure out why one location is doing so much better than another. That's a challenge I enjoy. Helping clients achieve what they can achieve. That's rewarding to me and to them, of course." He enjoys visualizing which commercial clients will fit into a planned shopping center. He is very much a corporate matchmaker.
There's no doubt Williams is enjoying great success in just six years into his commercial real estate career. "In my career now I have to focus on what I am doing, focus on my preferred clients," he says. He makes it sound like it's all about real estate. He tries not to think about that other passion.  But golf. The tour still pulls at him, and dreams die hard. And his dream of playing on the PGA Tour got a small boost in 2010 when out of the blue and on a dare he qualified to play in the Valero Texas Open in San Antonio. He remembers walking into the players' locker room and seeing his name over one of the lockers. "I took a lot of pictures," he recalls. "A whole lot." And he called his golfing buddies from coast to coast. He did not make the cut. But qualifying for the tournament was an unexpected high, and it didn't hurt his reputation as a doer. Is professional golf in his future? Williams is not yet ready to say no. In just15 years he'll be old enough to play on the Seniors' Tour. And then who knows how the ball will bounce?
By Ron Aaron Eisenberg