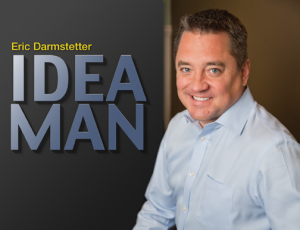 You won't meet many guys like Erik Darmstetter. In fact, you may not meet anyone like him. Example: He turned his living room into a volleyball court and a bedroom into a wrestling room filled with 11 mattresses covering the floor and walls — to make his house a "fun house" for himself and his two children. He has built an incredibly successful business without requiring clients to sign contracts. And he is not afraid to toss everything out the door to start over. Call him a "risk preferrer," and you'd be right on target. Before opening his own business, Darmstetter, 48, spent 10 years as CEO of Creative Link, a San Antonio branding/marketing/digital technology company. He was the boss. "I had overall responsibility to hire and fire and manage new and old business," he says. But he felt boxed in at Creative Link.
"I've always been an entrepreneur," he says. As a student at Southwest Texas State, now Texas State University, Darmstetter sold T-shirts on campus. "I did very well in the T-shirt business," he says. It gave him the freedom and flexibility to do his own thing. He liked that. So after 10 years at the helm of Creative Link, he knew he needed out. He left the company in 2002, and on March 1 of that year Darmstetter opened Sales By Five, his current company. Risky? Perhaps. But he immediately quadrupled his income.
His prescription for success is simple:
1) Never assume — always deal with facts.
2) Follow your heart.
3) Have fun.
And one thing he didn't voice but follows religiously in his personal and professional life: Don't be afraid to take risks! So what does Darmstetter do for a living? What is Sales By Five all about? In the traditional sense he and his people are business consultants. He describes his work this way: "I grow businesses. And that," he adds, "is a lot more than just sales." His approach to his own business differs markedly from other consulting firms: "We want to be easy to hire and easy to fire. We don't want our clients to feel as if they are wedded to us, stuck with us. And I also want the right to fire clients." Indeed, he has fired nine clients over the years "because they were rude to my employees." Darmstetter goes to work for a client with a handshake. No contract. "We don't believe in contracts or billable hours. Every account is on a monthly flat-fee basis. We put in the hours needed to make the project successful for the client," he says. "And that truly means whatever it takes to be successful." He believes keeping track of so-called "billable hours" is very time-consuming, and yet for most consulting firms, ad agencies, law firms and the like, it's the Holy Grail.
But he believes when you tie hours on an account to projected billable hours, you end up either spending too little time to accomplish your goals or you look as if you lost money on the account when you go over the allotted hours. None of that helps the client, Darmstetter says. And it doesn't help his company either. "Our average assignment lasts six to eight months. We handle five to six clients a month," he explains. A lot of what Sales By Five does is related to internal and external corporate communications. He has great advice for salespeople because a lot of what he does is to build and train sales teams to do more and more. "The biggest thing with salespeople that I see today is they are not building relationships. They do what I call 'show up and throw up.' They end up 'unselling' rather than 'selling,'" he says.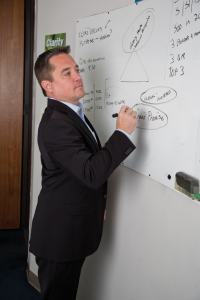 "People are talking too much. What can you remember? Microscripts sell products and services. 'Like a good neighbor, State Farm is there.' People remember those things. Sales people tend to say too much," Darmstetter notes. "They need a 10-second pitch these days. Not 30 seconds or more. "The key," he explains, "is what are you going to say that will build intrigue to get people to ask questions? Just think of having to get your pitch in while going from one floor to the next in an elevator. One floor. Not two or three." He takes fault with emails too: "They are way too long. When I see a three- or four- paragraph email, I ask myself if I really have to read all this and if I do, what will I remember? The same is true with voice mail … too long … much too long." How does Darmstetter measure his company's success? "Clients know if Sales By Five has made a difference to their bottom line," he says. "For example, we helped the Miner Corporation go from $7 million a year to $70 million in revenue."
He also says companies need strategic short- and long-term plans and goals. And they need to put those plans in writing. The long-term goals should really be out there – audacious, an enormous challenge. He helps organizations put those plans in place. He does it for his own company, too, including goal setting. "One of our goals is to bill $100,000 a month, not including expenses. We're not there yet … we were close before the economic downturn in 2009. But we'll get there," he says. One of the things Darmstetter likes best is to make complex ideas simple. Think fifth grade language, he argues. He recently volunteered some time to Child Safe, a nonprofit agency helping children who've been abused [www.childsafe-sa.org]. He said he thought they needed a short, simple, concise way to hook people in to the agency's mission — what it does and how it goes about it. So he came up with "Is Yours?" as a way to get people thinking about the issue.
The agency had told him they had too many words, too much copy on their website to communicate with parents and others. So he suggested asking the question "Is Yours?" would hook folks into their mission. In a nutshell, that's what Darmstetter and Sales By Five do — help make organizations more effective. Sometimes that includes identifying employees who should be terminated because they are not doing their jobs. As for his company and its five employees, look for a name change in the near future because Sales By Five does so much more than sales-related consulting work, he says. While overseeing Sales By Five, Darmstetter also devotes enormous time and energy to his two children, Devyn, 12, and Dylan, 10. Thus the volleyball court for a living room and the "wrestling" room for a fourth bedroom. He also lives a block away from his ex-wife so his children can spend time with both their mom and dad. As for a personal relationship, he calls himself "extremely single." In many ways he's still a kid himself. "I hate the have-tos" in life, he says. Rules bother him. And his business success mirrors those beliefs. While Erik Darmstetter is a long way from his final curtain, it's clear he has done things his way. And it has paid off big time for him, his company and his clients.
By Ron Aaron Eisenberg