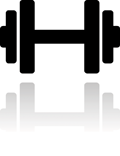 Did you know that seven out of 10 people who regularly walk into a gym have no clue what exercises they should do or where to start? Shockingly, only about four out of those seven are doing the right things. It's mind-boggling that in the midst of busyness, people will go to the gym and spend their valuable time, energy and money, only to leave the gym no better than when they arrived. Bottom line, people who don't educate themselves on how to do a proper workout will not push themselves to achieve the desired results.
Furthermore, there are people who don't exercise or eat right who desperately need a lifestyle change. Let's face it, living in San Antonio, where delicious food is readily available, does not make it easy to eat right and live healthy. Most people are blind to what damage their daily food intake does to their bodies. Others are aware of their bad eating habits and simply need help and accountability to develop a healthier lifestyle. That's where in-home training comes in. An in-home trainer will come to your home equipped with weights and a personalized workout regimen tailored to fit your goals. If there is room to walk in your house, then there is enough room to make you sweat and be well on the way to achieving fitness goals.
You may be wondering, "What are the advantages of being trained in my home?" One of the many benefits is that you have the undivided attention of the trainer, who will be able to focus solely on you since there won't be any co-workers or other gym members interrupting your time. Seeing you in your own environment helps the trainer get to know you better and make suggestions on how to use everyday items to work out on days that you are not training together. It will be easy for the trainer to look at your food logs, pantry, or fridge to give nutrition advice.

An in-home trainer will provide a personalized workout regimen based on the activities you enjoy and fitness goals you have set for yourself. For example, if you love to play tennis, the trainer will design an in-home program that includes strength and cardio with goals around playing tennis. Additionally, the trainer can better support you because most people need more attention and daily accountability. Possibly the greatest advantage is that you can relax and focus on your workout since there is no one else around to make you feel self-conscious.
Immediately after hiring an in-home trainer, you will find little to no excuse for skipping exercise. Exercising becomes beyond convenient — of utmost importance when it comes to following through with exercise and sticking with it. Being trained in your home allows you to feel at ease, which in turn allows you and the trainer to focus on the task at hand. For those who don't enjoy the gym atmosphere or who have a tough time knowing where to start, in-home training is a wonderful choice.
As you can see, there are many facets to living a healthy lifestyle. Whether you were a high school track star and haven't run a mile in 10 years, have worn the same pants since the '80s, or want to become leaner in the body, working towards goals with an in-home trainer could be just the right thing. Whatever desires and goals you have, an in-home trainer would love the opportunity to help you be at your best.
By Joseph Garza
Joseph Garza is the owner of At Your Best. He is a NASM-certified personal trainer and image consultant, who enjoys helping clients strive to be at their best, especially in developing a healthy way of life. He trains clients within the comfort of their own homes
He also offers image consulting, personal shopping and youth sports training. Everyone from young men to male and female professionals can benefit from an image consulting service. Finally, as a former varsity high school basketball and soccer coach, he can help players get in shape for their upcoming season. Some one-on-one training may just be the thing a client needs to get off the bench and into the game.