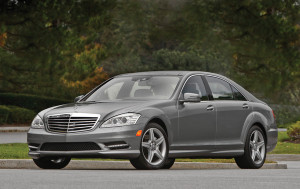 When it comes to automobiles, I've heard people say there is luxury and then there is Mercedes! If you've never driven an S class Mercedes, you might think I'm exaggerating, so you might want to hurry over to your nearest Mercedes dealer to see for yourself.
The 2013 Mercedes S 550 is considered by many to be the finest car on the road. After testing one at length I can't muster up much of an argument against that belief. The S 550 is a large car with ample room for five adults, with plenty of power, loads of technology, and the good looks to wrap up the package.
If it's performance that lights your fire, you're bound to appreciate the 4.5-liter bi-turbo V-8 putting out 429-hp in the S 550. This fantastic engine has numerous advances, including twin turbos to deliver 12 percent more power. Its 516 lb-ft torque peak offers 45 percent more thrust at just 2,000 rpm. To reduce emissions, fuel consumption and noise the V-8 has rapid-multispark ignition, which can fire up to four times per millisecond, while high-pressure direct injection can microscopically fine-tune fuel spray in just 0.1 milliseconds. It is a lightweight diecast-alloy block with quicker and more widely variable valve timing, reduced friction, and clever "on-demand" ancillary components like the alternator to further boost efficiency.
To get all of this to the pavement they've got the famous 4MATIC all-wheel drive. No matter what the season or road condition, 4MATIC all-wheel drive will add to your confidence and control. This system is always engaged and optimizing the torque to every wheel. It also works with the standard Electronic Stability Program ( ESP ) for maximum effectiveness in corners and slippery conditions. The 4MATIC also incorporates a 4-wheel Electronic Traction System (4-ETS ), which monitors for the first sign of wheel slip and responds to assure that torque is sent to the wheels with the best grip, even if that's only one wheel.
Another unique feature is the Airmatic semi-active suspension for a balanced, comfortable ride. This is a system that employs electronically controlled air springs that adjust to changing driving conditions. A choice of two settings, Sport and Comfort, lets the drivers match the ride characteristics to their mood. This sounds like a lot of fun. With this system you can also lower the ride height at higher speeds for improved aerodynamics. This system also provides automatic 4-wheel level control to help compensate for additional cargo or passengers. One other feature to keep you on the straight and narrow is the Active Body Control (ABC) with crosswind stabilization.
The list of options for the 2013 Mercedes S 550 seems to never end and includes Active Lane Keeping Assist, PARKTRONIC with Advanced Parking Guidance, rear-view cameras, Night View Assist PLUS with Active Curve Illumination, Adaptive Highbeam Assist, heated headlight washers, LED taillamps, Advanced Tire Pressure Monitoring System, advanced braking technology, alarm system, rain-sensing windshield wipers, and the list goes on. One of the most innovative options is ATTENTION ASSIST, the first system of its kind. It continuously monitors different parameters of driving behavior and can automatically alert the driver with both visual and audible warnings if it detects signs of drowsiness on long trips.
Another amazing option is the DISTRONIC PLUS ( with PRE-SAFE Brake ). This advanced, radar-based cruise control monitors the vehicle ahead and adjusts your speed to help maintain a chosen following distance. It can even bring the car to a halt if it senses stopped traffic, then resume automatically if the car ahead slows to a stop, The PRE-SAFE Brake system can automatically engage up to 40 percent of available braking power and issue an audiovisual alarm.
If you're still not paying attention and apply the brakes within 0.6 seconds of a calculated impact, it automatically engages 100 percent braking power. There goes your Starbucks.
With all this technology you would think the 2013 Mercedes S 550 would drive itself, but just like that new computer, smart phone and your other hi-tech toys, you've got to study the manual. It doesn't have Auto Pilot, but it's the next best thing. With all this technology I didn't have much time to mention the interior but it is a Mercedes and hard to beat when it comes to quality, fit and finish, and luxury.
Exquisite style, superior performance and cutting-edge technology are what you expect from Mercedes, and the 2013 S 550 won't let you down. As you might expect, all this tech and luxury is pricey, starting around $95,000. If you can afford it, you'll really enjoy it.