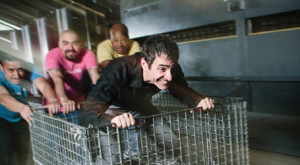 Youth has not been wasted on Gal Shweiki. As proof, there's the undeniable fact that his   personal effort, vision, commitment and courage, so ably demonstrated years earlier, have today placed this exceptional entrepreneur of ink atop a thriving, self-made publishing and printing enterprise whose high-tech output spans a continent.  And in retrospect, taking into account his strength of character, determination, desire and drive, it was all so obviously inevitable. Measured by the substantial accomplishments achieved throughout his productive life, his current success should come as no surprise. Gal Shweiki was born in 1964 in Israel. At the age of four months, he and his immediate family relocated to New York City, where Shweiki's father, a distinguished educator, had accepted a teaching position. Although this relocation was supposed to be temporary, the family, especially Mr. Shweiki, became so enamored of the United States and its promise of opportunity that when additional offers of employment followed, while retaining their Israeli citizenship, they made the decision to stay.
Over the years the Shweikis moved five times before finally heading south to Texas and San Antonio, where a more stable (and thanks to the warmer winters, a more comfortable) permanency resulted. This quickly became "home" for the adaptive family and remains so today for Shweiki, his parents and his wife and children.  As an adjunct to his frequent familial moves within the States, Shweiki also spent months-long "vacations" back in Israel each summer, living with cousins, learning the culture and traveling. Shweiki has a special place in his heart for Israel, and he and his family still make periodic return trips to visit family and friends. In looking back over this influential time, Shweiki admits, "So much early mobility proved to be quite a testing ground, and while sometimes difficult, it certainly helped instill a high degree of independence, which prepared me well for handling changing situations — and that's been a good thing."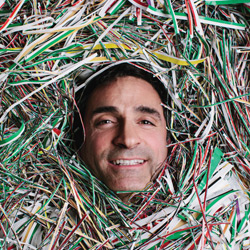 As a teenager at Clark High School, Shweiki was considered a typical student. He participated on the school's track team, played clarinet in the band and "made fairly good grades."  There was one episode, however, that foreshadowed the entrepreneurial streak that would later come to define the adult Gal Shweiki. When he was 16 years old, San Antonio's sanitation workers went on strike. As unsightly (and odiferous) garbage piled up throughout his suburban enclave and the inevitable grumbling ensued, Shweiki smelled an economic windfall. Noticing that a neighbor was hauling his own refuse to the county dump, the excited teen struck upon the idea that, for a fee, others might like having their trash removed as well. Enlisting the family station wagon (without his mother's knowledge), the youthful capitalist started knocking on doors and at a dollar a bag — two for a trash can — found plenty of takers for his services. As the garbage went out, the cash came flowing in. It was disappointing news indeed (though not to the neighborhood) when, two weeks into this undertaking, the strike was settled, but as Shweiki relates, "I discovered I could make money on my own, and I liked it." That satisfying pattern of successful business creation would repeat itself again and again.
After high school graduation, Shweiki enrolled at the University of Texas. Not quite sure what field of study to pursue and because of his father's insistence that he learn a profession, he opted for engineering. After a few semesters, however, the struggling student, never strong in math, discovered he "hated" his major. Determined to graduate in four years, he shifted to a liberal arts curriculum that culminated in a government degree with a minor in economics. But it was what Shweiki accomplished outside of the traditional classroom that ultimately resulted in what would become his life's work. As a sophomore, Shweiki perceived a public "need" that he felt he could satisfy while generating some income. With no previous publishing experience but armed with the belief that hard work coupled with a good idea could succeed, Shweiki single-handedly created his first magazine — The Student Guide to Austin. This pocket-sized 76-page fact-filled annual booklet gave readers "the skinny" on going to school and just living, for that matter, in and around the state's capital. While a neat concept — there wasn't any other competing publication at that time — what was even more impressive was the fact that Shweiki tackled this project solo. Initially, he was editor, ad salesman, copywriter, production coordinator, distributor and bookkeeper. And amazingly, by the fourth issue the magazine was profitable.
But Shweiki had only just begun. After graduating from the university in 1986 (and turning over the money-making student guide to his brother who was still in school), the now-tested publisher decided to launch a more ambitious, entertainment-oriented monthly publication that would focus on the eclectic Austin lifestyle. Enter Study Breaks.  As before, Shweiki again assumed all of the roles, knocking on doors, raising the seed money, handling the editorial and photography and ultimately producing an eight-page premier issue with an initial distribution of 7,500 —  all for $1,200. As he recalls, "Getting that first magazine out, then following with future issues each month was my life for two years. It was grueling at times." But patience and hard work did pay off.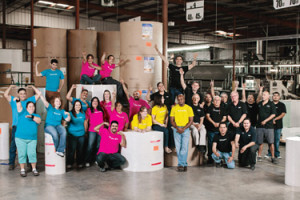 Today, his second publication has grown into a multiversion full-color 68-page monthly magazine serving students who attend five large Texas universities, including UT-Austin, Texas State in San Marcos, Texas Tech in Lubbock, UT-San Antonio and  the University of Houston. The combined circulation has soared to more than 50,000 each month. Shweiki, listed in the magazine's masthead as the founder and no longer editorially active on a day-to-day basis, is still involved with the publication's overall direction. With the success of Study Breaks came the wherewithal for the creation of Shweiki's current labor of love — Shweiki Media (see sidebar). As his magazine grew and prospered, a more seasoned Shweiki and his burgeoning staff began working with other publishers, helping with design and providing pre-press solutions. His desire to be full-service led to the acquisition of his company's first publication-grade web press in 1999. As he remembers of that purchase, "I'd heard about a used press up for sale in Tennessee. The owners printed up a 'demo' run of Study Breaks, and I was so impressed, I bought it." In typical Shweiki fashion, he acted on instinct, without having a building to house the "monster" and, perhaps more importantly, no one to run it.
He solved those problems with the acquisition of a large commercial building located off I-35 in East San Antonio, the persuasion of his top salesman from Study Breaks to sell for the new printing company and the fortunate discovery of a very capable pressman. As the company's proud founding CEO volunteers, "Somehow, it all worked out, and today I'm delighted to say that Shweiki Media produces, besides all of the versions of Study Breaks, hundreds of other quality titles for a wide variety of clientele. We now can and do handle all aspects of production, from the pre-press to the finished magazine. And we're still adding services." While the demands of work fill much of Shweiki's time, he does have other pursuits, pleasures and commitments. Paramount is his immediate family comprising his wife and two adoring daughters whom, as he happily admits, he "dotes" on. Wife Bonnie is a highly skilled U.S. Army emergency room physician working at Brooke Army Medical Center. And as a wife and mother, she completed two deployments to Iraq and Afghanistan, where she served in a combat support hospital. During these stints, Dad, aided by his supportive parents, took care of the girls, now aged 7 and 4. All were definitely glad when Mom returned!
The energetic and fit Shweiki is also a dedicated marathoner. Running daily 4 to 5 miles at a stretch, he recently completed the San Antonio Half Marathon, where he posted a very acceptable one-hour-and-37-minute time. But perhaps what surprises most about Shweiki's outside interests is his love of polo.  It all began some years back when Shweiki drove past the old Retama polo grounds and noticed the horses and their riders. He became entranced. So much so that, as he recalls, "The next day I called the club and asked what was involved in learning to play." Shweiki was told they would be glad to teach him and to come on out and bring his horse. The problem was, he didn't have a horse and had never ridden before. Not to be denied, the determined Shweiki joined a class primarily filled with pre-teen girls, donned an undersized loaned bike helmet and, over the next several months, tenaciously learned the sport. Shweiki now owns four horses, the proper equipment and plays regularly in league matches throughout the year.
After so much success at work, home and play, Shweiki still finds the time and energy to give back. He currently serves on the board of Junior Achievement and annually teaches a seven-week course on — what else? — entrepreneurism. He is also very involved at his daughter's private school, where he provides invaluable marketing assistance. And lastly, remember his high school band experience? With Shweiki on clarinet and his talented accordionist father playing lead, the melodic duo regularly provides the musical entertainment (to acclaimed reviews, no less) at numerous social and religious-related functions. Printing, publishing, polo, parenting and now polkas — what's next, Mr. Shweiki? The letter "r" for rest and relaxation? Doubtful. Knowing Gal Shweiki, the next letter will be "s" for success.
by Ernie Altgelt
Photography by Josh Huskin