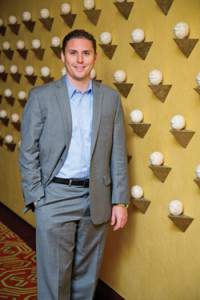 For Larson Segerdahl, 31, the newly named director of the Valero Texas Open, the opportunities are nearly limitless, as are the challenges in taking over management of the historic 90-year-old golf tournament.  Segerdahl works for Greg Norman Production Company (GNPC), which manages several high-profile golf tournaments and other events worldwide. Valero retained Norman's firm to turn the Texas Open into a world-class event. The Texas Open, a PGA-sanctioned tournament, has been around since 1922. But its glory days were more yesterday than today. Golfing legend Arnold Palmer was a three-time winner in the 1960s. And Sam Snead, Ben Hogan, Chi Chi Rodríguez, Justin Leonard and other big name golfers have won the Texas Open or played in it. Even Tiger Woods teed off at the Open in 1996, the one and only time he's played in the event.
And that's the problem.  "Big" names have been few and far between in recent decades. That's right, decades. Valero, which recently agreed to sponsor the tournament through 2018, is betting heavily that Norman and Segerdahl can work their magic and reposition the Texas Open as a high-profile major tournament that attracts professional golf's biggest names. That may seem like a huge responsibility to put into the hands of a 31-year-old.  After all, Segerdahl is not even a competitive golfer. He played baseball at Springfield College, where he majored in sports management. Springfield is the school where James Naismith invented basketball as a way to keep football players in shape during the off season.
"I was studying sports management at the same time the movie Jerry Maguire was a box office hit," Segerdahl recalls. "'Show me the money,' the catch phrase from the movie, encouraged me to become a sports agent." But his life took a slightly different direction. His senior year he interned with a Greg Norman Production Company tournament in Hartford, Conn., and it was love at first sight. "Managing golf tournaments is fascinating,"  he explains. "It's like running a small business. You have to know business and marketing and sales and promotion and more. You really are the CEO. It seemed much more interesting than just working as an agent."  Asked why there has been a problem with the Texas Open attracting big name golfers, he points out the dates for the tournament have been very difficult. But that problem's been solved with the event now moved to the week before the Master's Tournament in Augusta, Ga.
Segerdahl says their effort now is focused on "reintroducing this event to a different caliber of player. We want to bring in some players whose opinions really matter to their peers."  He also said he and his team are targeting caddies who work for the top players because they often can influence the player's decision about which tournaments to play. "Families — wives — are also critical to a player's decision about which tournaments to enter," Segerdahl notes. "If she has a great time in San Antonio, odds are she will encourage her husband to play the Texas Open next year. And she'll tell other wives about San Antonio too." Segerdahl believes there are a number of resources in San Antonio the tournament can tap to make the player experience the best. "We want to create an emotional experience — a connection — between the city and the tournament. I don't think the tournament utilized the resources available here as much as they could have in the past," he explains.
When asked what he has to do to make the tournament a success and attract even more big name golfers, he ticks off three elements: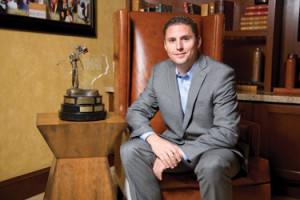 Most important of all, and Greg Norman drills this into his team over and over again, "We must take care of the players and caddies." That means making their experience here — win or lose — the best ever. He cites as one example charging caddies for meals, which was done in the past. "We will provide caddies with all their meals because it's the right thing to do, and they will appreciate it. Caddies and players are a team, and we want them both to be happy," Segerdahl explains. Number two on his list is taking care of the media. There will be journalists from all over the world covering this tournament. What they write about the event and the city of San Antonio can play a major role in attracting tourists and major players who may sign up to play next year. What they see and hear on TV and read in print can have a major influence on future tournaments. So they should be pampered.
Finally, Segerdahl says the event must be seen as a "great value" to spectators. He points out that there are 48 PGA and World Golf Association events each year. It is a distinct honor for San Antonio to host one of those events. But he thinks we probably haven't done the best job in helping folks understand that hosting a PGA event is major league. He'd like to see the day when a ticket to the Texas Open becomes the most sought-after ticket of the year, just like at the Master's. What he hopes to hear from players and spectators after the tournament is "Great time … can't wait until next year … " If he hears comments like that, he'll know they are on the way to rebranding the Texas Open.
And if turning the tournament into a world-class event weren't enough of a challenge, Segerdahl recently became engaged to his longtime girl friend, Alisa Beretta. They set the date, August 31. So while he's juggling details for the Open, she's putting their wedding plans together. When asked what would be more exciting to him — getting a call from Tiger Woods committing to play in the Texas Open or his wedding  — Segerdahl doesn't skip a beat.
"The wedding," he says. Smart man. And that may tell us why Greg Norman hired him in the first place.
by Ron Aaron Eisenberg
Photography  Casey Howell