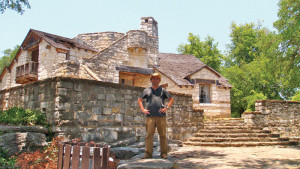 Texas is known for a lot of things: cowboys, oil, BBQ, sunsets, the Alamo. The list goes on and on. However, one thing you won't likely find on any Lone Star lists is caves. But don't be fooled, Texas has caves in spades. Whether it's the popular Natural Bridge Caverns or an off-the-beaten-path private cave on a dusty ranch, our Texas caverns offer amazing experiences right here in our own backyard and are some of the most beautiful caves in the world. I recently took a trip to Texas' most historic cave – Longhorn Cavern State Park.
The park
The entrance to Longhorn Cavern sits within a 645-acre park nestled in the Texas Hill Country between Inks Lake and Lake LBJ and between the cities of Burnet and Marble Falls. While there are great hiking trails on ground level inside the park, the main attractions and beauty of Longhorn Caverns lie underneath the Hill Country terrain and can only be seen by venturing into the depths of Texas on a guided tour.
Natural beauty at its finest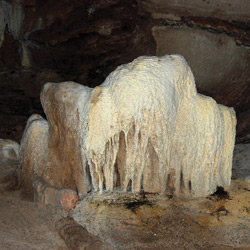 The temperature drops to a constant 68° as you walk down the paved steps to the entrance of Longhorn Cavern. This is especially important on 100° days, when the cave feels like it's naturally air-conditioned. But once you step inside, more than the temperature is different, as you enter a completely different world unlike anything else in Texas and certainly different from any other cave in Texas. This is because Longhorn Cavern was formed by a massive underground river, which left enormous rooms enclosed by smooth, flowing walls and scarcely a stalactite or stalagmite in sight. It's one of only two known river-formed caverns in the United States and the only known cave of its kind in Texas. Talk about unique.
As you progress through the cavern, each room is different from the room before.  Some spaces are open enough for bouncing echoes off the walls, while others require contortions of the human body just to enter. One room is filled with sparkling crystals, while other rooms boast naturally carved formations of animals or, better yet, President Abraham Lincoln (I'm not kidding). It's the kind of place where you could spend hours literally just staring at the wall.
Human history at its most fascinating 
One might assume that the natural beauty of Longhorn Cavern is the most incredible part of the park. However the human history is just as interesting as the natural history and dates back hundreds, if not thousands, of years.
Long before Anglo settlers came to Texas and discovered Longhorn Cavern, its largest underground room was used by Comanche Indians as a tribal council room. During the Civil War, the cavern served as a secret place to manufacture gunpowder for the Confederacy. And in the 1870s legend holds that outlaw Sam Bass used Longhorn Cavern as a hideout for concealing some 2 million dollars in its depths. Now if finding an unclaimed 2 million isn't enough reason to visit, I don't know what is. The caverns have served as everything from a bomb shelter for LBJ in the '60s to a speakeasy in the '20s to a church.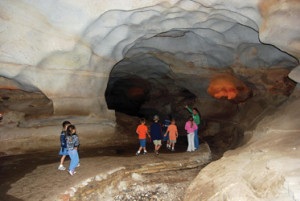 All this being said, the most important period of history for Longhorn Cavern happened in the 1930s, when members of the Civilian Conservation Corps (CCC) commissioned under Roosevelt's Works Progress Administration, began to excavate mounds of bat guano from the cave, build structures at its mouth and open it up for easy public exploration. The CCC truly made Longhorn Cavern what it is today and even installed cave lighting that's still in use. In a back room there's a small piece of gum that a worker would chew on every day, only to leave it hanging overnight to be "flavored" by the bats. This is just one of the colorful CCC stories that permeate the cave.
The best news for modern visitors is that the human history of Longhorn Cavern is still being written, as folks from all over the world line up to tour this underground kingdom.  In addition, the park occasionally hosts musical concerts ranging from small singer-songwriters to full orchestras, movie premieres, haunted Halloween walks and even Santa Claus.  Make sure to check their calendar for details.
Wild Cave Tour 
While the days of the Wild West may be over for Longhorn Cavern, things still get pretty wild in the cave, especially on one of the park's Wild Cave Tours. This special tour is available by reservation only, but if you like getting dirty, this is exactly what you're looking for. This tour is far from glamorous and takes visitors far from the beaten path to parts of the cave accessible only by crawling, climbing, squeezing, mudding and sliding through small openings and under huge overhangs. It gives visitors a full-on spelunking experience and might be a small glimpse into what it was actually like when the first explorers and CCC ventured into the dark and hidden parts of Longhorn Cavern.
See you down below 
Just because you've seen one cave doesn't mean you've seen them all. And that's especially true for Longhorn Cavern State Park. The unique water-formed walls paired with the fascinating human stories of the cave make it one of my favorite, can't-miss destinations in Texas.  See you on the road!
Get your cave on
Here are some other amazing Texas caves to check out:
• Cascade Caverns, Boerne
• Cave Without a Name, Boerne
• Caverns of Sonora, Sonora
• Inner Space Caverns, Georgetown
• Natural Bridge Caverns, New Braunfels
TIPS:  
Bring a flashlight – It can get dark down there, and this will help illuminate parts of the cave that you want and need to see.
Catch a show – Music events in the cave are amazing. Check their website for details.
Special tours – If you need more than the ordinary, take a special tour such as the Geology Tour, Photography Tour or even Paranormal Tour.
Make it a day 
While in the area, check out these other stops:
Ink's Lake State Park: Literally just down the road with incredible hiking.
Devil's Waterhole: Inside of Ink's Lake State Park, this is one of the best swimming holes in Texas and best for cliff jumping. GERONIMO!
Burnet County Feed Store: Hiking, swimming and caving always make me hungry for barbecue, and this stop does it up right.
The Maxican: Tex-Mex at its tastiest. And don't miss a back rub from Maw Maw.
Bluebonnet Cafe: Pie Happy Hour. Enough said!
by Chet Garner
Photos provided by Michael Stoddard, Longhorn Cavern Photographer