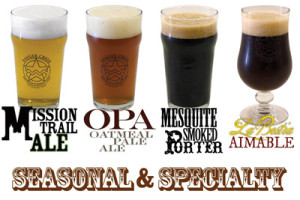 Growing up in the Pacific Northwest, I was exposed to craft beers during my college years. There was a lot of peer pressure from my friends to avoid the big name brands and find the unique homegrown labels. I was concerned when I moved to San Antonio that I would be stuck with the standard name-brand choices but was very happy when I saw that the craft beer industry in Texas was full of so many fantastic options. In fact, when I get a chance, I try to grab a new bottle when I am at the store or a pint of whatever the new beer on tap is and see how much Texas beers have evolved over the years.  I would say that in the six years that I have been in San Antonio I have seen so many new labels and such growth that I can only look forward to the next six years.  Here are a few beers that I have really enjoyed over the last month:
Houston — The Saint Arnold Brewing Company was established in 1994 by two friends who were graduates of Rice University.  For almost 20 years Saint Arnold has won countless awards and has been a leader in changing the beer industry.  While there were many choices in their lineup, I picked the seasonal Spring Bock since the weather was in the 70s and I wanted to enjoy it outside. I generally love Bock beers, which are a heavier German Lager style, and this kept my love affair going. It has a slightly sweet, nutty flavor on the tongue with a very smooth finish. It was surprisingly refreshing and lighter than I thought it would be, which made it even easier to open a second bottle.
San Antonio — Ranger Creek is a "brewstillery," a combination of brewery and distillery. They not only brew beer there but also have a bourbon distillery as well, which is fairly unusual. I went with the La Bestia Aimable, their dark Belgian-style ale. Once poured into a glass, this has a beautiful dark chocolate color. The nose had dried fruit and baking spices aromas that were very pleasant. Upon my first sip, I knew the team at Ranger Creek was onto something. There were complex flavors of blackberry and white pepper that were very smooth and well integrated into the beer.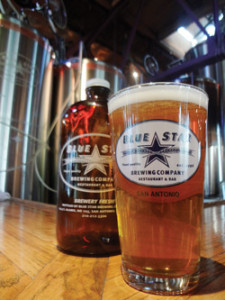 Dallas — The Rahr family brewery has been open only since 2004, but the Rahr family has been making beer since 1847. So I set the bar very high for them and poured myself a bottle of the Ugly Pug Black Lager. I was expecting a heavy beer that I would need to sip slowly so it would not fill me up, but I was very wrong. This was very light on the tongue but still had those dark flavors of German chocolate and roasted coffee. My wife, who generally likes light lagers, was hesitant to try it but was fighting me for the glass after her first sip.  I guess I need to buy a six-pack next time.
San Antonio Part 2 — For the last beer I hopped in my car and drove over to the Blue Star Brewing Company on South Alamo. I met up with Adam (the on-site brew monkey), where he poured me a glass of their seasonal märzen. This was a beautiful copper-colored lager that had warm hints of caramel on the nose and a slighty pleasant hoppy bitterness on the tongue that made me crave a pulled pork sandwich. Their beers can be purchased only at their brewpub, but are well worth the drive.
By Jeff Degner