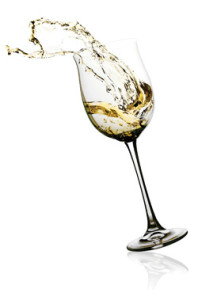 It's no secret that the way Americans consume just about everything these days is changing — and changing fast. Sure, we still have to go to the grocery store for our soy milk and wild caught salmon, but, as just one example, brick-and-mortar bookstores are dropping like flies as readers opt for Kindles or online cost-cutters such as Amazon. The wine world is no exception. Once upon a time in San Antonio that world was pretty much dominated by one company: Gabriel's and its various offshoots — Don's & Ben's, Liquor Barn and Seazar's. At the low end of the spectrum, grocery stores were good for Hearty Burgundy and maybe Blue Nun. But H-E-B has seriously stepped up its game in recent years — to the point that it now calls itself "the No. 1 wine retailer in Texas," and big-box stores such as Costco have stormed into town with a vengeance.
Costco's lead buyer has been termed "the most powerful wine buyer in the world," so it's no wonder that the discount store's presence in any market makes waves. Waves may become a tsunami of sorts with the imminent arrival of another huge national operation, Total Wine & More. Accordingly, two kinds of markets appear to be emerging: big-boy chains with massive purchasing power, and small, specialty purveyors — some of whom barely have a physical presence.
THE GRAPE WINE COMPANY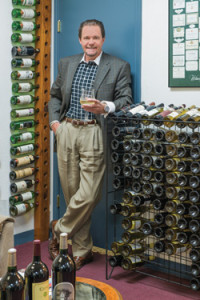 With a small cache of wines on hand but no conventional storefront presence at all, Oilver Ressel of The Grape Wine Company exemplifies another way to reach a specialized audience: For 28 years he has positioned himself as a wine broker with knowledge of both ends of the equation — the wines themselves and his customers' palates. Ressel mostly sells case lots of wines his longtime customers have tasted elsewhere or read about, or of wines he has researched and tasted (more than 30 a week, he has said). In an encouraging note, Ressel says wine buyers in San Antonio "are going more and more upscale — not just in price but also in being more adventurous … [they're now trying wines] such as muscadet, Spanish whites… This is still big Napa cabernet country," he admits, "but part of my job is to educate and know a bargain for what it is. It's working at all levels," he concludes.
SMALLER VARIETIES
A reputation for having a good wine palate is very helpful when seeking to position oneself in wine sales, but an in-depth knowledge of the business side is also essential. Former retailer, wine educator and wholesaler Fernando "Woody" de Luna of Vintages 2.0 has done it all — and a previous life as a university-level teacher even plays into a penchant for research. Though his reputation as "Mr. Riesling" speaks to a fondness for the wines of Germany and Alsace, he is equally at home in the vineyards of Burgundy and is often able to offer highly allocated wines, many by pre-sale (before actual release).
"Most of [the] large stores don't play in the pre-sell system, which, as far as Burgundy, top-end Rhônes and several other regions are concerned, is really the only way that any retailer can get [these wines] to offer to his clients," de Luna says, adding that "I hope and think there is reason to be optimistic that a segment of the wine-buying market is still willing to trust a traditional wine merchant who leads with his palate…"  Without a shop to drive traffic, he also leads with a website.
A small office with room only for intimate tastings — which may happen two or three times a week — is the only public face of Corkscrew Vintage Varieties, the wine brokerage business Robert Heydenreich has run for less than a year after "30 years in industrial distribution." Tastings are a good way to get the word out in Heydenreich's view, and he often donates them to charities as a way of leveraging further exposure. Additionally, tastings are an "educational experience" for the consumer, but also part of the "trust-building operation" any merchant needs to build with his clients. "I deliver, I find wines for collectors, I can usually save some money …" he says in a further iteration of the many ways David has to do business when confronted with Goliath.
Vinously Speaking is a small — some might say very small — specialty wine-only shop in the Medical Center area, and it came to be in a very 21st-century way: Cecilia Barretto  studied the wine business in France, came home and developed a wine blog to document that experience … and then opened a shop.  "Today's social media atmosphere has really helped us," says Barretto, who still blogs about wine regularly and maintains an active Facebook page.  She and business partner Melissa Unsell are "focused on the exploratory side of wine and grapes people haven't heard of" but that can be hand-sold when compared to another wine that might be more familiar — this as a way of carving out a niche that also stresses value: Many wines in the shop are under $20.
Simple food and wine pairings are also stressed at the pair's weekly wine tastings — "nothing crazy: pasta sauce from H-E-B, cheeses…" she says. The approach must be working, as the shop will celebrate its first anniversary in April and has begun seeking funding — also using the Internet for crowd-sourced participation through GoFundMe — for expansion into a next-door space to house a by-the-glass wine bar.
SAGLIMBENI FINE WINES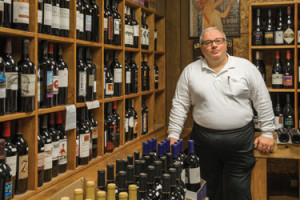 In the realm of the smaller-than-a-big-box wine retailers, there have been many hardy pioneers in San Antonio but few survivors. We pause for a moment to thank them for their sacrifices.  Pre-eminent among those that lived to see another day is Saglimbeni Fine Wines, a shop that also thrives on tastings (recently expanded from a Saturday-only format to include Tuesday evenings as well) that are as much social event as educational experience. The now-regular appearance of a changing roster of food trucks has further expanded the tasting potential of a Saglimbeni Saturday, providing a forum that frequently leads to impromptu pairing exercises on the part of diehard regulars, both amateur and "in the trade."
"We're a destination location" says Saglimbeni, who grew up in a family of wine and liquor purveyors in New York. "We buy lots of wines from smaller wholesalers not afraid to hitch their wagons to a winery that produces only 300 cases a year of chardonnay, so that is key … and because we [ourselves] are smaller, the staff gets to know most of the customers. Instead of $7-an-hour sales clerks, we have people like Mike Crumb who know more about wine than almost anybody in town."
Saglimbeni also has praise for his customers, saying "They read, they travel … and they like to try new things. If you'd asked me to predict five years ago that I'd now have 50 rosés in the store, I'd have said you were crazy."
Saglimbeni also carries deli items, pastas, sauces, olive oils and stocks a freezer chest with specialty meats such as quail and rabbit as a way of reinforcing destination appeal, yet he declares that "if you're going to spend time worrying about what [the big retailers] are doing, you won't be paying enough attention to your own situation." It's an attitude that appears to be paying off, as a nearby chain competitor recently closed its doors.
TWIN LIQUORS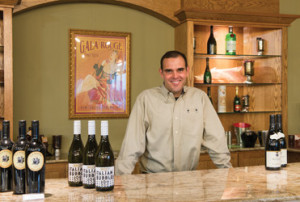 Now with nine Bexar County locations, Austin-based Twin Liquors is poised to become ubiquitous, yet "the owners don't want to drive independents out of business; we're a big chain with mom-and-pop attributes," says local manager Mike Poremski. It's a claim that might seem disingenuous if it weren't for the fact that Twin staffers, Poremski included, seem friendly, knowledgeable and as focused on customer education as they are on sales. A look at the company's seminar schedule reveals such free, and frequent, offerings as Sparkling 101, Mixology 101 and Beer 101 — plus numerous tastings and appearances on the part of winemakers and distillers, all opportunities for both customers and staff to learn, according to Poremski. (Twin's staff has the additional advantage of taking 8-to-10-week Wine Authority classes in Austin, however.)
The Twin store at 281 and Bitters has a dedicated seminar space as well as a separately conditioned fine wine room, and Poremski is almost apologetic when he says, "The store has been open only about two years, so there's not a big backlog of older wines yet."  (It's pretty impressive regardless.) While they wait, San Antonians are apparently busy eating out and making requests for wines they've tried at restaurants. "The San Antonio market is younger, has a little more money and is looking for new things," he says. We're also apparently less influenced by the kind of "viral" marketing generated elsewhere by the various crowd-voiced sites —though bar-code shopping is a factor everywhere, according to Poremski.  Yet, he admits, there are some problems in marketing locally: "San Antonio is a lively and dynamic city, but it's hard to build brand loyalty among the [important] military community with frequent deployments of personnel." Nevertheless, says Poremski, it's "grow or die," and Twin's two-fer pricing policy, which rewards the purchase of two bottles of any product, is surely an important factor in a drive to expand market share.
H-E-B CENTRAL MARKET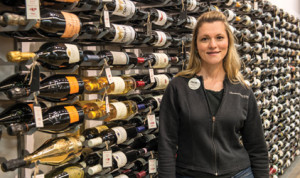 Central Market — for the record, a separate entity from that No. 1 retailer, H-E-B — is a destination as well for many customers, especially those that wine department manager Heidi Weidner says come from the Hill Country, Corpus Christi and the Valley. She doesn't have to worry about stocking cheeses, breads and specialty foods that naturally pair with wine; the store does that for her in spades. So it's not surprising when Weidner says "Total is an impressive company, but [their arrival] doesn't change our focus; we're still offering a large selection and lots of price points."
And that selection continues to evolve. Weidner recently installed a premium wine wall and says "wine real estate" in the store has generally expanded during her five years at the helm. "We're big into French, Spanish … and find that Texas wines are a growing category." Here's another factor: "We're encouraged to travel, and I encourage myself," she says. Recent trips include Sonoma, Napa, Argentina, Chile … and France in an if-this-is-Thursday-it-must-be Bordeaux whirlwind tour. Weidner has also just returned from Brazil, and she's bubbling with enthusiasm over the country's sparkling wines, along with its cultivation of tannat, a grape she feels has the potential to become the country's Argentinian malbec equivalent. Look for a shelf of those soon.
SPEC'S TEXAS SUPERSTORE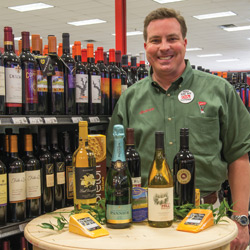 One doesn't need even to set foot inside the new Spec's Texas Superstore at De Zavala and I-10 W to understand that this is a business that wants your entire attention: A banner proclaims "best burger in town" (or maybe in the state), not the sort of statement one might be expecting when shopping for a left-bank Bordeaux. Or even a three-liter Bota Box, for that matter. Yet it's hard not to be impressed with the deli offerings and sandwich specials, the cheeses and charcuterie, the giant stockpots and crawfish skimmers aimed squarely at pro chefs, the extensive collection of barware and wine coolers … and the plus-or-minus 7,000 bottles on offer. "The place is set up so you can come here after work and pick up your favorite wine, some deli selections, an artisanal bread from the freezer, even a wine-based ice cream for dessert," says local boy Andrew Huoni, who has come back to town to manage the Houston chain's five stores here and in Kerrville.
There are now more than 150 Spec's in the state, according to Huoni, making them a Texas powerhouse of the first rank. Among them, San Antonio gets no special treatment. "We just try to get the best wines at the best price — including cru Bordeaux." Yet there is a kind of "neighborhood store concept" in play, he says.  The Rector store may be smaller, with less food, but it's soon to be joined by a 30,000-square-foot warehouse designed to attract retailers, restaurants and clubs.
The original Live Oak outlet boasts a seminar room (one is soon to come at Rector), where frequent free classes are given. The beer selection, especially at De Zavala, is prodigious, and it's augmented by several "beer nerds" and cicerones (the beer equivalent of a wine sommelier). And then there are the walk-in cigar humidors, a feature Huoni, who came to humidors first as a hobby, is especially proud of. A walk through the DeZavala facility with him, in fact, suggests that he still feels like the proverbial kid in a candy store — amazed at all he commands despite years in the business.
Spec's pursues a we-beat-genuine-advertised-prices policy and offers an every day discount for cash and debit cards, a practice pioneered here by Gabriel's, and it's clear that the original giant is not down for the count in the face of increasing competition. Pricing is one factor in deciding where to buy wine, to be sure, but depth of talent in Gabriel's wine-savvy people, Don White and Joe Baker among them, is harder to shop.  And while there's no need to feel guilty about buying from a big chain, local or out-of-town, there's also every reason to continue to support independent, specialty purveyors. Whatever the wine equivalent of base realignment turns out to be, the customer seems poised to profit most.
By Ron Bechtol
Photography by Ric Johnson