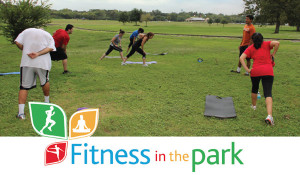 With the success of the inaugural Rock'n'Roll Marathon in 2008, the City of San Antonio showed that our sedentary population just needed a nudge out the door to hit the streets running. Building on this momentum, Mayor Julián Castro created the Mayor's Fitness Council in May 2010 to make San Antonio one of the healthiest and most active communities in the nation. Several initiatives were proposed under the Mayor's Fitness Council's charter, with one of the more successful being Fitness in the Park.
Seizing on the popularity of outdoor fitness classes, Travis Davey of the City of San Antonio Parks and Recreation Department helped organize Fitness in the Park. This program offers free group exercise classes in locations throughout the city's public park system. The classes were designed to provide something for everyone, with all ages and all abilities encouraged to participate. So far, the Fitness in the Park initiative has been a huge success, with even more classes being offered this summer than in 2012.
There appear to be several reasons for the success of Fitness in the Park with the root of the answer being that simple is better. The appeal of outdoor exercising seems so basic and straightforward — you get abundant fresh air and lots of natural light.
While indoor facilities offer a full range of equipment geared for an advanced program, many exercises that are performed using your own body weight are just as effective as working out with machines. A recent study found that outdoor exercise may improve energy levels and decrease stress to a greater degree than indoor workouts. The Mayor's Fitness Council is committed to making this initiative a priority and has hired quality instructors and offered classes that have mass appeal.
AEROBICS
Aerobics is a form of constant physical movement that literally means "with oxygen." The class features rhythmic aerobic exercise performed in different dance-like movements with the goal of improving flexibility, muscular strength and cardiovascular fitness. Aerobics classes allow participants to select their level of participation based on their fitness level.
KETTLE BELL CONDITIONING
One of the unique advantages of using kettle bells is that you can train both cardiovascular and anabolic systems at the same time. A big benefit of doing kettle bell workouts is weight loss. The dynamic, sometimes ballistic movements of kettle bell training will get your heart rate up and challenge every muscle in your body. It is definitely fun and different from your normal routine.
BODY COMBAT
This is a more aggressive exercise class, as the name implies. This program is inspired by martial arts and draws from a wide array of disciplines such as karate, boxing, tae kwon do, tai chi and muay thai. It's definitely high-energy and for more Type-A personalities. Supported by driving music, you will strike kick, and punch your way through calories to superior cardiac fitness.
KICKBOXING
Kickboxing is similar to Body Combat mentioned earlier, and combines martial arts and stand-up combat sports that involve kicking and punching, from karate, muay thai and Western boxing. Kickboxing is practiced for self-defense, general fitness or as a contact sport. This class is high-energy, noncontact martial arts based on using body weight exercises and athletic drills to strengthen your legs, core and arms while improving your cardiovascular conditioning.
PILATES
Known for developing strength,flexibility and coordination, Pilates is appreciated by everyone from elite athletes to seniors. Using a variety of exercises that begin with core muscle engagement, Pilates will help strengthen and lengthen all muscle groups. Through regular participation you will gain body awareness and improve postural alignment.
TAI CHI
Tai chi is an ancient Chinese martial art practiced for its health benefits. Most people recognize tai chi as a slow movement technique done in a specific routine. Tai chi has evolved into a graceful form of exercise that has been shown to decrease stress and enhance wellbeing. Often described as meditation in motion, tai chi promotes serenity through its gentle flowing movements.
BOOT CAMP AND CIRCUIT TRAINING FITNESS
Classes include a variety of activities geared toward increasing endurance, power, strength, stamina, speed, flexibility and agility. Most of these classes are offered at a moderate level that is suited for adults of all ages and abilities. There is even a Baby Boomer Boot Camp that focuses on fitness elements such as coordination, strength, balance and flexibility designed to help mature individuals continue to live an active and healthy lifestyle. Last but not least, there is Pediatrics in the Park, which focuses on nutritional awareness, healthy habits, physical activity, reading, games and more.

YOGA
Yoga originated in ancient India and has been utilized in Western culture to help develop a person's physical, mental and spiritual abilities. Studies have shown the benefits of yoga for stress relief, PTSD and pain management. Yoga will exercise your mind, body and soul, reduce anxiety, improve flexibility, relieve stress and improve respiratory functions.
Zumba
Zumba was created by a Colombian dancer during the 1990s and captures much of the Latin American spirit of movement and exhilaration. Zumba is an effective, easy-to-follow, calorieburning dance fitness party that has turned into a worldwide phenomenon.
By: Paul Baltutis