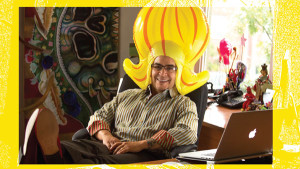 Some people have to work at being unconventional. For Louis Cardenas, founder and CEO of Blonde Creative, it's all natural. Born in 1967, Cardenas is Puro San Antonio. After graduating from Jefferson High School, he attended San Antonio College. "It wasn't really my thing," he explains. "I did go to all the advertising classes, but that was about it." He traded college for a job in Austin, where he went to work for U.S. Online. The company brought Internet into multi-family housing units, and Cardenas was creative director. He loved Austin and the Austin scene, but he also missed San Antonio. In late 2000 he returned to the Alamo City and opened Cardenas Design, a one-man agency. The name didn't do much for him or attract much business. In 2001 he rebranded and opened Blonde Creative, with a handful of clients and a commitment to working better, faster, cheaper. "Our core business then and now is creative design, Web design and multimedia," he says.
The name came from Cardenas' tattoo of a blonde, supposedly his wife, Pam, on his left arm and something he read in a magazine one dayabout blondes. It described them as flighty, ditsy, all about fun and all about themselves. "And I thought, hey, that's me," he explains. His friends thought he was nuts naming his company Blonde Creative. But the name did what he hoped it would do attracted attention and interest. The company opened shop in the Blue Star Complex, and Cardenas says he practically lived at the office: "We worked lots of hours." He says they billed around $100,000 a year from Day 1. The goal was to grow but to stay small at the same time. "Today we bill over $500,000 a year," he says. "But we have stayed small with just five professional staff." Blonde Creative indeed has grown into one of the hottest boutique creative agencies in town, often by bending the rules. And bending the rules is something in which Cardenas and his colleagues at the agency take great pride.
Just check out their website at blondecreative.com. The first thing viewers will notice when the site opens is a roll of toilet paper unfurling down the middle of the home page. That's followed by the sound of water splashing. Cardenas says they actually taped the men on the staff relieving themselves in the toilet. Hey, something must be said for creative and artistic accuracy! Since it opened more than 12 years ago, Blonde has attracted a number of high-profile clients including HemisFair Park, Freeman Coliseum, Wildlife Rescue & Rehabilitation, WellMed Medical Management, Guide Dogs of Texas and others. Cardenas is proud that during the recent recession "we did not lay off a single employee. And, in fact, we continued to grow."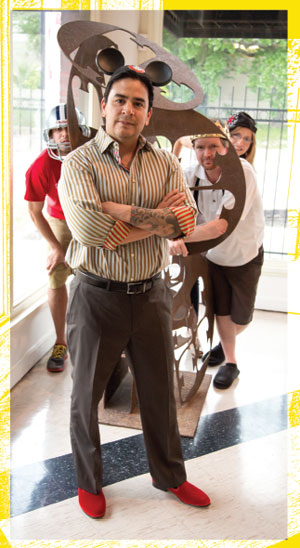 He notes that Blonde Creative is often the underdog when bidding on jobs against agencies like Bromley, Creative Civilization, Anderson and Tool Box. "But that's just what we love," he laughs. Being the underdog means Blonde can turn all of its creative juices loose. One of his goals is "to keep Blonde fresh." And when he's competing against older establishment agencies, Cardenas believes it's Blonde's creativity and off the wall approach that prove attractive to some prospective clients. But not every prospective client. Cardenas is torn between the out-of-the-box creativity Blonde is known for represented by his toilet paper, water-splashing website and a growing recognition that maybe it's time for Blonde to grow up. "We'd like to be taken seriously by some of the big boys in town," he says, talking about corporations like AT&T, FirstMark, Valero, NuStar, USAA, Tesoro and others as potential targets. "Sometimes the larger, older, more conservative companies don't get us, don't understand us," he says. But if he can get in front of decision makers at those organizations, he's confident he can win their trust and their business. Blonde Creative is now located at 2500 McCullough. The agency has a New York/LA look and feel. Indeed, it could pass for a movie set for Hollywood's perception of what a hot, creative design firm should look like. The space is filled with original art work, something Louis and Pam love to collect.
There are works in every size, shape and medium you can imagine. Large paintings, posters and creative sculptures adorn every space. The staff works in open areas the only office is for Cardenas but it's enclosed in glass so everyone can see everyone working (and occasionally playing). He recently opened a subsidiary company called Social Grip, which specializes in helping organizations master the world of social media. As for the desire to appeal to a more serious corporate client, Cardenas keeps a conservative suit, shirt and necktie hanging on his office door. Like Clark Kent morphing into Superman, he can clothe himself in big-time corporate attire as needed. He even went from driving a Corvette to a truck! But while the desire to serve the big boys is there, Cardenas loves the small clients too, because he can hold their hands and really get inside, where Blonde Creative can be most helpful. At age 46, Cardenas is also thinking about his future.
Working 12 to 14 hours a day is growing old. And he and Pam want to spend more time with their 10-year old daughter, Trinity. "I love being the pitch man for Blonde, but maybe I can work fewer hours and let the staff do more," he says. That's his dream. We'll see whether it happens or not. Meanwhile, look for a guy racing down the street in a corporate-looking suit and tie. Wearing chanclas.