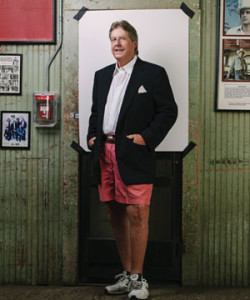 Highly accomplished men are generally associated with something specific corporate success, creativity in the arts, foresight, great discoveries, even civic conscience. Amazingly, when reflecting on the personal and substantial achievements of San Antonio's legendary (but oh so down-home) Pat Molak, not one, but all of the above seem applicable. Yes, somehow over this unique individual's colorful, productive and enviable career, spanning almost four decades and primarily centered around a formerly decaying Central Texas community, Molak has managed to amass the aforementioned accolades by melding preservation and progress with prosperity, resulting in a lot of welcome, and greatly appreciated, revitalization and remarkably enough, it all began with an old dance hall.
Because of his efforts, to many, he's considered nothing less than a hero albeit a "honky-tonk" hero. Molak, born, bred and still residing in San Antonio, has spent the majority of his 65 youthful years doing (on the surface) what most of us would love to be doing profitably running a world-famous musical venue, overseeing multiple popular (and usually packed) eateries, acquiring and appropriately developing valued real estate and, perhaps most rewarding, spearheading the rescue and restoration of a quaint historical township that, in a rapidly deteriorating condition 40 years ago, seemed destined for the dust heap. Couple everything with the fact the he gets to do it all (weather permitting) while generally wearing well-worn but comfortable Tshirts, shorts and sandals, and can you say cool? Absolutely! So how did this modern-day master of the laid-back achieve the considerable business success and obvious personal satisfaction he enjoys today?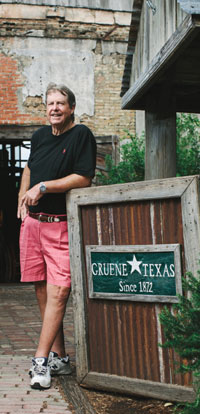 While certainly smart, a hard and focused worker and possessed of a visionary spirit, according to a somewhat modest Molak, "A lot of the credit can be attributed to luck." As he remembers, "For me, it was quite simply being at the right place at the right time, and that was all pure serendipity." That "time" was the early 1970s and the "place" a forgotten backwater located on the beautiful Guadalupe River a place dubbed Gruene (pronounced "green"), Texas. As a 20-something during what became a culturally transformative time, Molak wasn't particularly happy, professionally speaking. After a fun but fairly unproductive stint at the University of Texas in Austin (eventually leaving without a degree) followed by an unsatisfying and thankfully brief job as a licensed stockbroker, the antsy young man, who even then preferred wearing shorts and Ts, just hadn't found his passion. But he knew what he liked. In those heady years, Texas, and especially Austin, were undergoing an unprecedented good-ol'-boy music renaissance led by the likes of Willie, Waylon and Jerry Jeff and fueled primarily by Lone Star Beer.
Molak, something of a party animal himself, who frequently enjoyed "stepping out" into the Austin scene, took note. Fired by all of the Texas-chic cultural activity, Molak decided he wanted to get in on the action, not just as a consuming participant but rather on the commercial side. To that end, he, with no previous experience in the hospitality business and not much hard cash either, began a relentless search to acquire a genuine Texas bar and dance hall. When queried why he was looking for this kind of investment property, Molak responds, "Because these types of places were going great guns and, more importantly, being a Texan, it looked like something I'd like." After several disappointing visits to various available establishments, Lady Luck smiled. In 1974 a friend took him to the remnants of the old German community of Gruene, located a few undeveloped miles north of New Braunfels.
It was there that he found, among the semideserted buildings and storefronts, the barely operating Gruene bar with a spacious shuttered dance hall out back. While others with a lot more business savvy might have walked away, for Molak acting on pure instinct the old building with its undeniable charm (not to mention the area's proximity to the college towns of Austin and San Marcos with their large student populations) represented potential and opportunity. He was smitten. Eagerly closing the deal with a loan from his supportive but skeptical father, Molak took possession in January 1975. Following a modest amount of renovation mainly just cleaning the place out and upgrading the electrical system a revitalized Gruene Hall, with its historical integrity intact, reopened later that year. At the beginning, there were two employees, Molak and a bartender.
But by spring, the first band took the stage, and the crowds soon followed. Molak's experiment quickly proved to be a success, and as legions of fans from across the state and beyond can attest, the joint's been rockin' ever since. Over the years Gruene Hall has earned its well-deserved legendary status by showcasing the very best in current and future stars, all presented in its primitive but welcoming, cozy and unpretentious atmosphere. It's a combination that, as the proprietor proudly states, "has been well received by the talent and the public." And somewhat uniquely, the music that Molak personally brings to his hall crosses all genres, tastes and beats. Willie Nelson, George Strait, Little Richard, Leon Russell, Albert Collins, Hootie and the Blowfish and many other greats and near-greats have graced the archaic stage.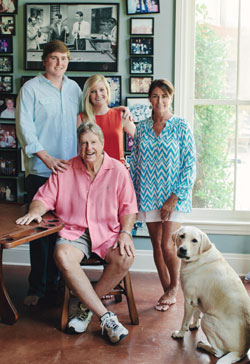 The future will no doubt prove to be as diverse. Anyway, folks have always loved the music and the ambience, and as almost any recent night's gate will attest, they still do. As Molak smilingly volunteers, "Plans are in the works for not changing a thing!" With Gruene Hall prospering thanks in part to Molak's knack for finding (and keeping) wonderful and gifted co-workers his sights turned toward greater Gruene.
Of the 25-acre footprint (15 of it now designated as a National Historical District), Molak owns 23. His second project was the refurbishing of the old, mostly burned cotton gin. This structure, overlooking the scenic riverfront, became today's acclaimed Gristmill River Restaurant & Bar. He and longtime partner Mary Jane Nalley opened the establishment (again with little or no experience running a restaurant) in 1977, initially selling beer and burgers out of a tiny kitchen. Today, it is renowned for its extensive menu featuring many traditional South Texas favorites bolstered by an equally impressive wine and beer list. It can, and often does, accommodate up to 800 diners comfortably. Multiple other Molak-owned and operated (or leased) retail and service businesses have subsequently blossomed over the years utilizing other existing buildings (see the sidebar). Reflecting his commitment to preservation, all of these structures, including the iconic water tower, have been carefully restored to period exactness.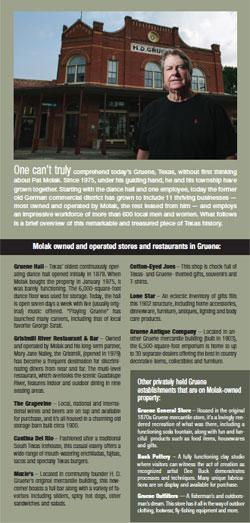 Most have received recognition from the Texas Historical Commission, something of which he is justifiably proud. In 1990, he was even recognized with a proclamation from the Texas Senate for his efforts. While preserving and protecting Gruene will always remain Molak's primary focus, other challenges beckoned the restless entrepreneur. Most notable is his popular, somewhat earthy San Antonio eatery, the Josephine Street Cafe.
Established in 1979 to initially offset Gruene Hall's slower (and lower cash flow) winter season, the cafe continues to pack 'em in daily. To his credit also is the 410 Diner, now leased to another operator. When looking back over his productive and profitable career as a successful developer, booking agent, restaurateur, historical restorer and barkeep, Molak again and again reflects on his "good luck." But to any and all who have had the pleasure of visiting Gruene two-stepping at the hall, dining at one of the restaurants, shopping, tubing the river or just escaping briefly from big city pressures it all becomes obvious that it wasn't solely providence that's kept Gruene real. It was, still is and will continue to be, Pat Molak, a true Texas honky-tonk hero!
By: Ernie Altgelt
Photography: Josh Huskin