Ray Hoese: Writer, Marketer, Athlete, Advocate & More
What do you call a man who runs triathlons and marathons and climbs rocks on purpose? rides horses, studies dressage, kayaks, sails and writes songs, screenplays and books? successfully completed an Iron Man competition and who snorkels and scuba dives in the Galapagos Islands? Hoese was born just outside Galveston in 1959 in a little town called La Marque. But he really grew up in the Louisiana swamps south of New Orleans, where his dad, a marine biologist, did much of his work as a specialist in estuary biology (where the salt and fresh water meet). That's where Ray and his younger brother, Geoff, developed a love for the water and outdoor fun.
Hoese currently serves as director of marketing for UT Medicine, the premier medical clinic run by the University of Texas Health Science Center. It's a real job with lots of responsibility. It's also a job he loves. But his path from the swamps to a button-down, serious professional job took many twists and turns. Among them was his youthful journey from Louisiana to Los Angeles in 1985, when he and two of his garage band friends set out to make their mark in Hollywood. "I was 25 years old, just graduated from college, and I was a burgeoning TV script and song writer," Hoese recalls. Well, one of his college professors liked a script he'd written for a class. "He told me I needed to be in LA," Hoese explains.
He settled into the LA scene where, like many aspiring actors and writers, he waited tables at the Black Angus Restaurant in Ventura. Along the way he met some folks who knew some folks who knew other folks who introduced him to some folks, and a career of sorts was born. He worked on an NBC sitcom — 13 East— for two seasons. TV Guide described it as "hospital high-jinks revolving around the no-nonsense head nurse in Ward 13 East." The show ran for two summers on NBC. It is memorable for not being memorable. But it gave Ray a credit and a connection to Chris Carter, creator of the sci-fi TV series The X-Files.
A lot of people move to Hollywood and never get a writing job. Hoese did. He worked as Carter's assistant on The X-Files for several years. He even wrote a script for an X-Files episode, but it never aired when Stephen King called Carter and volunteered to write scripts for the series. "It was obvious a Stephen King episode would attract a much bigger audience than one by Ray Hoese," he notes. And while he loved the work, he began to realize that with a wife and a baby he needed more stability and a regular income. Next stop for Hoese was Medtronics Diabetes in LA. The company develops leadingedge technology to address chronic diseases.
With his writing background and his father's scientific bent, it was a great fit for him. From Medtronics he moved to Boston Scientific, a company similar to Medtronics, also in LA. In 2008 he moved to San Antonio and joined UT Medicine as director of marketing and communications. No question he misses show business, but he says, "I love my job. I love our physicians. Every day is different for me. The beauty of what we do at UT Medicine is putting some of the best medical and scientific minds to work helping people."
But there's even more to Ray Hoese.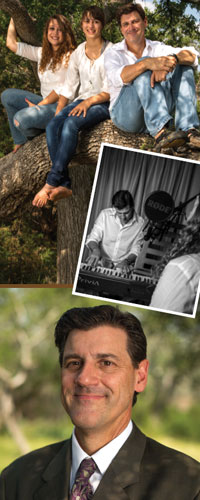 Beyond his job, his script and song writing and his love of the outdoors, his passion is helping people newly diagnosed with diabetes manage their disease. His zeal stems from his 20-year old daughter, Jordon, who at age 12 was diagnosed with type I diabetes. And his family has been touched by diabetes beyond just his daughter. "I made it my mission to learn everything I could about the disease to help her and ultimately to help others," he says. Hoese lectures to community groups about managing diabetes from a dad's perspective. He serves as a one-man telephone referral source, talking with folks all over the country about living with diabetes. He's even written a book on diabetes as a guide to families and patients. He and Jordon have run marathons together, including the LA and Austin marathons. He sees it as a way to continue the connection to his daughter. And together they demonstrate to folks everywhere that diabetes does not have to slow you down.
Hoese continues to write songs — some 300 to 400 to date. But he says that's nothing compared to what successful songwriters produce. And, on request, he recently wrote a screenplay for a book written by a friend of his. It's being circulated to filmmakers, but so far no bites. Not that that matters to Hoese. "I write because I love it. And I'll continue to write," he says. He also is well grounded. When asked what he'd do if Stephen Spielberg called and offered him a writing job, Hoese immediately said, "I'd ask him what it paid."