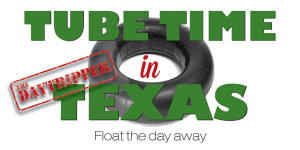 It seems so ridiculous when you describe it out loud, yet it feels so right. While tubing may seem like an unexplainable foreign ritual to people all over the world, it comes as second nature to me and countless other Texans. And there is no better place to tube than here in the Lone Star State, particularly the Texas Hill Country.
However, with all the flowing rivers, it can be tough to pick the right spot to hit the water. Here's a list of tubing destinations just a day trip away from San Antonio.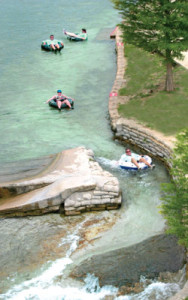 COMAL RIVER
New Braunfels When it comes to tubing, New Braunfels is the holy land in Texas, mainly because of the Comal River, a man-made river diverted from the Guadalupe and flowing right through the heart of town. Full of fast-flowing Texas water, the Comal creates the perfect opportunity for a quick trip to beat the Texas heat. However, the convenience of the river contributes to its popularity, which contributes to its crowds.
This might be the only river in Texas with a rush hour (roughly noon to 5 p.m. every summer day). The typical float trip starts at Hinman Island Park, goes over the Comal tube shoot and finishes up at the take-out spot on Union Avenue. Be prepared to rub elbows with fellow tubers, but sometimes that's part of the fun. Distance: 1.5 miles. Average time: One and a half to two hours. Tube rental: Rockin' R. (comalrockinr.com).
GUADALUPE RIVER
New Braunfels Those looking for a more rustic river experience in New Braunfels can head to the Guadalupe River, the other mystical tubing destination around town. The Guadalupe offers a less crowded, more natural experience with beautiful cypress trees and even flowing rapids and waterfalls.
There are a number of potential trips with varying times and distances. The longest trips start all the way up near the Canyon Lake Dam and wind down past the town of Gruene. Traveling the entire distance is a loooooong proposition. I'd highly recommend a manageable float trip that ends in Gruene so you can polish the day off with a chicken-fried steak at the Gristmill River Restaurant.
Unlike the Comal, where you can walk back to your starting point, the Guadalupe requires two vehicles — one to take you to the starting point and one to leave at the finish point. Or if you'd rather not worry about logistics, you can use the shuttle services of your friendly neighborhood tube rental. It's worry free and much easier. They'll also rent you a raft if you're so inclined. Distance: 1 to 10-plus miles. Average time: two hours to multi-day. Tube rental: Rockin' R. (rockinr.com).
GARNER STATE PARK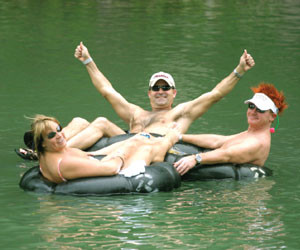 Concan Those looking to dodge the New Braunfels scene completely and do something a little less traveled can head 90 miles west of San Antonio to Garner State Park and spend the day on the Rio Frio. Name affinity aside, I love this place. Just a word of warning; "Rio Frio" means "Cold River." One jump in the water and you'll agree it was appropriately named.
To ride this springfed river through the park, you'll start at the waterfall under the Utopia Bridge and drift all the way to the Garner State Park dam, where you'll be greeted with rope swings, tree jumpers and plenty of picnic areas making the perfect spot to grill up your post-tube hot dog. Distance: 1.5 miles. Average time: two hours. Tube rental: Park Store (garnerstatepark.com).
RIO FRIO
Leakey and Concan The Rio Frio flows both above and below Garner State Park, and both stretches offer excellent tubing trips. The river trip above the park from the lower 1120 crossing to Happy Hollow is quiet, serene and beautiful. This stretch is about 1.5 miles and takes around two hours.
The best stretch on the Frio below the State Park starts at the crossing on River Road and finishes in Concan at the Highway 127 crossing. The final destination can turn into an all-ages river party with rope swings, jumping rocks and lots of folks sitting in small pools and kicking back under the Texas sun.
Upon arrival, there is nothing better than walking up to Neal's Lodge and chowing down on a whopping burger or chicken fried steak. This lower trip is about 1 mile long and takes approximately four hours. Upper section tube rental: Happy Hollow (onthefrio.com). Lower section tube rental: Neal's Lodge (nealslodges. com).
SAN MARCOS RIVER
San Marcos It's crazy to think, but this fast, beautiful and crystal-clear river literally just pops out of the ground right here in San Marcos. From its origins at Aquarena Springs, tubers can hitch a ride in this chilly water through City Park all the way to the man-made kayak falls of Rio Vista Park, where a shuttle will take you back to do it all over again if you choose.
The tube rental service is run by the Lions Club of San Marcos, who use the proceeds to fund local service projects. Who knew that helping others could be as easy as tubing the river? Distance: 1 mile. Average time: 45 to 60 minutes. Tube rental: Lions Club of San Marcos (tubesanmarcos.com).

SOUTH LLANO RIVER STATE PARK
Junction Finally, for those looking to truly get away from the masses, and who want nothing more than water, sun and relaxation, South Llano River State Park is calling your name. This lesserknown state park sits on what has been called "one of the most pristine bodies of water in the state" the South Fork of the Llano River.
A tube ride here starts near the park entrance at the low water crossing and finishes up at the take-out spot near the middle of the park. Distance: 1.5 miles. Average time: Two hours. Tube rental: State Park Store (tpwd.state.tx.us/stateparks/ south-llano-river).
YOUR TUBE IS WAITING
Texas may be the best place in the world to partake in this quirky, yet time-honored tradition. And while tubing may seem like a logistical nightmare, it is actually really easy with the abundance of businesses eager to rent you a tube and help you hit the water. So, I'll see you on the road. Or make that … on the river.